Email from Jamie after playing for her wedding party at Beeston Manor 21st April '22
'Hi Andy
Me and Paul just wanted to say a M A S S I V E thank you for being our MC and DJ at our wedding at Beeston Manor on Thursday… OMG you really did get the party started.
We had the best day ever and you were fantastic from start to finish and could not have asked for more. You were very professional and nailed it with the song choices and kept the guests entertained.
The letters and heart looked amazing and the candy floss and pop corn machines were ace.
Could you also pass a huge thank you on to Jason – WOW he didn't have blow many minds including ours on the day with his magic tricks. He left us and our guests puzzled and entertained.
100% made the right choice hiring your services for our special day.
Thank you so much.
Jamie
Mr and Mrs Hatcher'
They hired DJ Andy B for the evening reception & to host the wedding breakfast, along with our rustic initials on crates, fab close up magician & popcorn & candy floss machines
Andy B Events are proud to be the recommended supplier of choice for DJs, dance floor hire, casino tables, live music, entertainment & much more at the fabulous Beeston Manor! We enjoy a great working relationship with Beeston Manor & their many clients celebrating at this fantastic wedding venue!
5 star FB review after playing for Mr & Mrs Doyle's wedding day @ Beeston Manor 15/05/19:
Our day was just perfect and made even better by the care and attention Andy put in to making it unique to us. We were so worried people maybe wouldn't dance etc but this guy knows what he's doing and had everybody up having a great time.
Thank you Andy, you do amazing work. 5/5 would highly recommend.
We pride ourselves on tailoring the night to suit your requirements, after all it's your party, so you're welcome to have as much input into the music selection as you like. Some clients are very specific, others leave it up to the DJ, of course we'll still take requests on the night to ensure we deliver exactly what you require. You can find a whole selection of 'in action' photos on our Facebook page, showing the set up & the parties in full swing – https://www.facebook.com/media/set/?set=a.1494145463960097.1073741896.172309206143736&type=1&l=809120b511
FB review from Leanne after playing for her wedding (ceremony, drinks & evening reception) at Beeston Manor 31/03/19
We chose Andy to host our wedding reception at Beeston Manor at the weekend and he was truly fabulous. He was so relaxed and nothing was too much trouble. Our music was perfect, just what we wanted and he allowed my daughter to sing to a backing track which (whilst not a dry eye in the house!) went down an absolute storm. Thank you Andy for making our day so special xx
My set up at Beeston Manor includes white star booth & impressive yet discreet white speakers providing an awesome sound for your evening reception…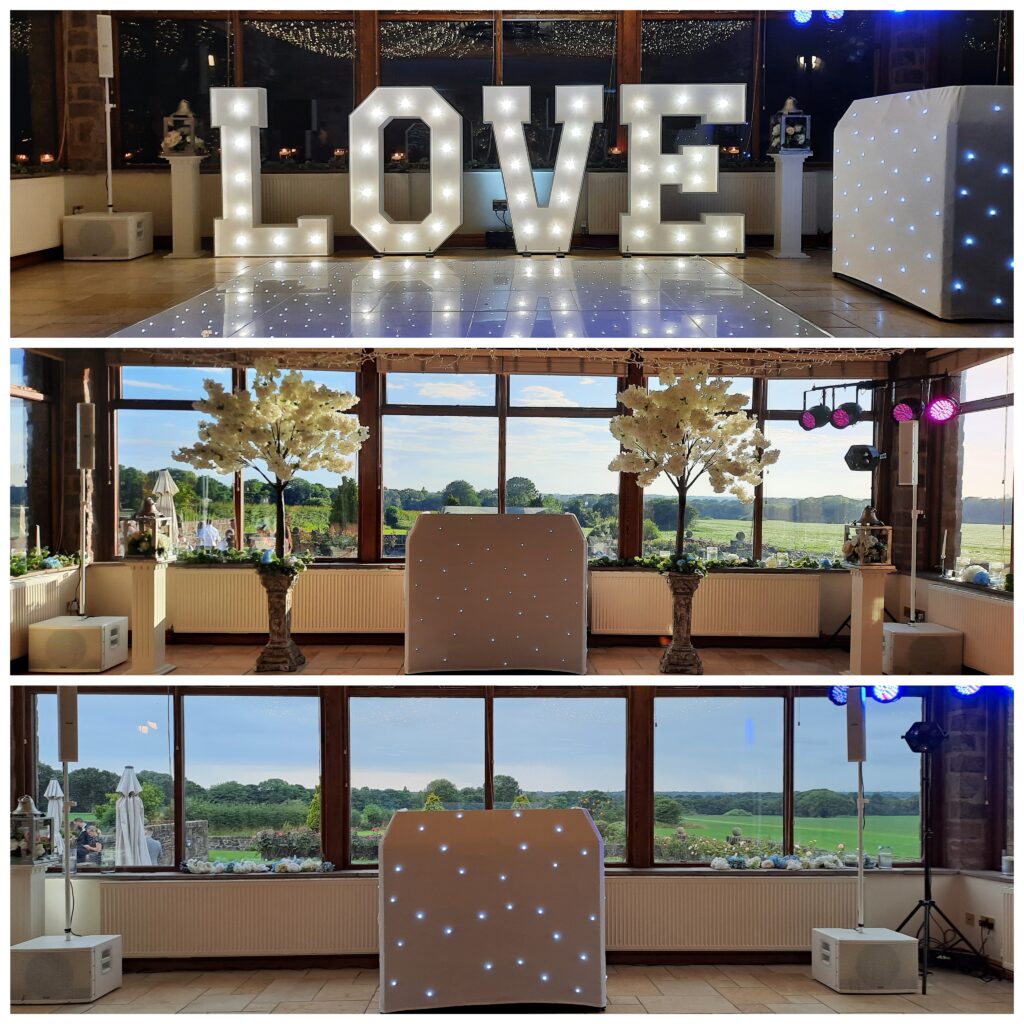 As well as the disco, our DJs also act as the host for the evening as required – introducing for example, the first dance etc. Dress code for a wedding is normally suit & tie as appropriate the occasion. We're there all night & will fit in with how you want your evening to run. But if you do want any suggestions for timings etc, we're more than happy to have a chat with you about it.
The evening receptions at Beeston Manor usually run from 7pm till 12.30am, which we charge £450 for, based on arriving at approx. 6pm to set up with the white wedding rig as pictured above. For any additional time we charge £50 per hour. This could include covering your wedding breakfast (& even the ceremony/drinks). For example, if you need the DJ set up by 3pm, that's an extra £200. For this, we'll will play suitable background music throughout (perhaps ramping it up a bit towards the end of food service if you like to help create a party atmosphere), act as host for the speeches etc & of course, introduce you into the room.
5 star FB review after playing for Mr & Mrs Henson's evening reception (complete with LOVE letters & 14ft dance floor) at Beeston Manor 11th November '17
Thank you so much Andy for the music at our wedding – especially the clubland at the end! every single guest LOVED it and thought the music was fantastic. I have never seen so many people up dancing at a wedding and you made the evening so enjoyable. We thought the dance floor and LOVE letters were beautiful. Thank you again x
It's great to know that the owners & staff completely trust us to do our best for their clients.
We had Andy for our wedding at Beeston Manor on 22/02/2019 and he did nothing short of a fantastic job. Andy was brilliant as Master of Ceremonies and followed up with a great party providing an excellent atmosphere until closing time. He was accommodating through the whole build up to the wedding and as well as playing great music all night he took requests from all guests.
I would highly recommend Andy B Events for any weddings or other social functions, five stars from me and my new Wife, thanks Andy.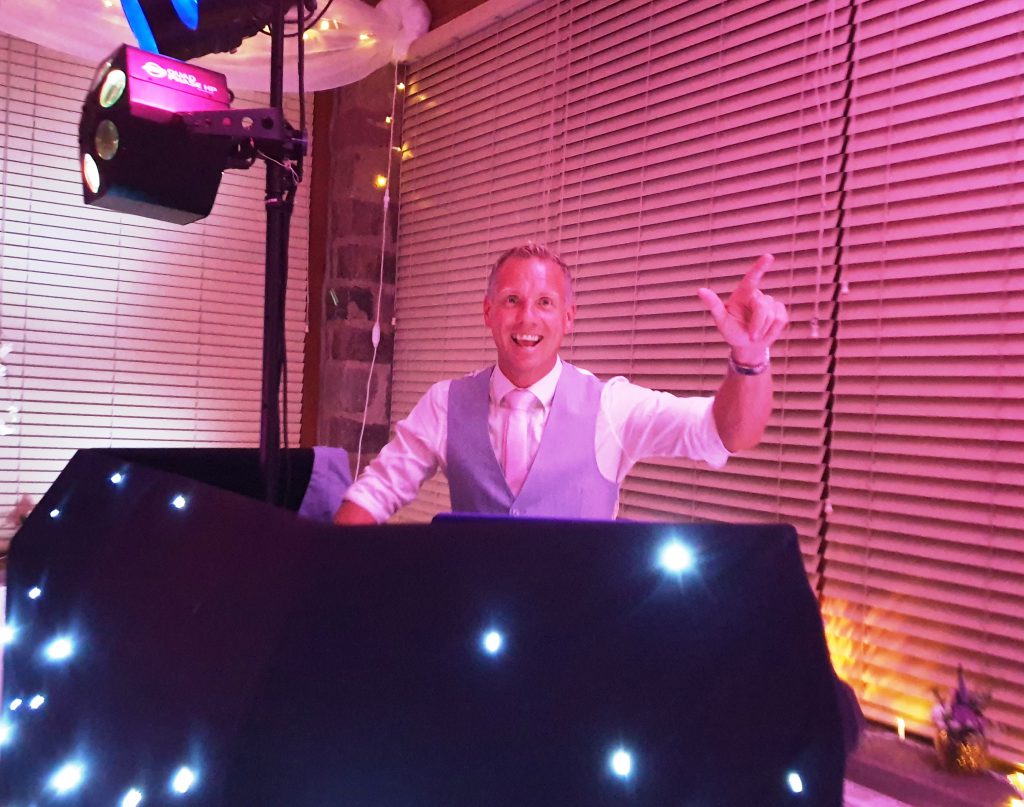 5 star FB review after playing for Mr & Mrs Alderson Perkins evening reception…
'5* DJ
We hired Andy last month on 20th Oct at Beeston Manor for our evening Reception DJ and the Casino tables.
We really could not fault him. The night was fabulous and I don't think there was ever a time in the night when no one was on the dance floor.
We would highly recommended Andy to anyone and will definitely use him again when needing a DJ in the future.'
5 star FB review after playing for Mr & Mrs O'Neil's evening reception (complete with LOVE letters, 14ft dance floor & fun casino tables) at Beeston Manor 14th October '17
Fantastic entertainment, beautiful set-up and fun casino tables made sure our evening went exactly how we wanted. Thank you for being part of our wedding x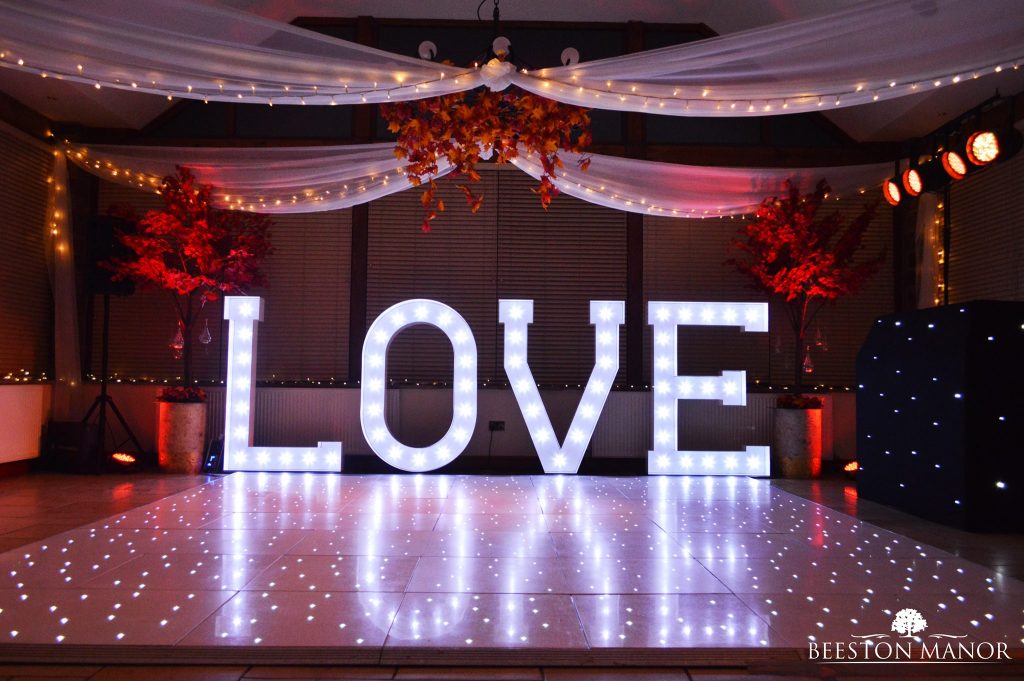 As you'll see from the photos, our LED dance floor hire is really popular & looks amazing in the conservatory. You can find full details on hiring the dance floor here – https://andybevents.co.uk/2015/09/dance-floor-hire-beeston-manor-preston-2
5 star FB review after playing for Emma's wedding 30th September '17 @ Beeston Manor (as well as the evening reception, also hosted the wedding breakfast & provided saxophonist, casino tables + LED dance floor)
Massive thanks andy you were amazing for our wedding day !!! Brilliant host , organiser and dj !!! We got the LED dance floor, casino tables , dj/music and the saxophone player from Andy , all were absolutely spot on !!!! Hope we haven't scarred you for life with the terrible dirty dancing lifts and under pants dance hahaha !!!! Highly recommend Andy B events!! Xx
I also have a few video clips so you can see for yourselves what we do…
Playing alongside one of our fab club style saxophonists…
For further details on hiring a freestyle saxophonist like this for your evening reception, see – https://andybevents.co.uk/2017/11/club-style-saxophonist-for-weddings-events
Of course, lots of first dances…
If you would like & weather permitting, for a small additional charge, Andy B is happy to bring a second PA to set up outside & run the early part of the evening in the beautiful grounds at Beeston manor, to include hosting your first dance outside…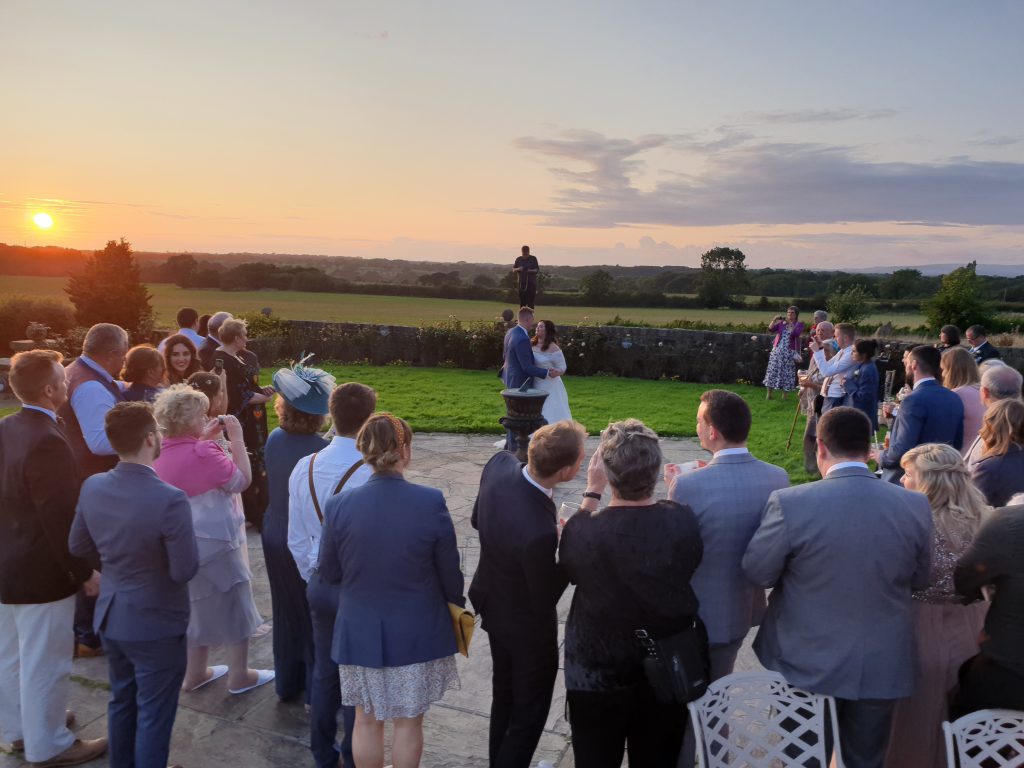 Quite a few finales too…
& lots of party fun in between!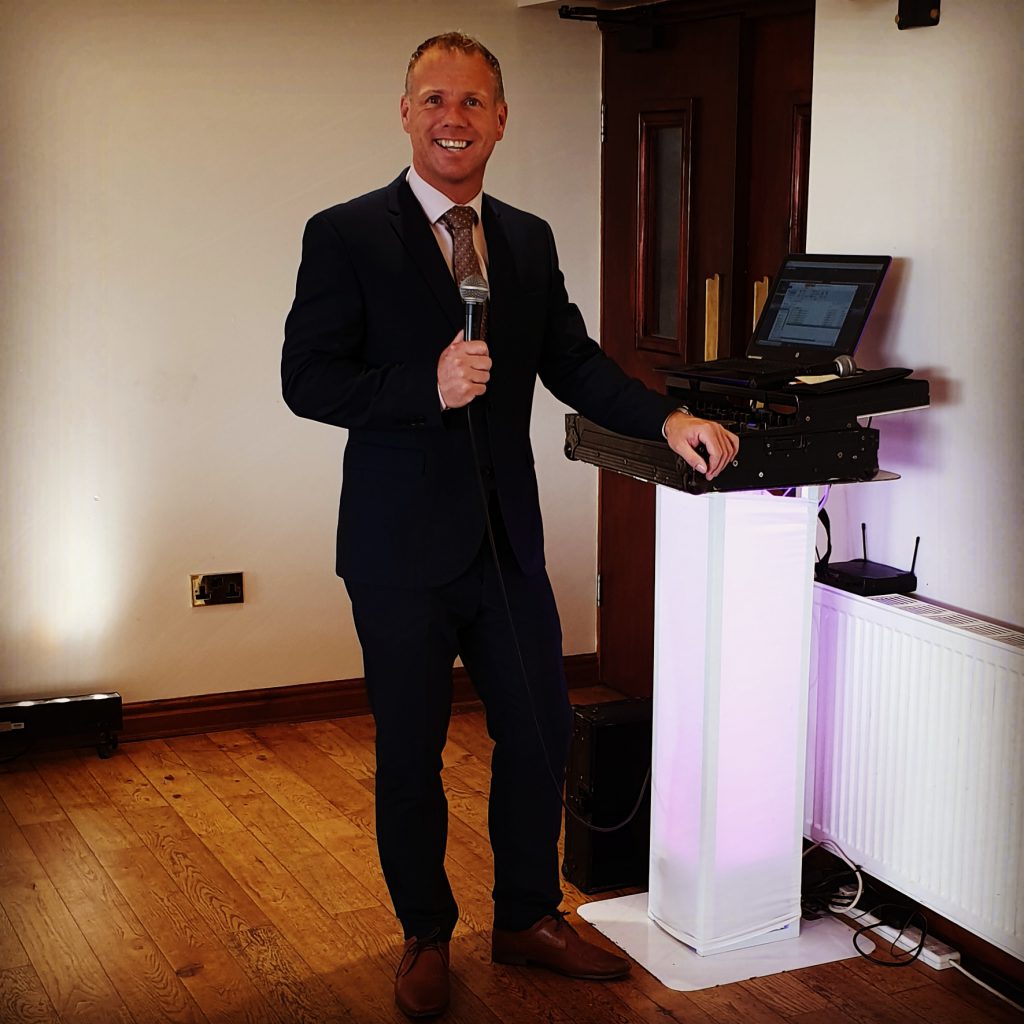 DJ Andy B complete with discreet set up to host the wedding breakfast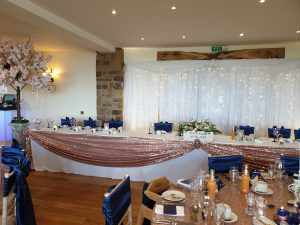 Fun during the wedding breakfast!
5 star Facebook review from Mr & Mrs Brown after playing for their evening reception at Beeston Manor 16th June '17
Andy is a brilliant DJ! He had the dancefloor filled which is what we wanted because the music he played was so good. From booking him to the night do, Andy was amazing and so helpful with everything. I would definitely recommend Andy for any event. Thank you for a great night.
Email from Mr & Mrs Binns after providing my DJ services plus our fun casino tables for their evening reception at Beeston Manor 29/05/17
We just wanted to thank you for all you did for us on our wedding day, our guests (and us!) thoroughly enjoyed the casino tables and your DJ skills – we had a great evening and a lot of that was down to you and your company!
5 star facebook review from Mr & Mrs Miller after playing for their evening reception at Beeston Manor 25.05.17 (also hired our white LED dance floor)
Hi Andy,
Huge thanks for being our DJ on Thursday on what was the hottest day of the year! Phew! You did a cracking job and my guests had a fab time.
The twinkling LED dance floor was also a huge hit! Somehow you managed to entice my guests out of that glorious sunshine to come inside and dance.
Thanks again!
Jade & Patrick
Feedback from Mr & Mrs West after I hosted the wedding breakfast & provided my DJ services & LED dance floor for their evening reception at Beeston Manor 21/05/17 –
'Hi Andy,
I would just like to say a big thank you for hosting our event Sunday…. it was a fantastic day…. and we didn't get the chance to thank you on the day, so Thank you! Everyone got up at some stage and enjoyed the Dancefloor! Would highly recommend your services!
Rebecca & karl x'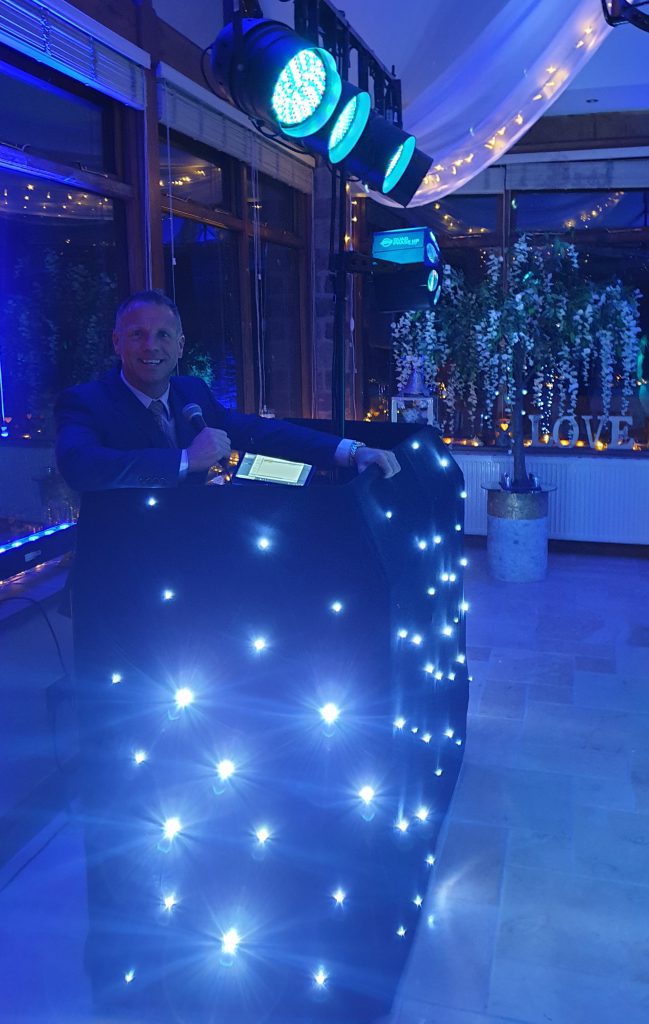 DJ Andy B set up for the evening reception.
Keep up to date with Andy B Events. Click the 'like' button on our facebook page – www.facebook.com/Andy.B.Events