Introducing
Bar & Bat Mitzvah Parties
DJ Andy B specialises in hosting Bar & Bat Mitzvah celebrations.
Andy's professional & friendly approach will be especially tailored to your party.
Hi Andy,
We just wanted to thank you so much for everything you did for our party on Saturday night. The music was fantastic – really kept the atmosphere going and the guests on the dance floor all night! And the saxophonist was unbelievable – she really made the night for us.  Can you please pass on our appreciation to her too.
Thanks again – it was lovely working with you.
Natalie & Louise (DJ Andy B & one of our excellent freestyle saxophonists for Isabella & Isla's joint Bat Mitzvah at the Mess Cafe Wythenshawe 14/10/23)
Email from Deborah after playing for her son's Bar Mitzvah on 12th April '22 @ Whitefield Golf club –
'Hi Andy
Wanted to say a big (belated) thank you for playing at Matthews party last week. Everyone had a great time, as did we.
Can you also pass our thanks to Cat, we have had alot of comments about how wonderful she was and we couldn't agree more!
Thanks again, Richard also said to thank you for arranging the dry ice!
Deborah'
(We provided DJ services, freestyle saxophonist, dry ice, photo booth & light up furniture)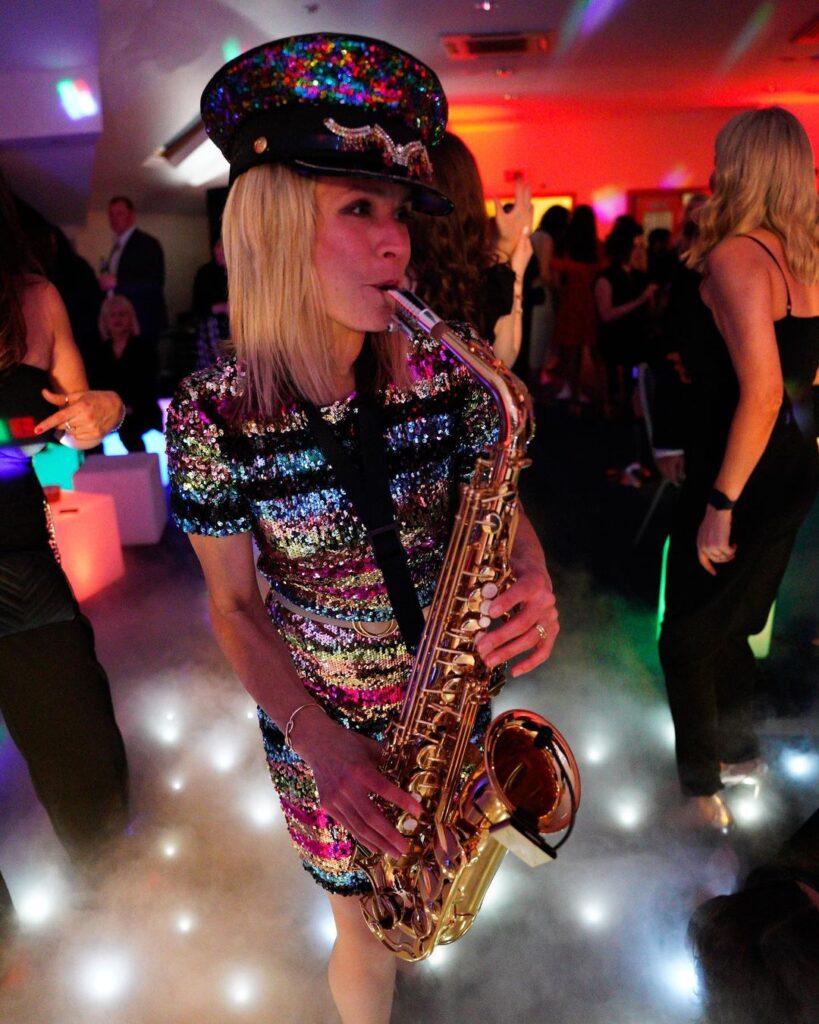 Hi Andy
I just wanted to say a big thank you for Rafi's bar mitzvah on the 4th of December '21
You really helped make sure there was great atmosphere
I also appreciated the indie tunes you played during the meal
Thanks again and Best Wishes
Richard (booked DJ Andy B + 3 fun casino tables @ Mess Cafe)
Don't forget to add our fab confetti gun to your booking for the big intro…
'Andy B– B is for best DJ– kept the party hopping and the dance floor overflowing. Andy also arranged the casino and the photo booth, keeping kids and adults alike occupied and happy'
Julie Gottlieb @ Hallmark Hotel Manchester 14/07/19 (DJ services for her daughter's Masquerade themed Bat Mitzvah along with fun casino tables & photo booth)
Andy B was amazing at our recent event at hotel football Manchester. I can honestly say he kept the dance floor full all night, played all the songs we had requested and more.
5 stars. Get Andy B booked for your event. You will not be disappointed!
Deena Goldfine @ Hotel Football, Old Trafford 30/03/19
Hi Andy
Just wanted to say a huge thanks for helping to make Benji's Barmitzvah so special… we had a fantastic evening… Will say hi next time our paths cross… which I believe is at hotel football a week on Saturday!
Thanks again
Corinne @ Etihad Stadium 10/03/19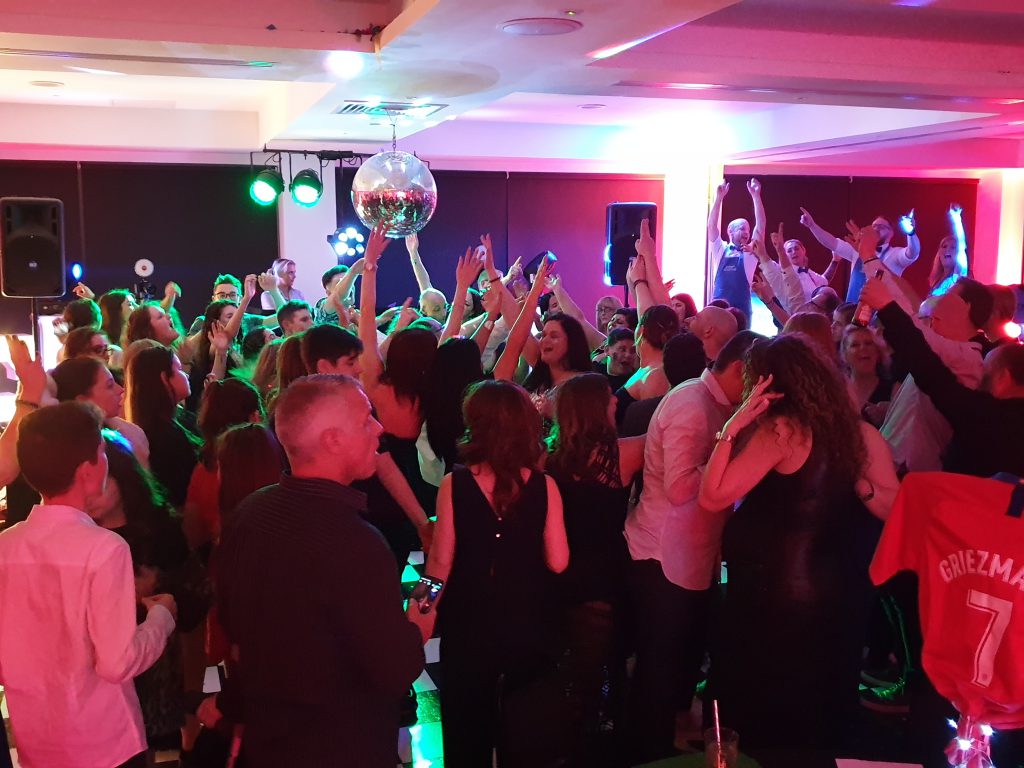 As well as playing all the chart & party favourites to keep the dance floor buzzing, Andy also provides a comprehensive selection of Israeli music; both the traditional dances & the more contemporary pop hits. He is also happy to take requests on the night. Beforehand, you can go through specific requests for the evening (as well as any you don't want playing!). At this point, you could prepare a whole set list, which he is happy to work from if required to ensure a successful night!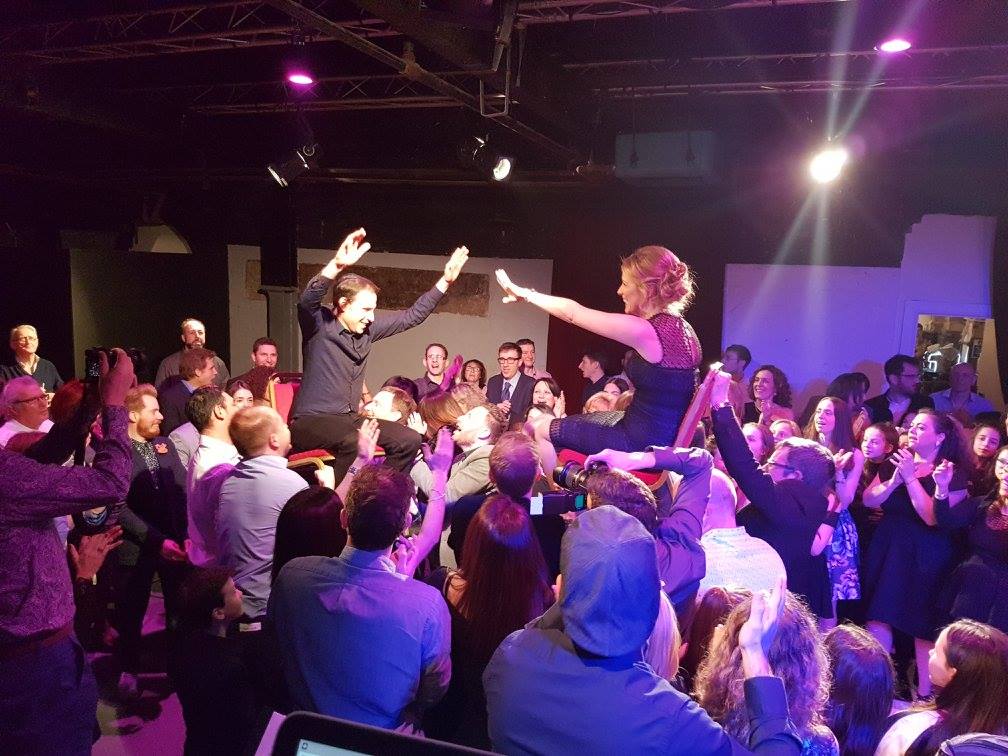 Just want to thank you for your amazing work on Sunday night. The dancefloor was busy all the way through and we all had the best time.  A truly magical experience. Eloise's Bat mitzvah @ Hope Mill Theatre 12/02/17
Thank you for making our bar mitzvah a night to remember. You had everyone dancing from beginning to end the atmosphere was electric!
Rachel @ The Milton Club, Manchester 22/10/17
Hi Andy,
Just sent you a good selection of photos that give a good sense of the fantastic atmosphere you created.
We just want to say a formal thank you for making Eytan's Barmitzvah a night to remember. The music was perfect and you carried the event from start to finish creating a vibrant and fun filled atmosphere. We laughed, we cried and we danced until our feet begged for mercy…  We felt it the next day! The dance floor was overflowing the whole night and our friends and family are still talking about what an amazing party it was. We will be sending you a 'save the date' for our next son, Lee's Barmitzvah, until then we look forward to seeing you at many of our friends do's as we know they've already hired you to make their party extra special too.
Thanks again,
Hayley & Nittai' @ Hough End Centre Chorlton 06/09/15
Hi Andy
Sorry I didn't get to say goodbye to you on Saturday and just to thank you very much indeed.  You did a great job & everyone enjoyed themselves!
Thanks again.
Kind Regards
Jon Rubin @ South Manchester Synagogue 20/01/18
Traditional finale above or something more 'pop' below
The set up…
Andy provides a smart modern set up, again, tailored to your requirements. This can be made compact enough for golf clubs & hotels or large enough for Synagogue halls through to stadium type function rooms.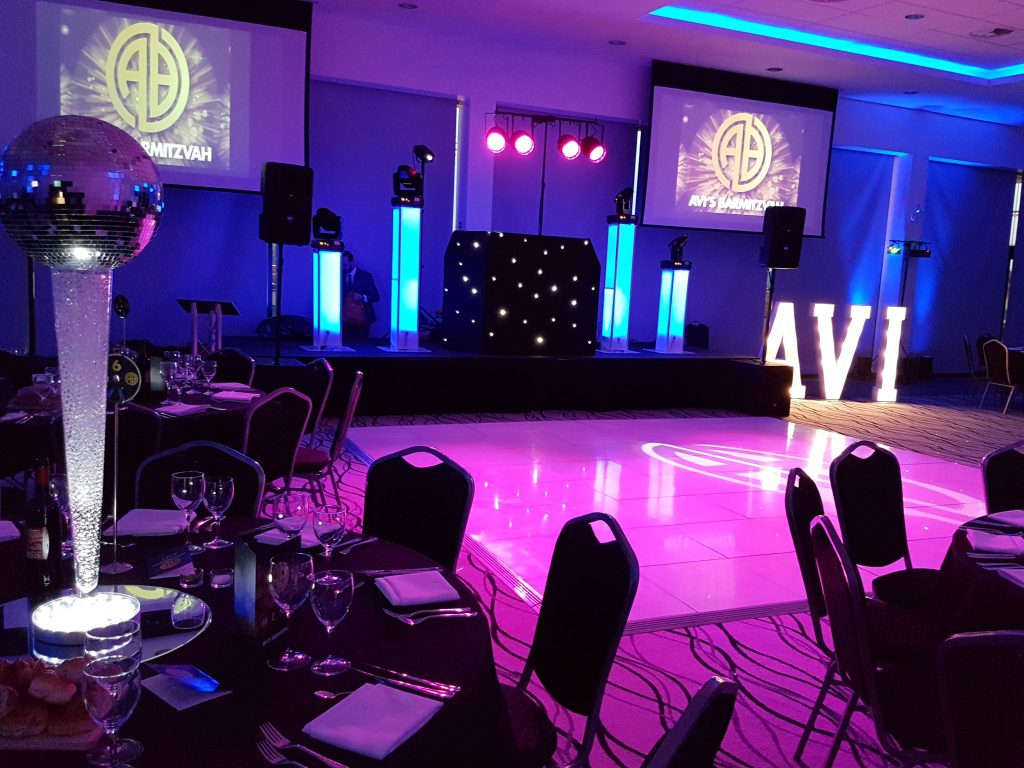 We had Andy B to DJ our barmitzvah party and provide the lighting. He was extremely competitive and efficient throughout and we were very impressed with the whole staging and setup. He played to the crowd and kept everyone dancing throughout the night. We would highly recommend Andy B for any event ! Thanks again.
(5 star FB review from Daniel Bourmad, Avi's father @ AJ Bell Stadium 12/03/17)
Brief video clip of the set up (at Hotel Football) –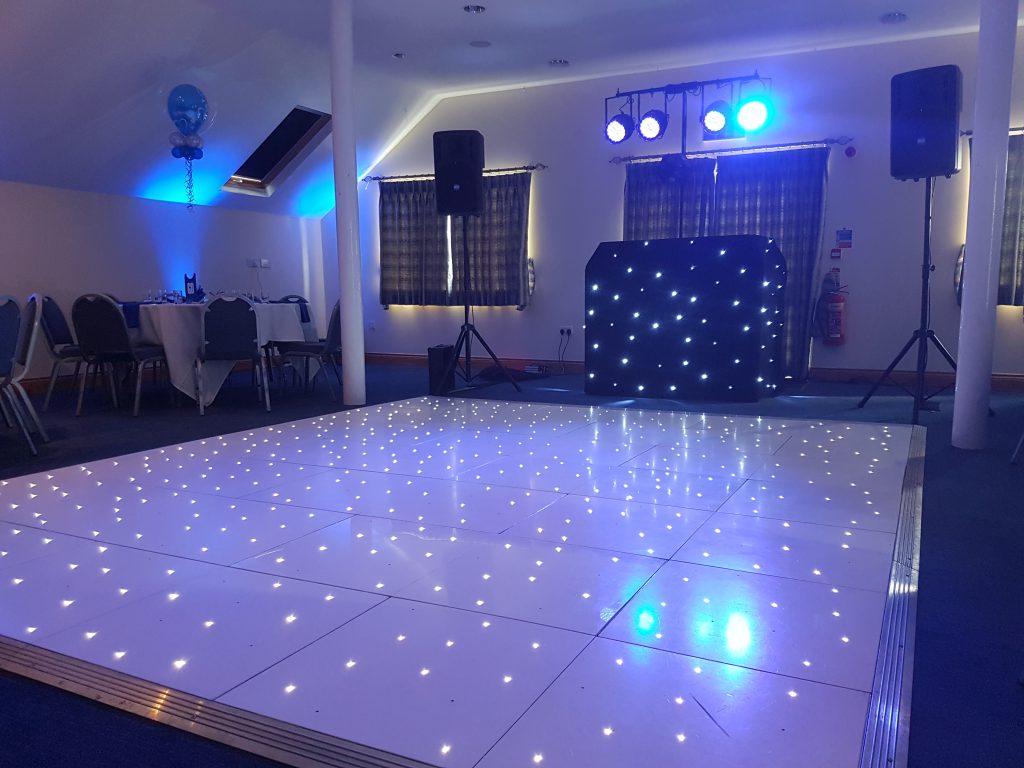 We hired Andy for my daughter's Batmitzvah party on Monday, following recommendation by a friend. He was absolutely brilliant. So professional from start to finish, in planning the event, including music from a very long playlist, and liaising with me throughout the evening keeping the running order on track to the minute! The sparkly dance floor and up-lighters he supplied were perfect, the dance floor was full all night and everyone had a wonderful time! Thank you Andy, and I would certainly recommend you! Karen @ Whitefield Golf Club 28/05/18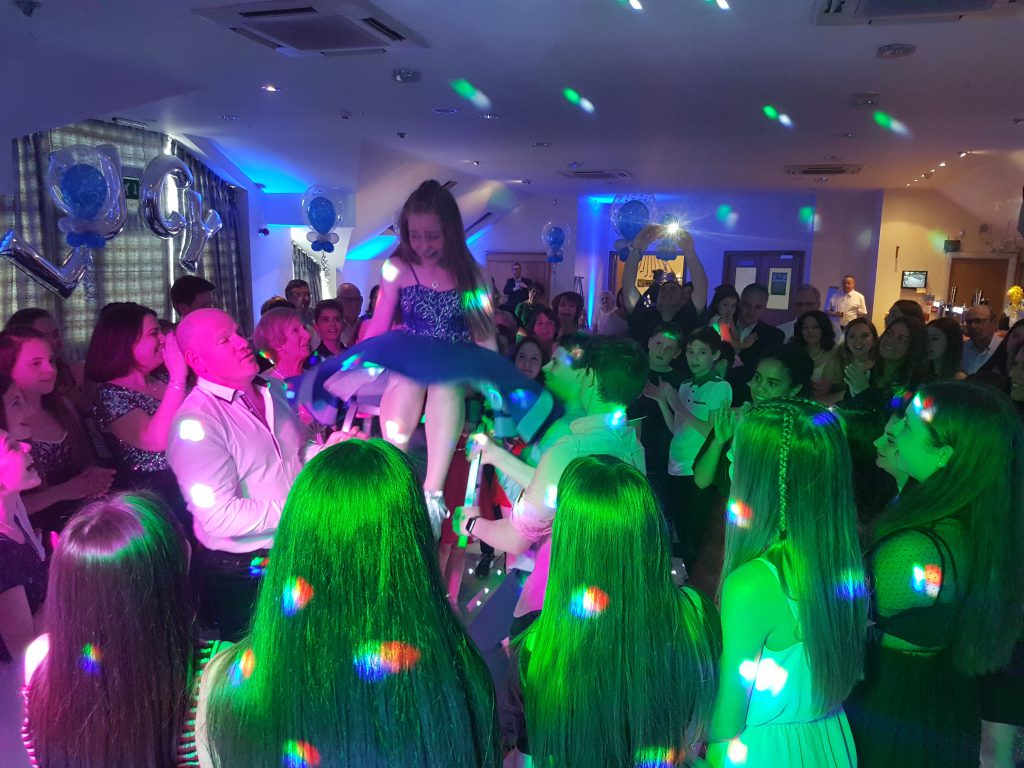 DJ Andy B getting the party started…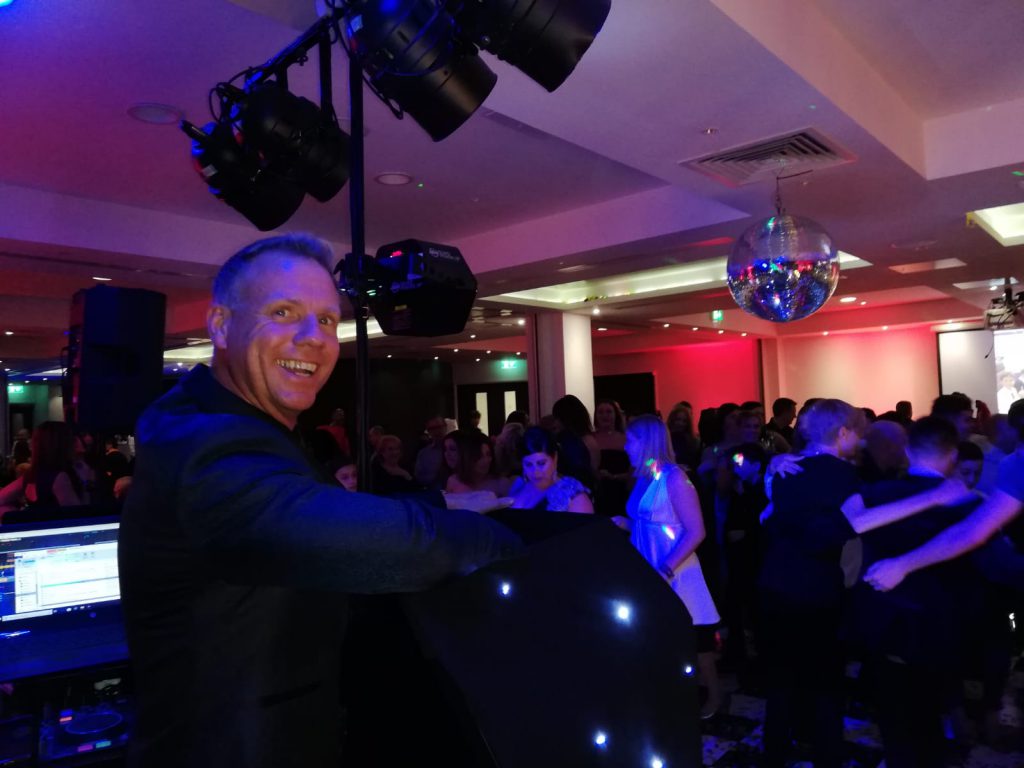 Get your hands up…
Silent disco in operation, party dances led by 2 showgirls…
Of course, we want to keep the adults entertained too… (this was actually just meant as a bit of a singalong between dinner courses which ended up filling the dance floor!)
Additional services & products…
As well as providing his DJ services, Andy will also host the event, making any announcements, introductions & assisting with the speeches, he has a wireless microphone available for speeches etc.
Andy can also provide light up foam sticks, inflatables, glowsticks & other fun props to 'throw out' during the disco helping to keep the fun atmosphere!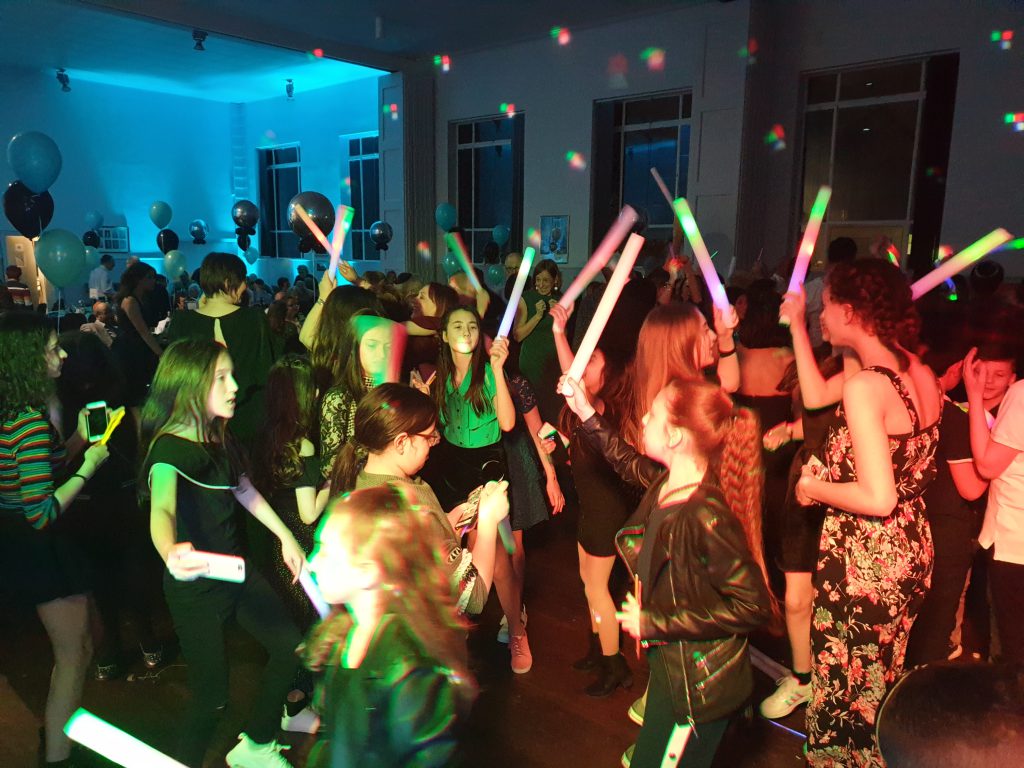 'Hi Andy
We just wanted to thank you so much for helping make Emilys batmitzvah such a success. You were a great compere and the music was fantastic. The dance floor was always busy so thank you.
We have another batmitzvah in 2 years so I am sure we will be in touch again for you to be there when we organise that party
Kind regards ,
Helena' @ Shaare Hayin Synagogue in Manchester
Our photo booth hire is really popular for Bar & Bat mitzvahs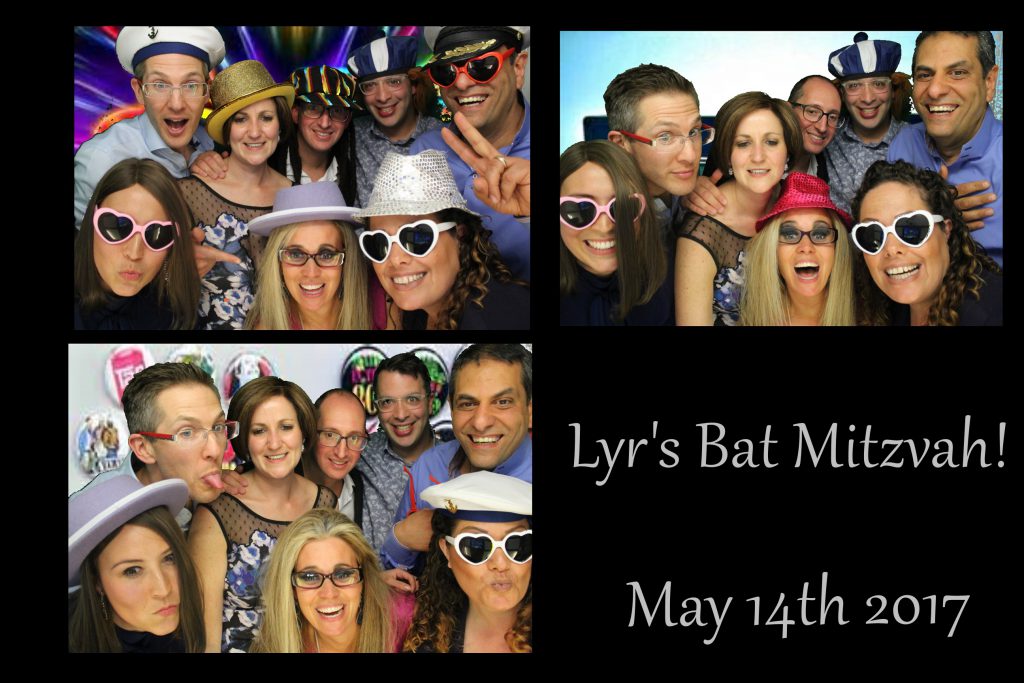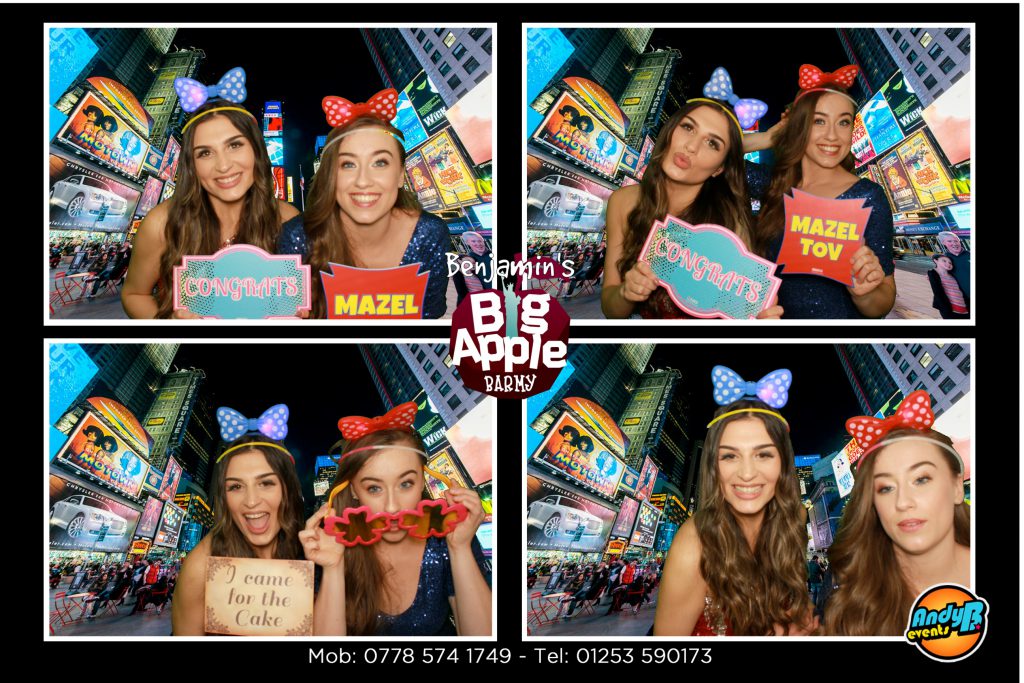 'Hi Andy,
Thanks for putting on the entertainment last night at Benjamin's Big Apple barmy. There was lots going on, and something for everyone. Most importantly, our son had a great time. You did a great job getting people on the dance floor, and the parents' generation especially enjoyed a good boogie. The casino tables were definitely a good gamble, and loved all the NYC backgrounds in the photo booth. Thanks again and we have the most precious memories, with a fab sound track!
Best wishes, Julie, Julian, Benjamin and Elizabeth @ Yeshurun Hebrew Congregation 21/10/18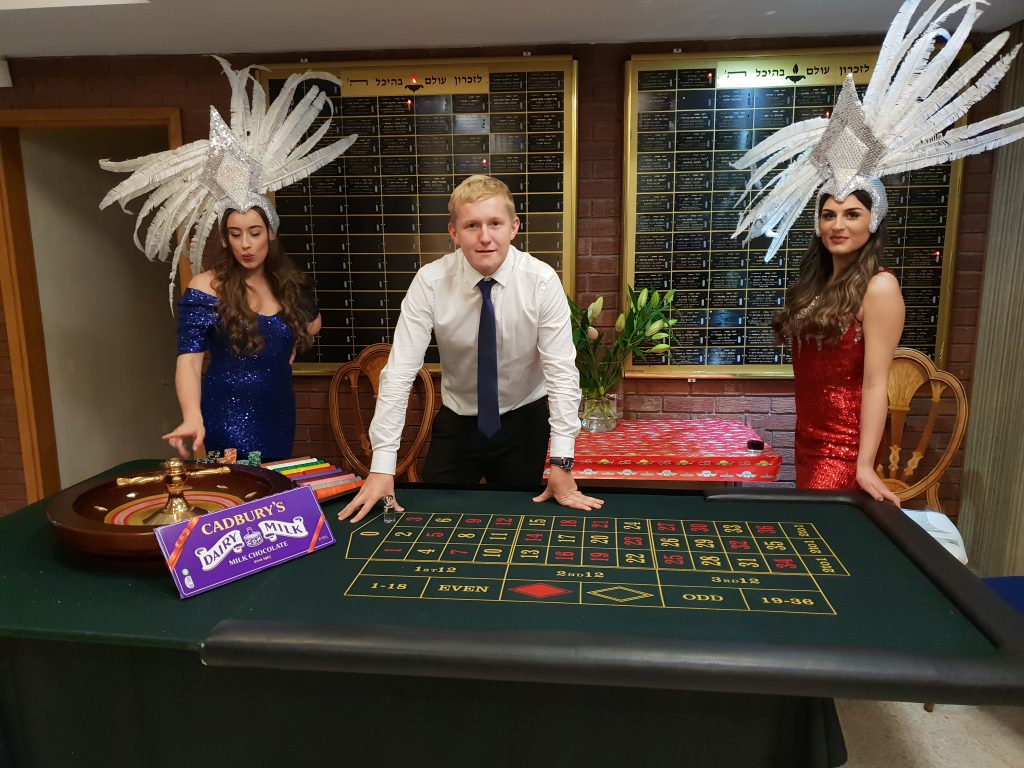 Our fun casino table hire can also make for great peripheral entertainment!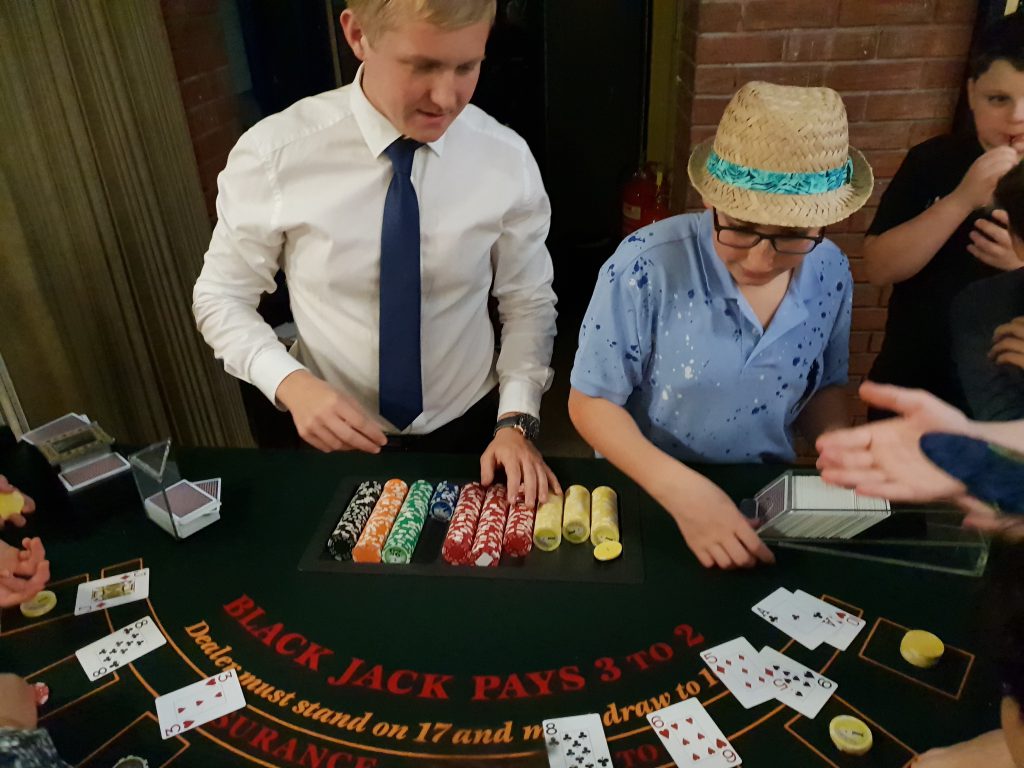 Our Showgirls can also enhance the party by assisting with meet n greet, flanking the Bar Mitzvah boy for his grand entrance & encouraging dancing.
Dance floor hire is also very popular if the venue doesn't already have a suitable floor. We supply the white LED (sparkling), black & white (chequered) & plain white floors.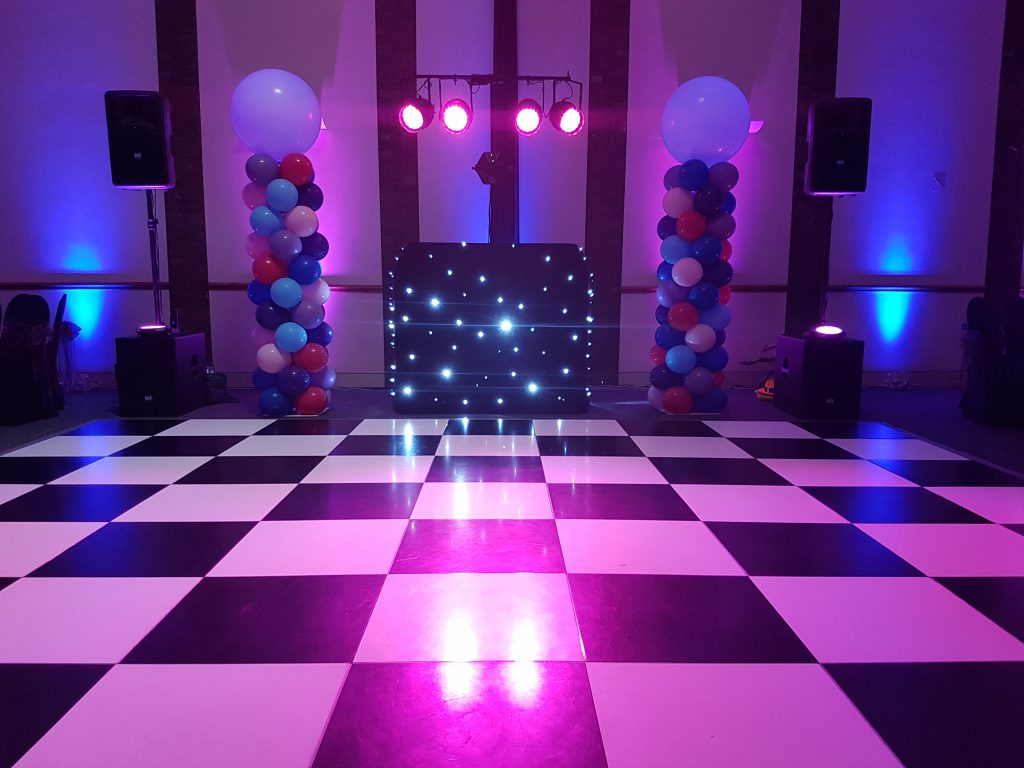 We can also provide a range of other products & services from venue dressing/room theming, star cloth back drops, various fun foods, close up magicians, live music, staging, full sound & lighting rigs & much more…
'Hi Andy
Just wanted to say thank you so much for the marvellous job you did for us last Sunday night. The music was perfect you played all the songs everyone wanted to hear and the dance floor was filled all night long.
We loved the mad city breakers they were excellent and the equipment, the dance floor, stage, uplighters and star cloth you brought too helped to make the room look incredible .
We were absolutely delighted with everything and would definitely use you again.
Thanks again
Samantha Fraser' @ Victoria & Albert Marriott Hotel, Manchester
!MAZEL TOV!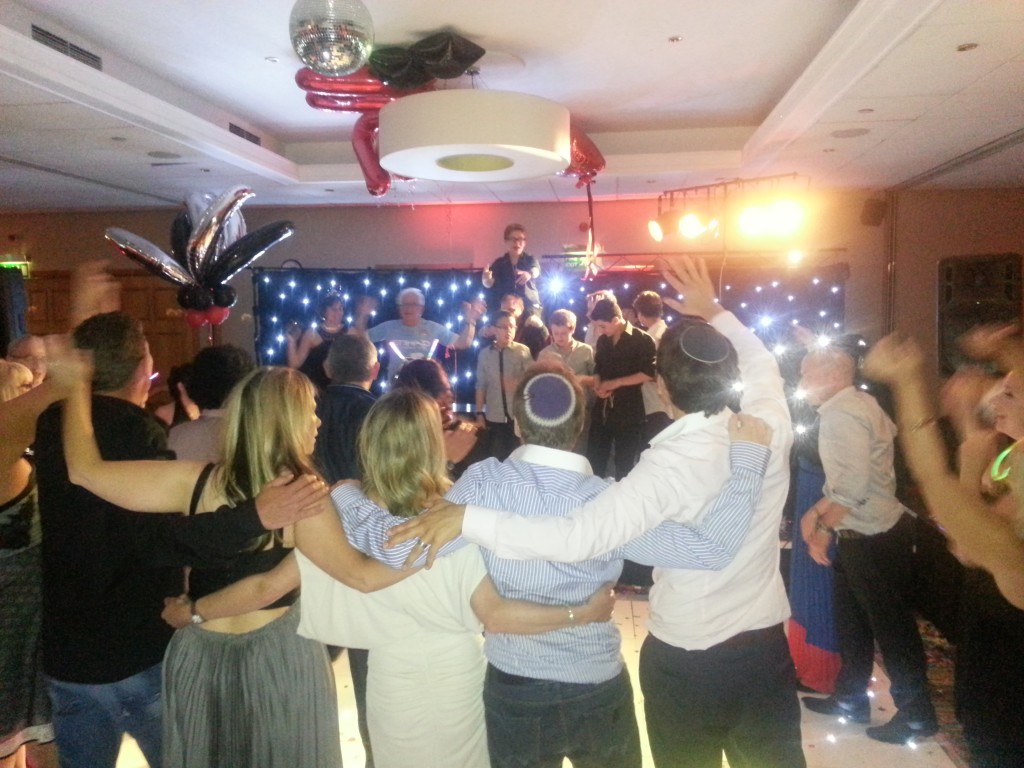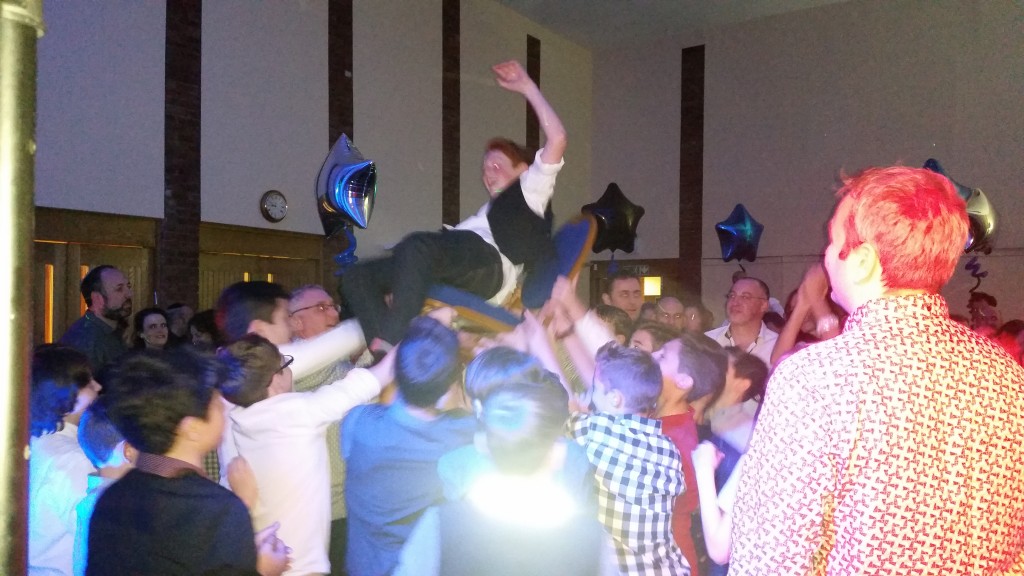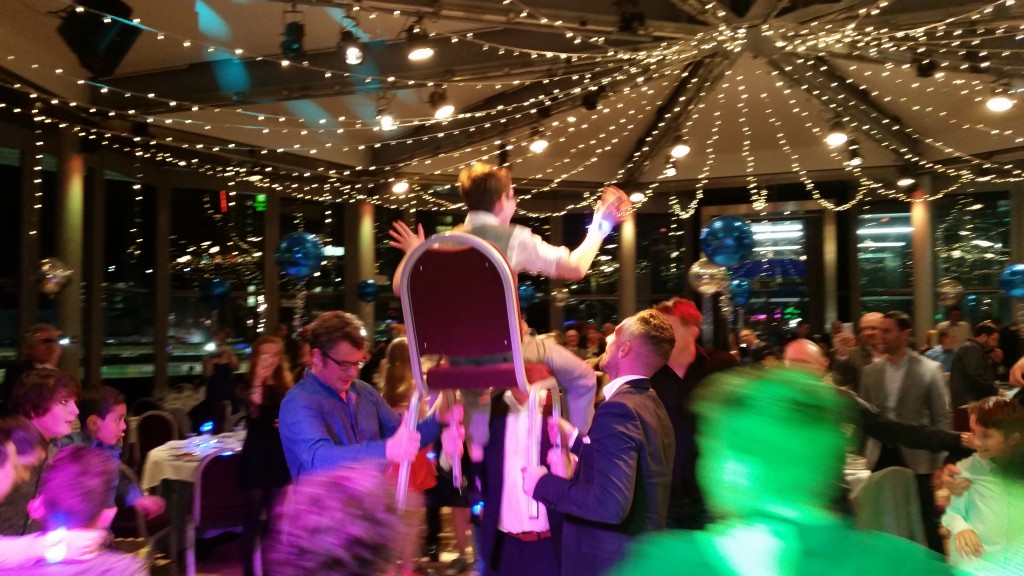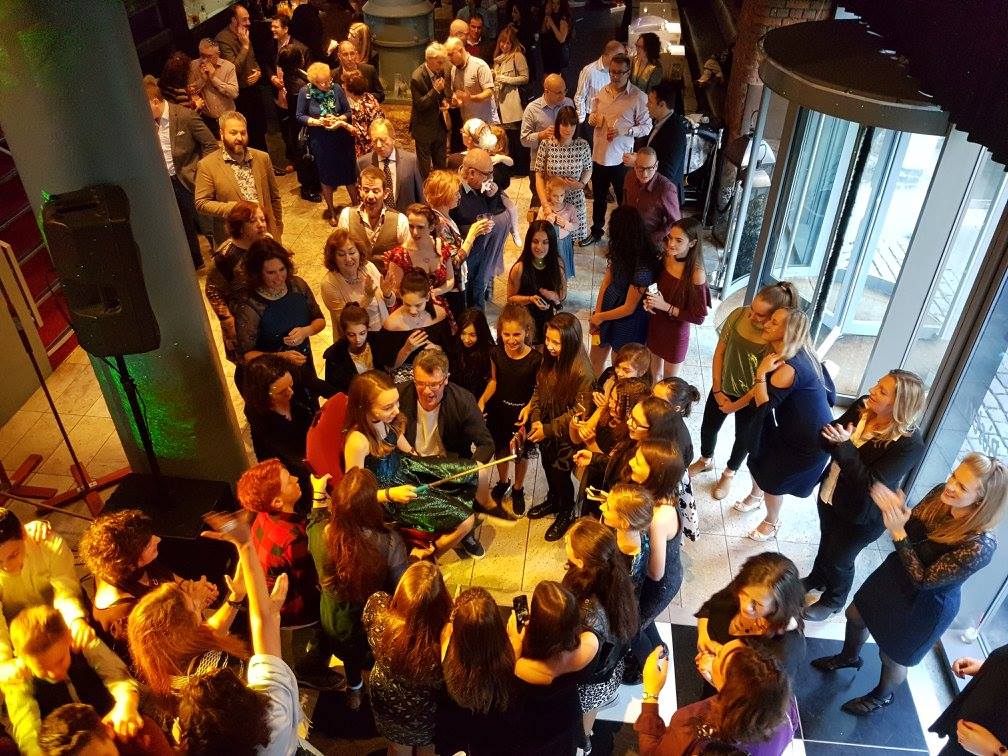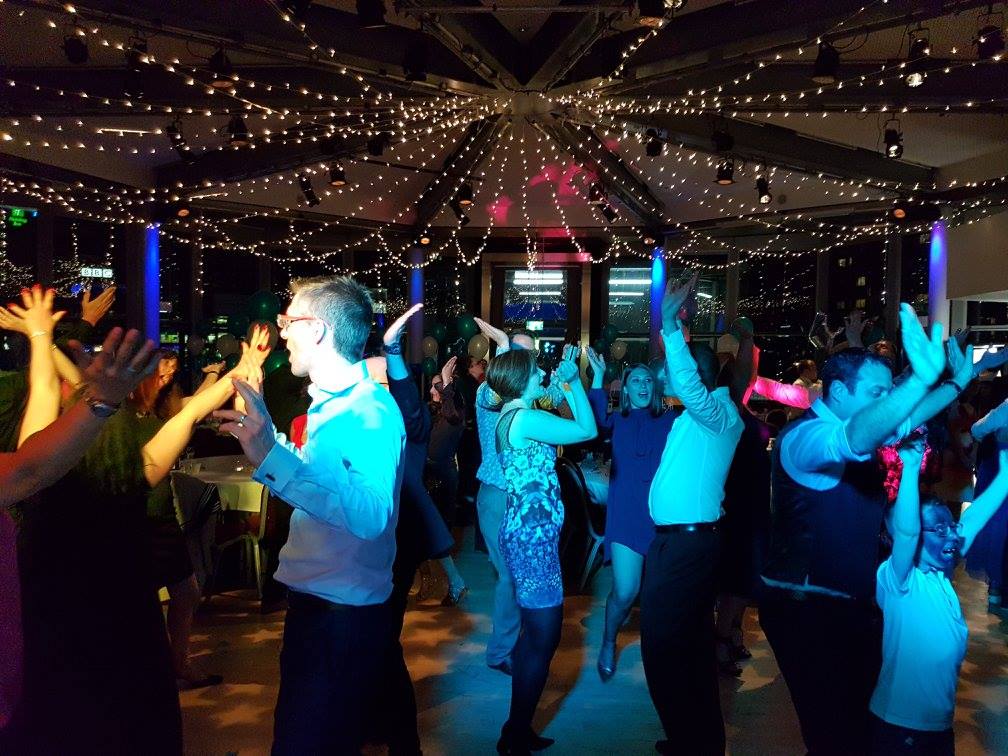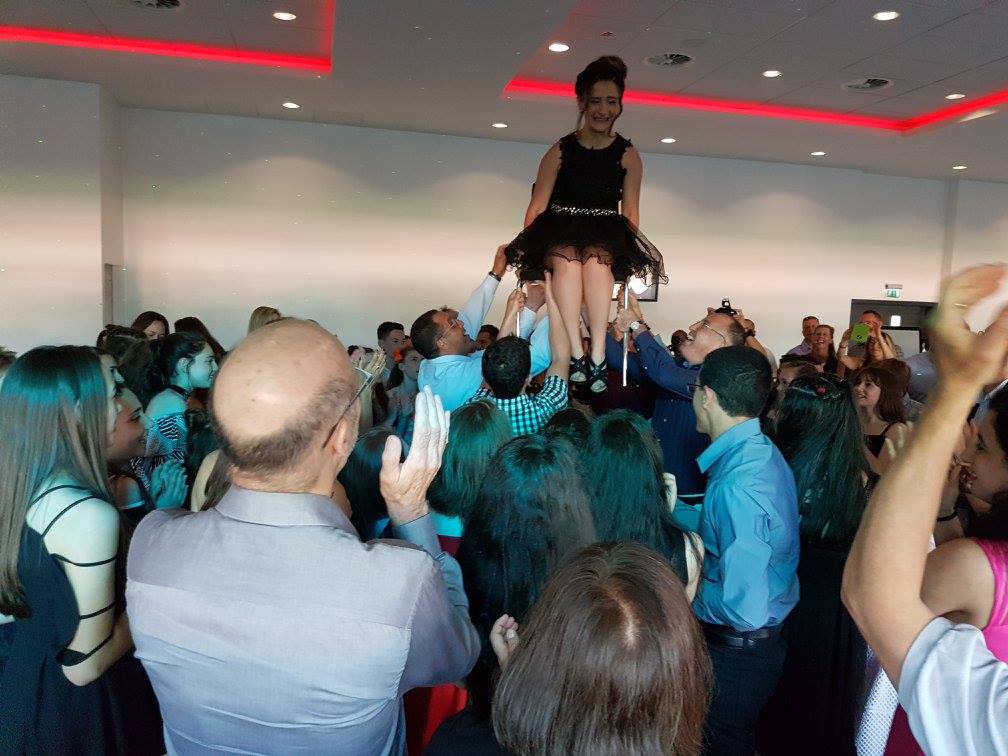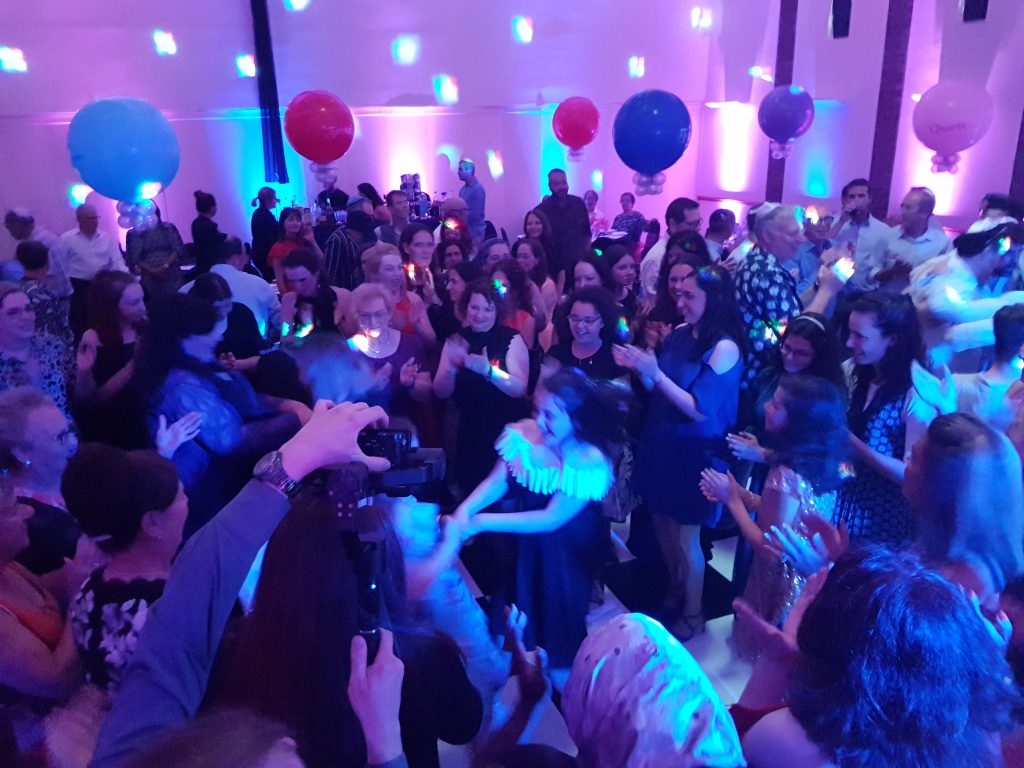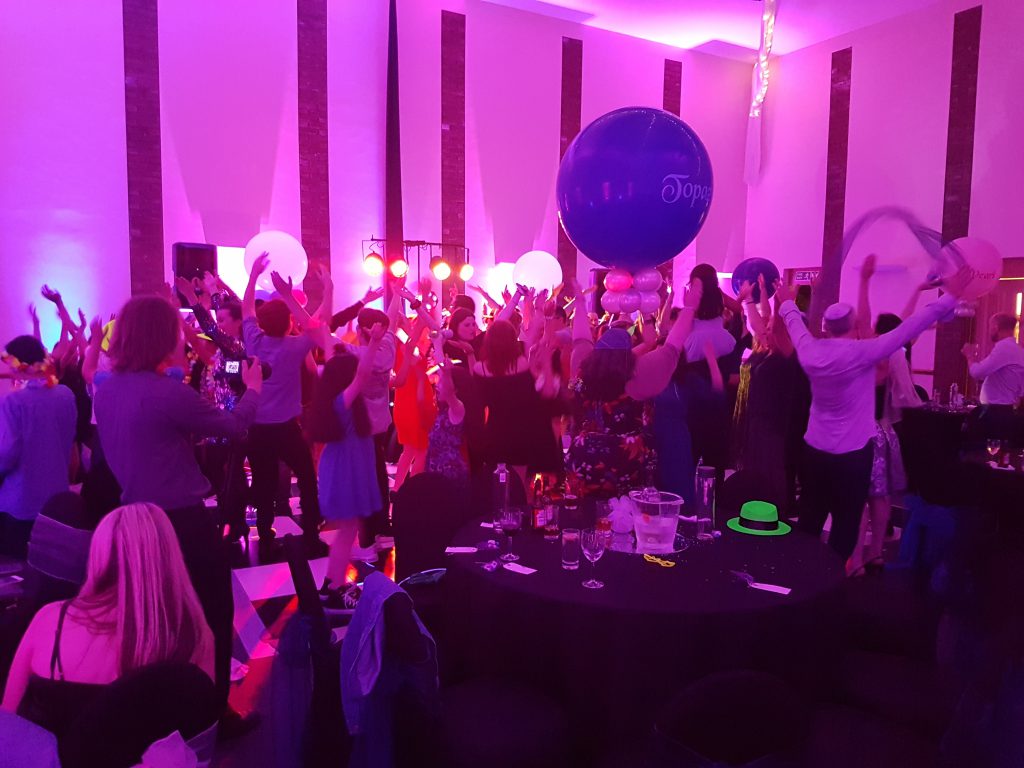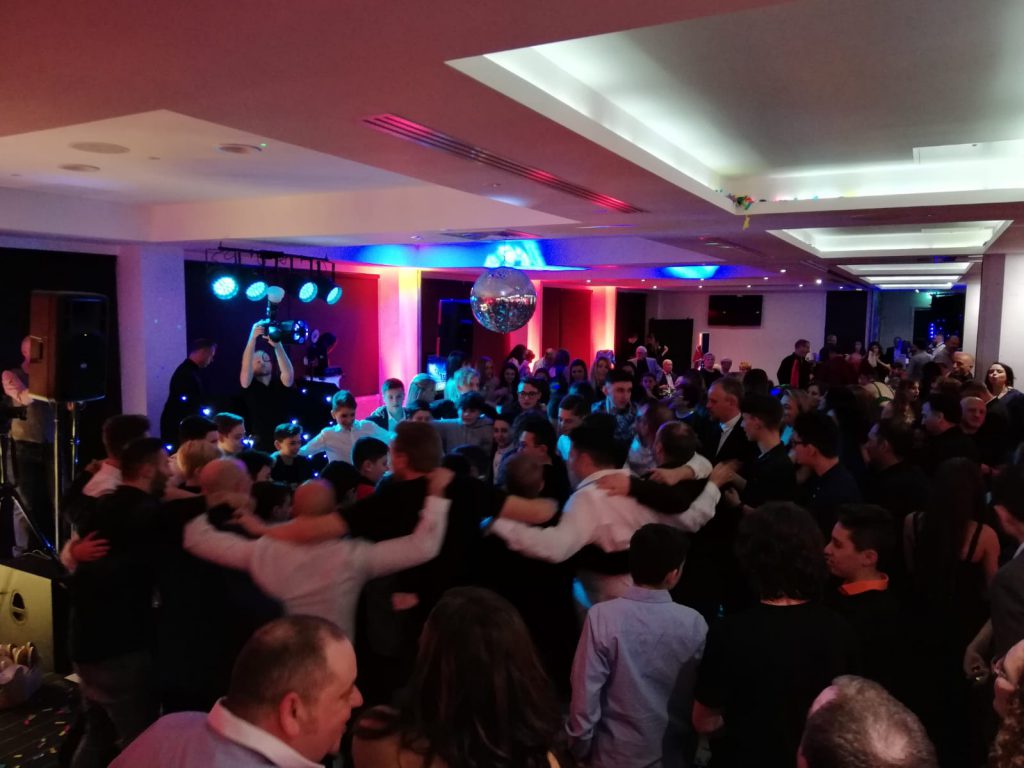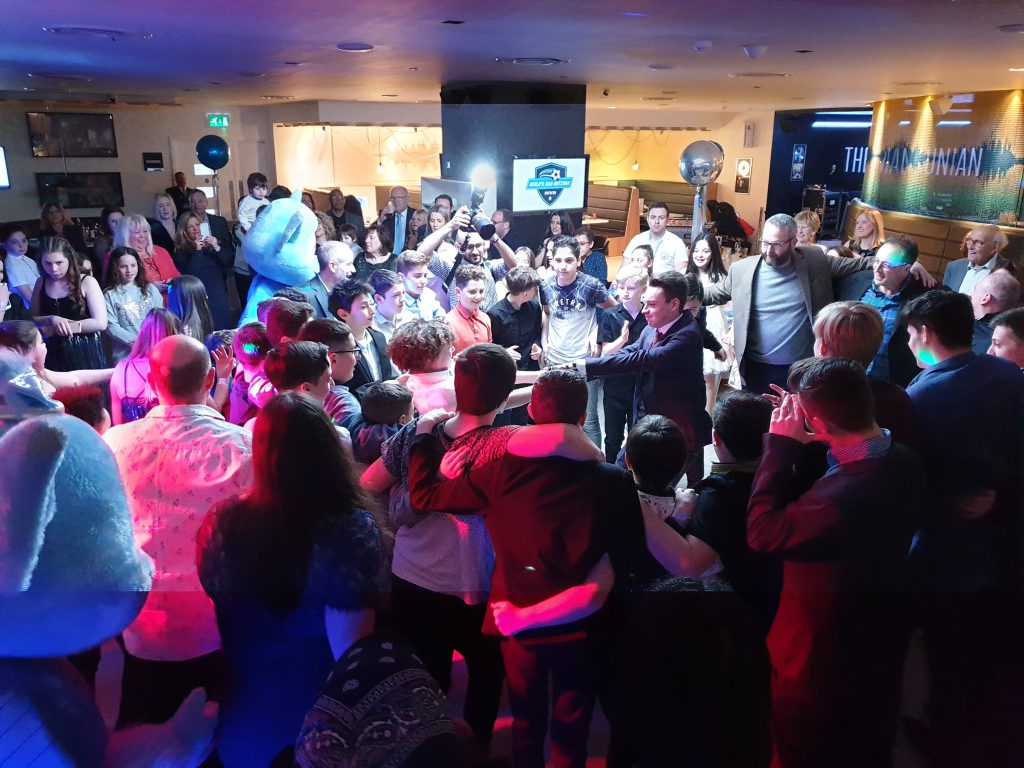 !MAZEL TOV!
So, if you're looking for an experienced mobile DJ & host for your next Simcha, email your enquiry to andy@andybevents.co.uk For an accurate quote, include the date, venue details, approx. timings, guest numbers & any products/services you are interested in.