28th October '12 – Hired as wedding DJ for Mr & Mrs Collins at the Marriott Worsley Park. I've played for weddings at the Worsley Marriott on many occasions but always in the Worsley suite, this was the first time for me in the Terrace room which is quite nice for smaller wedding parties.
For the first hour or so, Jon, the groom wanted some background music from the likes of the Specials, Smiths, REM, Elvis Costello & Teenage Kicks from the Undertones.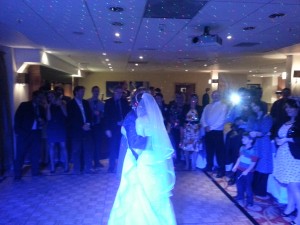 Then we did a mock cake cutting & their first dance which was performed to 'A rainy night in Soho' from the Pogues. Then it was party time! Really mix of music, think I must have covered every genre! But so long as they danced, it was quite fun to mix it up a bit! Probably the most random request I had was for 'Birdhouse in your soul' from they might be giants! I can't remember the last night I played that, but they all danced to it which was great (although I don't think I'll put it in my regular play list!). Really enjoyable night & good fun party crowd for a smaller wedding. All the best to Mr & Mrs Collins!
Had the following feedback from Natalie (the bride) – 
Hi Andy,
We've not been back long from our honeymoon (which was amazing). Hope you are well.
Just wanted to say thanks for a fantastic night. (Although I apologise for the sight of my brother in a kilt….)
If you want us to fill in any sort of feedback thing, we'd be happy to.
 Kind regards,
Natalie and Jon Collins.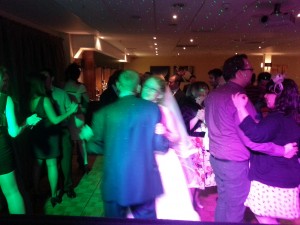 So, if you're looking for an experienced wedding DJ for your evening reception at the Marriott Worsley, email your enquiry to andy@andybevents.co.uk
As a guide, expect to pay £275 which covers playing times of 7.30pm till 1am. Or, if you're hosting a more intimate reception, I charge £250 to cover 7.30pm till midnight which will probably be late enough for a smaller wedding party. Any additional time is £25 per hour.
Keep up to date with Andy B Events. Click the 'like' button on our facebook page – www.facebook.com/Andy.B.Events