Thank you so much Andy for being an incredible DJ at our wedding! You were very helpful and professional throughout the planning and day. You judged the crowd brilliantly and kept the dance floor bouncing all night! We did a choreographed first dance with our bridal party and it was a lovely touch that you played our first dance song again to finish the night and we got to do our routine a second time, a perfect end to a fantastic day! Highly recommended! Thank you! (Mr & Mrs John 9th March '19 @ Beeston Manor hired Andy B to host the daytime & evening DJ services)
Andy B is an established, friendly & professional wedding DJ based in the North West. He covers South Lakes, down to Lancashire & Blackpool, through to Liverpool, Cheshire & Manchester.
His standard mobile rig consists of a top quality sound system (perfect for up to 100 guests), a selection of modern lighting effects plus star booth. See https://andybevents.co.uk/blog/2011/01/andy-b-dj/ for more details including any lighting/extras which you can add on for larger parties up to 400 guests.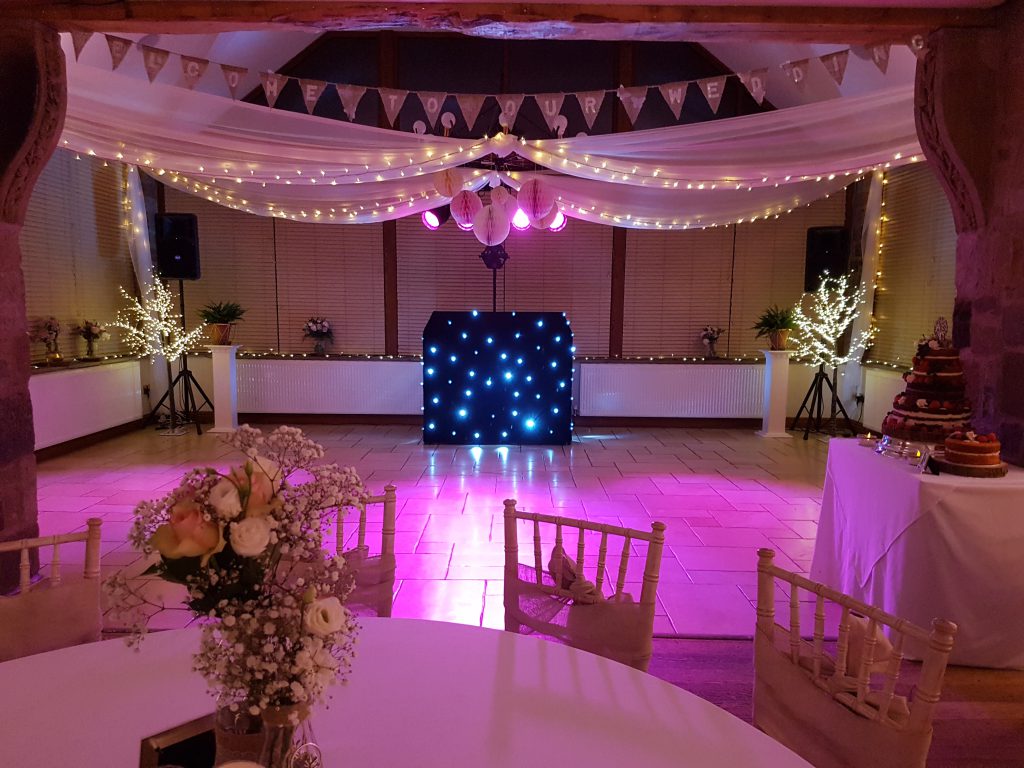 He carries a comprehensive selection of music & will be able to cater for most requests on the night, which is something he'll actively encourage. Beforehand, you can go through specific requests for the evening including the first dance & any other special songs (as well as any you don't want playing!). At this point, you could prepare a whole set list (some clients ask their guests for suggestions to make up a list), which he'll be happy to work from as required. You can have as much pre event communication as required to ensure it's just right on the night.
You'll notice on social media Andy doesn't post endless selfies of himself posing with the bride & groom like he's the star of the show! That's because the evening is about YOU! You're the most important people. The idea is to ensure you & your guests have an amazing time!
We had Andy for our wedding at Beeston Manor on 22/02/2019 and he did nothing short of a fantastic job. Andy was brilliant as Master of Ceremonies and followed up with a great party providing an excellent atmosphere until closing time. He was accommodating through the whole build up to the wedding and as well as playing great music all night he took requests from all guests.
I would highly recommend Andy B Events for any weddings or other social functions, five stars from me and my new Wife, thanks Andy.
See a wedding party in full swing for yourselves! Many thanks to Leatham videos for the following footage of Mr & Mrs Cowley's evening reception at the Clifton Arms hotel, Lytham (alongside our fab close up magician Jason – https://andybevents.co.uk/2011/02/close-up-magician-north-west )
FB review from Adrian Spencer after his wedding party at Shrigley Hall 28th December '18 – We booked Andy for our wedding and he was amazing! Hewas so polite and professional throughout the whole process. He followed the playlist we provided and kept everyone on the dance floor all night. Hissetup was fantastic and we couldn't have been happier. Highly recommend!
Andy hosted the evening party for our recent wedding at Beeston Manor. He was excellent and really hit the right notes with our music making sure the dance floor was always packed. He recognised the songs that got the most energy and brought things together brilliantly at the end. We would highly recommend him for future functions. Thank you Andy!! (Rob Broadgate wedding party Beeston Manor 8th December '18)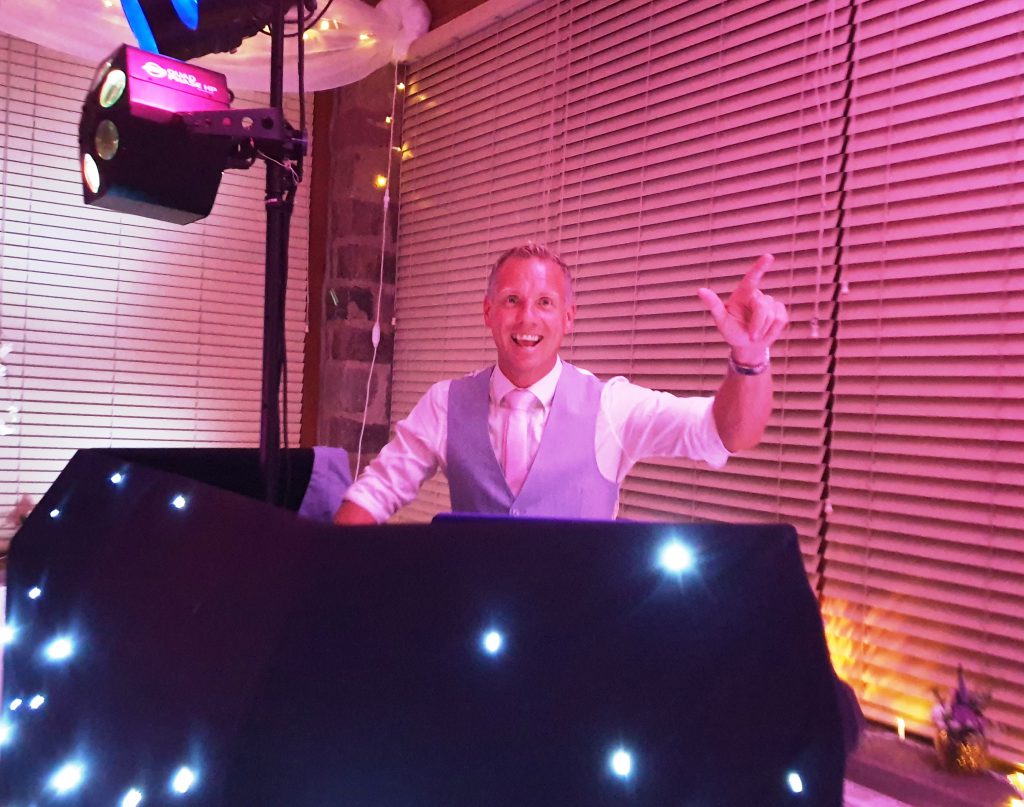 As well as the disco, he will also act as the host for the evening as required – introducing for example, the first dance etc. His dress code for a wedding is normally suit & tie as appropriate the occasion. He's there all night & will fit in with how you want your evening to run. But if you do want any suggestions for timings etc, he's more than happy to have a chat with you about it.
Lots of first dances…
Weather permitting & if the venue has suitable grounds, it may even be possible for Andy to accommodate a first dance outside using his portable PA…
FB recommendation after playing for Mr & Mrs Eastham's evening reception at Singleton Lodge
We booked Andy for our night do, and couldn't recommend him enough. He did amazing with the music even when my little girl requested the same song a few times, he was kind and polite and would recommend him to everyone. Thank you again
5 star FB review after playing for Mr & Mrs Deighton's evening reception at Beeston Manor 12/10/18
We hired Andy for our wedding at Beeston Manor on 12th October and we were absolutely delighted. Andy was absolutely lovely and played everything we wanted (including some questionable requests!) and our guests were definitely entertained! I'd definitely recommend booking Andy for your wedding entertainment as everyone said how much of a good time they had
Email from Suzie after playing for her wedding party at the Ryebeck (Bowness) 6th October '18
I just wanted to send you a message to say thank you so much for our wedding! You played exactly what we wanted and we had the best night ever! All my family and friends have said that you were brilliant too and asked for your details for any future parties!
We will definitely be recommending you to anyone who asks in future!
The whole day was brilliant, and the music made the night.
Is there somewhere I can leave a review for you?
Wedding DJ Andy B ready to rock for an evening reception…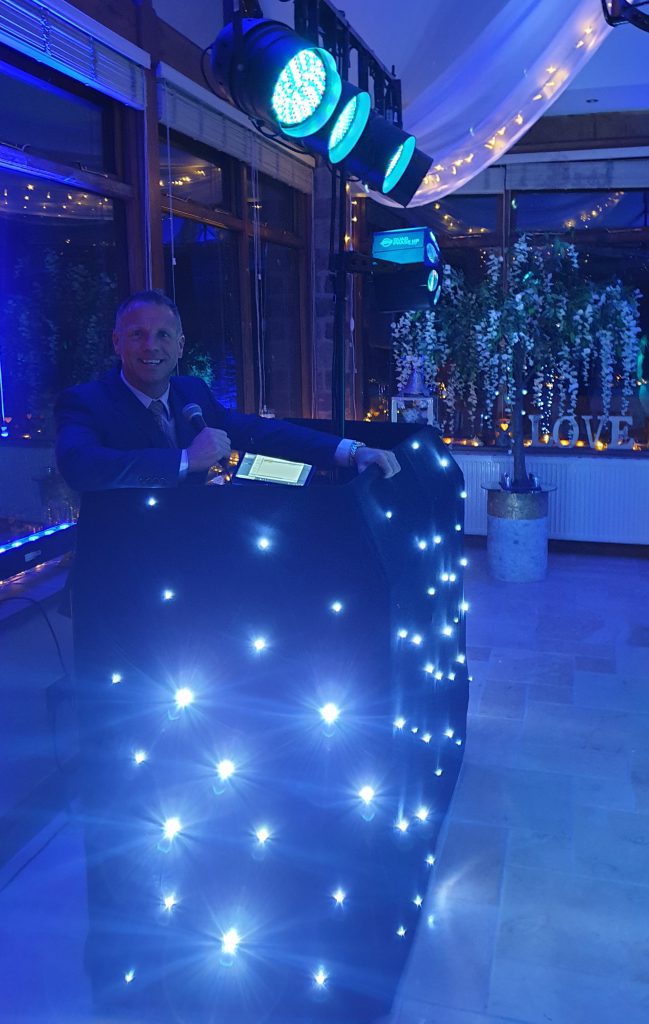 Andy has no problem working alongside bands or wedding singers. If you would like any information on how this works, please don't hesitate to contact us. We can actually supply some of the best bands/singers in the area, please ask for details.
He can also accommodate saxophonists playing along with his DJ set which is currently very popular…

Again, we have a great working relationship with some of the funkiest saxophonists in the area who we can book on your behalf.
A few 'in action' video clips from the rest of the night showing the parties in full swing & a few finale tracks!
Also happy to accommodate music from other countries…
As well as the evening reception, Andy is also great at hosting your wedding breakfast. For this, he will play suitable music throughout, host any speeches, introduce the bride & groom into the room & if you like, can ramp up the music toward the end of the meal to create a fun party atmosphere…
To suit the aesthetics of your décor, Andy can provide a more discreet set up for the daytime which won't be as intrusive on your venue dressing scheme.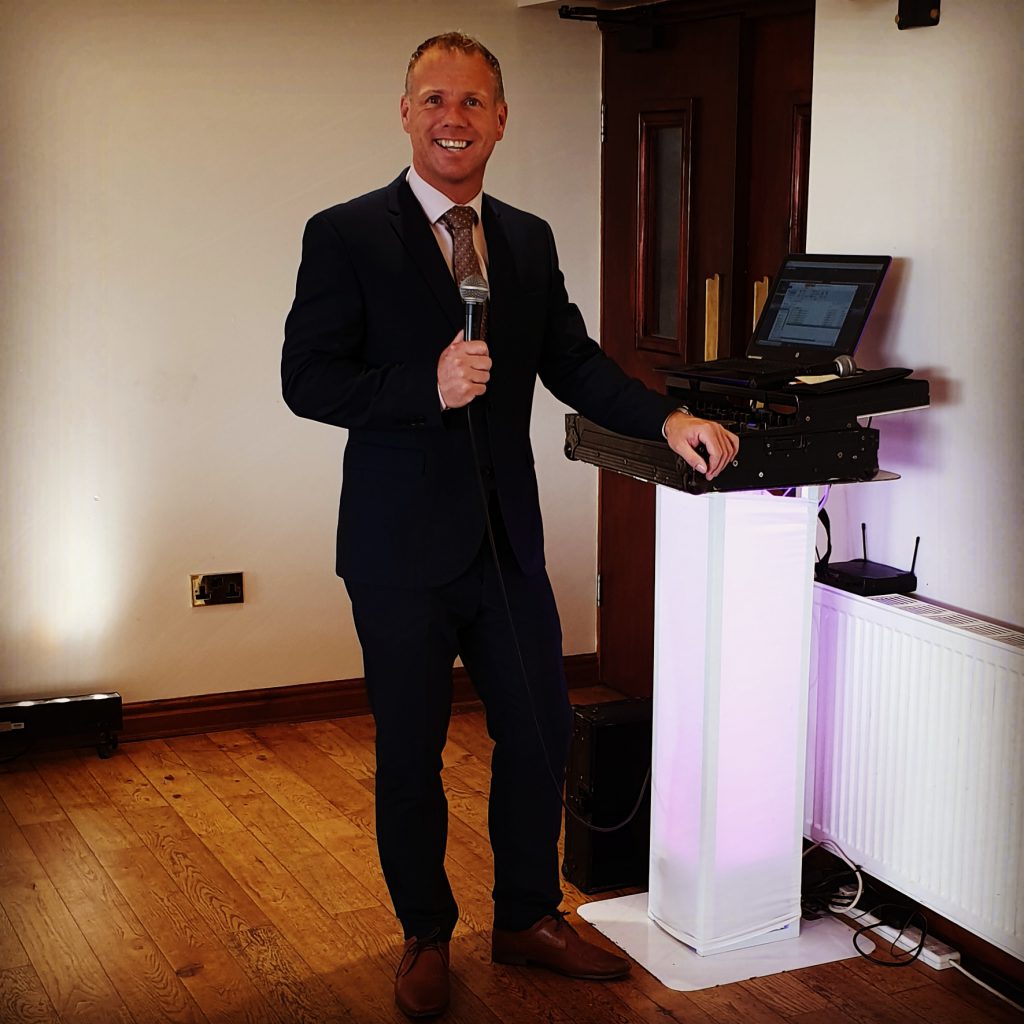 As well as the wedding breakfast, Andy can also play for the ceremony & drinks reception if required, providing the soundtrack to your entire wedding Day!
Facebook recommendation from Ryan Leonard after playing for his wedding party (daytime hosting & evening reception) at Beeston Manor 30th September '18
Andy B was awesome for mine and my wife's wedding day, no matter what songs you need or how you want them played this guy will do it, even when it was time to pack up well past midnight, a few people were still up in dance mode and wanted some more songs and he went into his own time and kept the music playing, what a legend. he's also an incredible host as we had him hosting throughout our wedding as well and he did a superb job. highly recommended, cheers Andy
FB recommendation after playing for Mr & Mrs Green's evening reception at Hurlston Hall 28th September '18
Fantastic DJ service, went above expectations! Smart, polite and courteous. Great communication, no issue adhering to our every request quickly, flexible to change on the night and generally everything we could have asked for. Very pleased customers, thanks for the photos you took too!
Email from Louise after her wedding party at Samlesbury Hall 25/08/18
Sorry for the late message, this week has been crazy!
Thanks so much for DJing at our wedding last Saturday. Everyone was loving the tunes and having a boogie! Two people even got up who never usually go near a dancefloor.
Thanks for a great night!
Text from Jessica the morning after her wedding party at Singleton Lodge 24/08/18
'Thank you so much for everything yesterday, our night was amazing, thank you so so much!'
Email from Lydia after playing for her wedding party @ Meols Hall on 11/08/18
Just wanted to say a big thank you for Saturday. We had the best day and you played all the songs we wanted. No one could talk yesterday which I think is testament to all the singing along!
Thank you again for helping to make our day so special!
5 star FB review after playing for Mr & Mrs Armer's wedding party @ Beeston Manor
Andy DJ'd for us for our wedding on Saturday (28.07.18) and what a great job he did. Nothing was too much trouble and he played the playlist we'd asked for. Even on the night when my husband or I requested a certain song to be played next he was more than happy to do it or change the order of things and was just so accommodating to everything, even helping my husband plan a surprise change of first dance song. The whole night was great, everyone commented on the music and we had an absolute blast. The dance floor was never empty! Such a lovely guy and great at what he does. Thanks so much Andy!
5 star FB review after playing for Mr & Mrs Wood's wedding party (including hosting the wedding breakfast) @ Beeston Manor 20/07/18
We booked Andy for the whole of our wedding day at Beeston manor providing day and evening entertainment. He was great from start to finish announcing speeches, first dance cutting of the cake and provided fantastic music day and night. Highly recommended by us both , cheers Andy xx
5 star FB review after playing for Mr & Mrs Taylor's wedding party at the Villa, Wrea Green 29th June '18
Sorry we are late! We would like to say Thank you. We booked Andy B events for our wedding. Andy was great. I would recommend for future events. Mr and Mrs Taylor
5 star FB review after playing for Mr & Mrs Sherwin's wedding (including hosting the wedding breakfast & photo booth for the evening) @ Beeston Manor 16th June '18
We hired Andy to host both our daytime and evening reception – I couldn't recommend him highly enough!
It was apparent he has plenty of experience, he knew what music would get people up dancing all night and his quick thinking with music choices throughout the speeches was an added bonus!
We also hired the photobooth which was a great shout – plenty of props to choose from and the photos turned out great!
Andy is a true professional yet so down to earth and friendly – you wouldn't be disappointed! Thank you – Mr & Mrs Sherwin x
As well as your wedding DJ, we are a one stop shop for all your entertainment requirements. See our guide to wedding entertainment for full details on the services & products we can supply for your Big Day – https://andybevents.co.uk/guide-to-wedding-entertainment
So, if you're looking for an experienced wedding DJ for your Big Day, email your enquiry to andy@andybevents.co.uk
You can find many more photos, videos & testimonials on our FB page – www.facebook.com/Andy.B.Events