Zooka and Suzie Q, have established themselves as world class cabaret and theatre performers.
They are renowned for their range of spectacular, breath-taking illusions, amazing quick change, sleight of
hand and magical eccentricity. They have shared the bill with British variety and comedy legends such as
Brian Conley, The Grumbleweeds, The Krankies, Bernie Clifton, Jimmy Cricket, Bobby Davro and have
toured regularly with the late Sir Ken Dodd.
Zooka and Suzie Q's unique exciting whirlwind of magic, illusion and international quick change, will have
you amazed and on the edge of your seat. Their electrifying eccentric approach is stylish, captivating and immaculately
presented. Its boldness of presentation holds your interest and you're never quite sure what's
coming next.
Their unique magical act packs small, plays big and has taken them far and wide, packing out audiences in
many global destinations. Zooka and Suzie Q are equally at home on large theatre stages or in smaller, more
intimate surroundings. Together Zooka & Suzie Q bring something eccentrically different; from an interactive
performance, to a family party or even a large scale cabaret show. Zooka & Suzie Q can handle pretty
much any situation! A dynamic duo for all the family, who always bring a smile to everyone's face!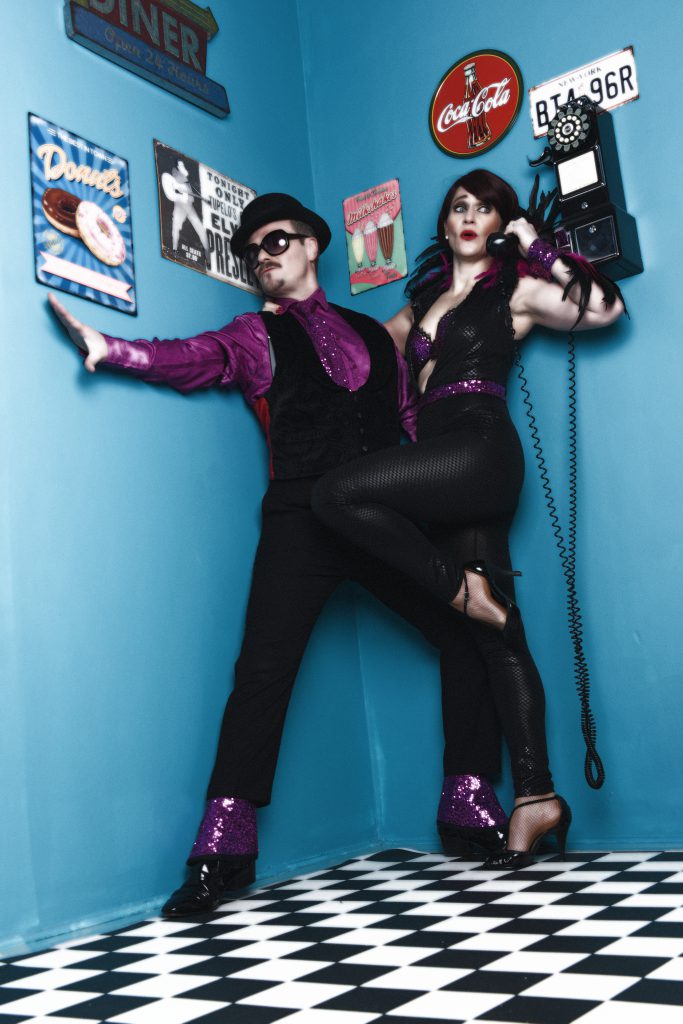 Zooka & Suzie Q are ideal for:
Theatre/ Gala Shows
Corporate dinner experiences
Cabaret
High profile Weddings & parties
Pantomime
TESTIMONIALS & REVIEWS
Craig Phillips – Winner of the Original Big Brother and star of Mr & Mrs DIY
"A breath of fresh air in the industry, weird, wacky, wonderful, jaw dropping good"
Francis Guildea – Cromer Pier and Pavilion Theatre Manager
"Zooka and Suzie Q starred in the Award Winning Cromer Pier Show in 2018 and what can I say…audiences
loved them !
Performing their own very stylised and visually impressive act they had audiences spellbound whether it was
vaudevillian magic , spectacular illusion or slick quick change.
As part of our company they were equally at home in big West End production numbers in what was a record
breaking season.
Zooka's character just on the friendly side of menacing makes their act so much more than just another magic
show and Suzie Q has real star quality and is mesmerising to watch".
Adam Press – Review for ukcabaret.com
"Illusionists & quick change act Zooka & Suzie Q present an ultra modern slant on classic illusions. A fast paced
high energy act which is a welcome breath of fresh air to the art of live stage magic. The thing that separates this
dynamic duo from the rest are their unique stage personas. Zooka is like an escapee from a hospital for the criminally
insane on an episode of Batman with Suzie Q as his accomplice. Amongst the organised chaos was some
first class magic, the illusions were precise as was the choreography".
Wayne Rooney – England Captain
"Amazing"
Late Sir Ken Dodd – Comedy Legend
"This is a class act"
Bernie Clifton – Variety star
"This is a timeless act"
The Grumbleweeds – Variety/ Pantomime stars
"Your a class act"
Lord Mayor Of Liverpool
"This just gets better and better every time we see your act"
Jonathan – Owner & Manager Golden Gate Holiday Park
"We have received amazing feed back from our customers and guests, saying it was the best show and atmosphere
they have experienced at Golden Gate".