Great fun entertainment for your child's next party!
Many thanks to Harriet for the following feedback after hiring our baby T Rex for her son's birthday 4th January '20 – 'WOW!!! What can I say? Absolutely incredible and Alan was just the nicest man I could have the pleasure to meet.
Thank you ever so much for making my son the happiest boy in the world
🙂'

Hire a dinosaur! Our basic package starts from £250 in Lancashire, Manchester & Liverpool which will cover up to 30 mins including 20 mins meet & greet with the big dinosaur (he's a baby T Rex but large enough to fill the room!) then 10 mins with the babies kind of like a wildlife show but with dinos!
Here are a few in action shots of the babies…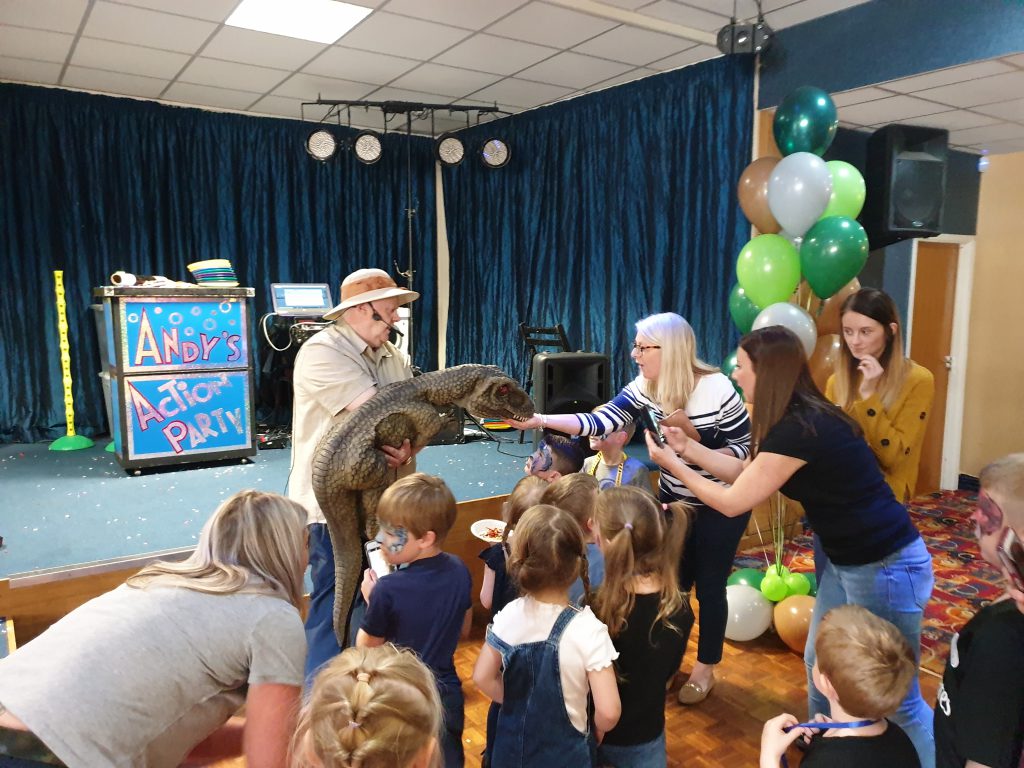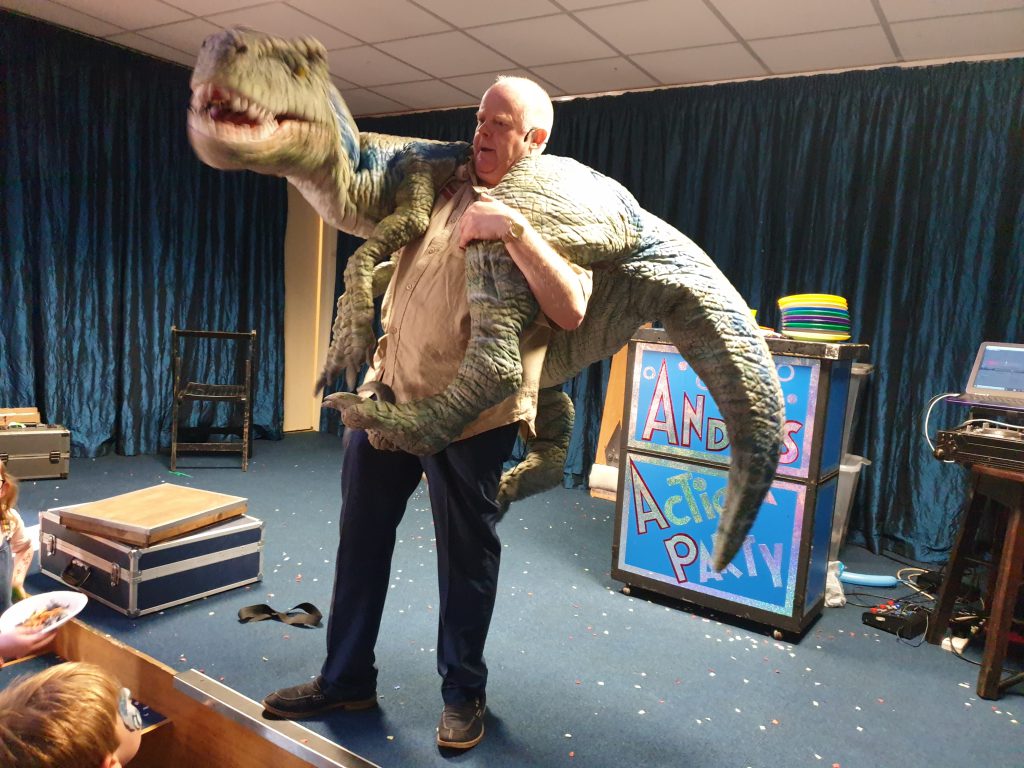 Then, out comes the baby T – Rex…
Despite his slightly scary appearance, children will soon lose their fears & say hello/stroke this huge dinosaur! Lots of great photo opportunities & of course quite the WOW! on social media!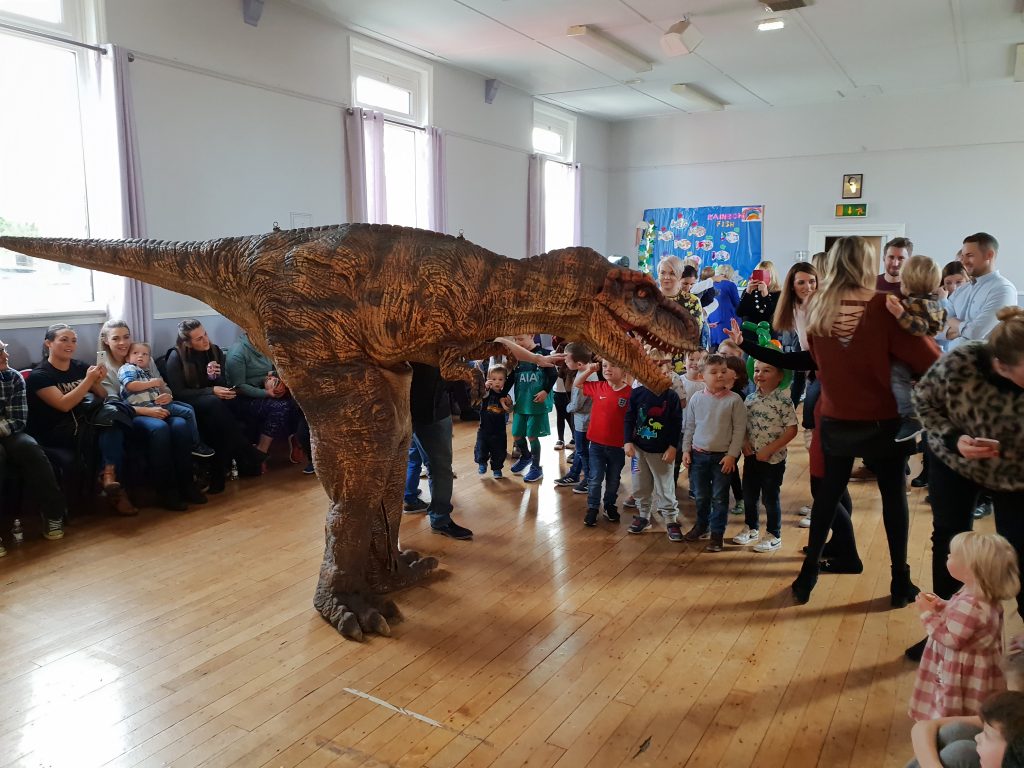 & it won't be long before they are dancing along with him!
Also available in a workshop format for schools & other organised groups…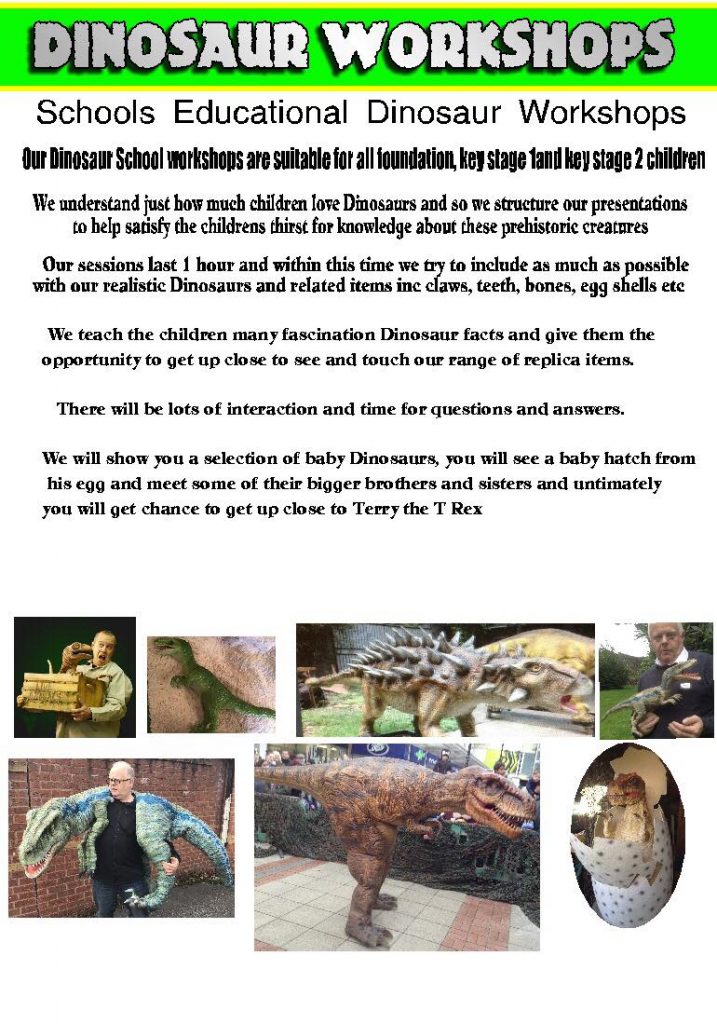 You can complete the party package with one of our excellent kids entertainers who can provide; fun magic show, balloon modelling, plate spinning, party dances & games. Or, why not go for a complete dinosaur theme!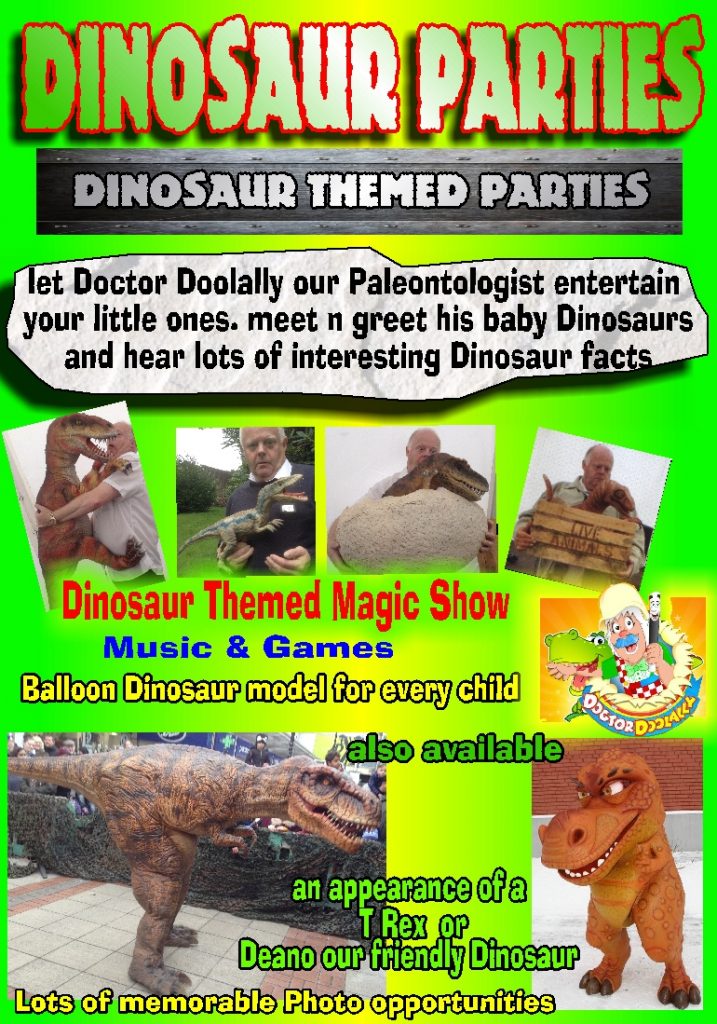 Prices from £350.
So, if you're looking for the WOW! factor for your child's next birthday party, hire a dinosaur! Email your enquiry to andy@andybevents.co.uk
Please note: The baby T-Rex dinosaur cannot go up or down a set of stairs (A couple of steps is generally ok). So, can only accept ground floor bookings, unless there is a large lift. Please also ensure there is enough space in the venue you're hiring to accommodate him (think the size of a small horse rampaging around the venue!). Ideally, we also need a private room off the main party to set up with doors large enough for him to get through! Double doors are ideal. For this reason it is not generally suitable for parties at home! The baby T-Rex is approx. 4 metres from nose to tail & needs that much clearance to turn etc. He cannot go outside in wet conditions so if planning an outdoor party, it is important to have a wet weather contingency plan. You are responsible for ensuring the venue is suitable for his appearance. We reserve the right not to bring out the baby T-Rex with no refund if we arrive on site to find the conditions are not suitable. We also require parking on site for a large van for the duration.
Keep up to date with Andy B Events, like our Facebook page – www.facebook.com/Andy.B.Events