A pleasure to be involved in a wedding reception at Tinos Italian restaurant in the centre of Preston. Tinos has a great function room for all kinds of events & we've been involved in several there.
On this occasion, we provided our popular wedding DJ Stu plus our 12ft white LED dance floor for the evening reception of Mr & Mrs Nagy.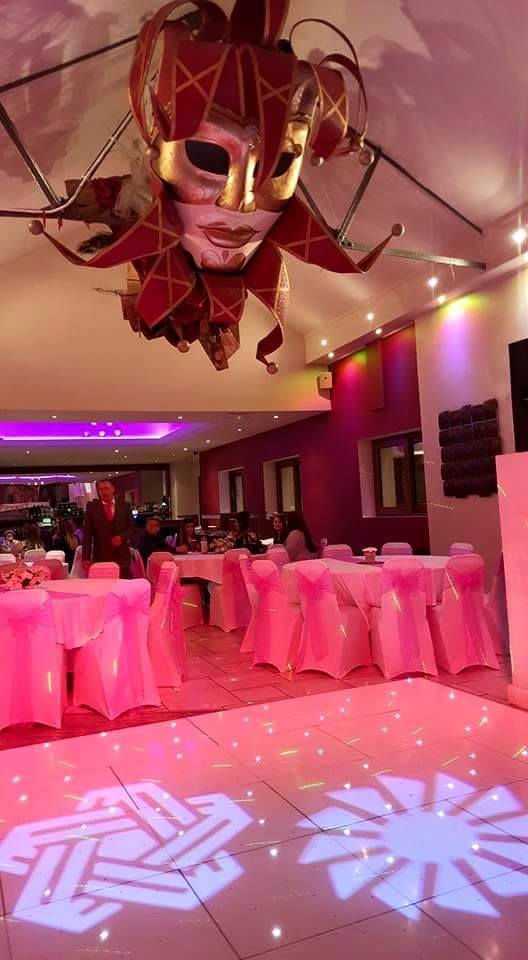 As you can see, our dance floor made a huge difference to the room.
Worth noting that our LED floors are what we call hard wired unlike most of our competitors who use wireless floors. The difference is that during the course of the evening, the floors take a few knocks with guests dancing etc, the wireless floors can sometimes come apart slightly leaving certain panels without power which doesn't look good, so we've gone with the wired ones to avoid this.
Our prices are competitive for the service we offer & start from £375 for the 12ft white LED twinkling dance floor which includes delivery & installation during your chosen time frame & collection at the end of the night.
The DJ is an essential part of the night. Our top quality recommended DJ's will provide background music as required, host the evening, play the first dance &, of course, the disco! You are also welcome to have as much input into the music played on the night as you like. Our professional, reliable, friendly & experienced approach will be especially tailored for your wedding.
For more details on DJ Stu, see – https://andybevents.co.uk/2011/02/events-dj-blackpool
As a guide, our DJ prices start from £250 in the Preston area, again, competitive for the service we offer.
Meanwhile, over in Blackpool on the same night, we supplied our black star cloth plus up lighters for a private party at the Imperial hotel.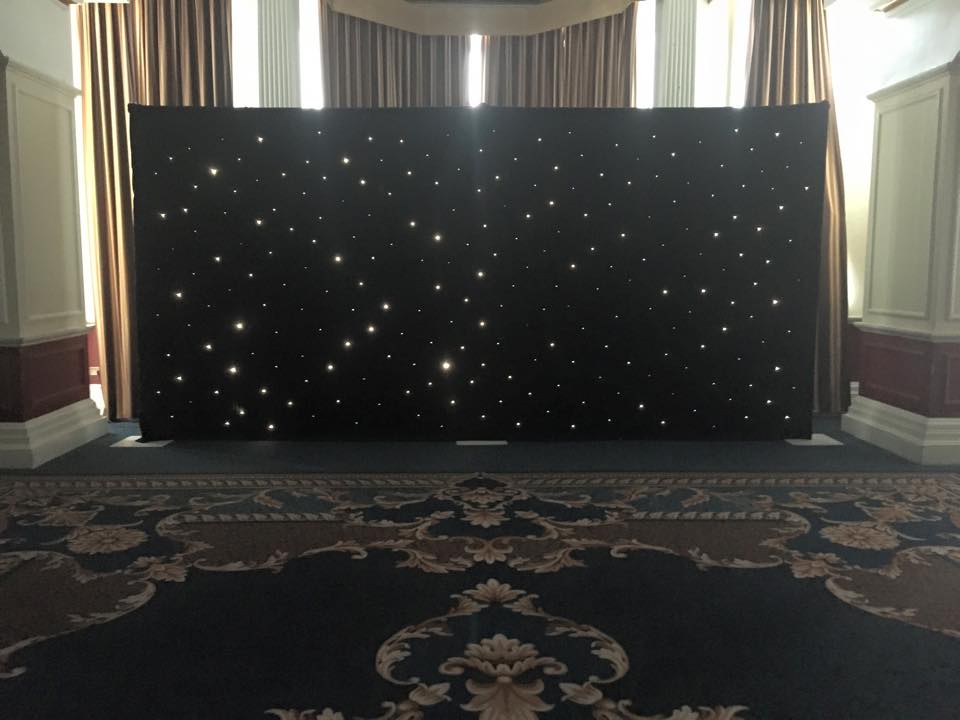 Our free standing star cloths can really help dress a room, hiding an otherwise plain or messy wall. They can act as a back drop for your DJ &/or entertainment which looks loads nicer than a wall!
For more details on any of our venue décor products & services such as dance floors, star cloths, up lighters, chair covers etc, email your enquiry to andy@andybevents.co.uk
We cover pretty much the whole North West.
Keep up to date with Andy B Events. Click the 'like' button on our facebook page – www.facebook.com/Andy.B.Events