A pleasure to be involved in Mr & Mrs MacPherson's Ruby anniversary held at Blackpool Cricket Club by Stanley Park. Their daughter Gemma had organised it & had booked our popular mobile DJ Andy B from 7.30pm till midnight.
Our mobile DJ's carry a full rig which consists of a top quality sound system (as appropriate for the size of your party) plus a selection of professional lighting effects to make a very professional set up.
They all carry a comprehensive selection of music & will be able to cater for most requests on the night. Beforehand, you can go through specific requests for the evening with the DJ. You can have as much pre event communication as required to ensure we get it just right on the night.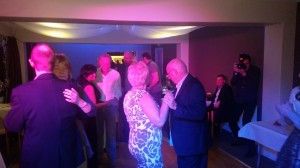 As well as the disco, our DJ's will also act as the host for the evening if required – making any announcements etc. They are there all night & will fit in with how you want your evening to run. But if you do want any suggestions for timings etc, they can point you in the right direction!
Prices for our mobile DJ's in the Blackpool area start from £195 which covers a standard evening from 7.30pm till midnight, if you need any longer, we charge £30 per hour thereafter.
So, if you're looking for an experienced mobile DJ in the Blackpool area for your special party/event, email your enquiry to andy@andybevents.co.uk
Keep up to date with Andy B Events. Click the 'like' button on our facebook page – www.facebook.com/Andy.B.Events