'Hi Stuart,
Sorry its so late after our wedding but we've been crazy busy.
Just want to say a massive thank you for dj'ing our wedding! You will be highly recommended to all our friends not that you'd need the recommendation as they saw first hand how you had our dance floor rocking! The dance off was the best although I'm still under the impression you fixed it for the boys lol! It was such a fun night and I'm so happy with your dj'ing and professional attitude throughout!
Thanks again The Smiths x'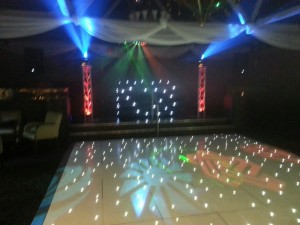 A pleasure to have provided our popular wedding DJ Stu for the evening reception of Mr & Mrs Smith at Bartle hall on the 5th July '14.
For more details on hiring DJ Stu, email andy@andybevents.co.uk or see his main post – https://andybevents.co.uk/2011/02/events-dj-blackpool
(Wedding disco prices from £250)
Our white LED dance floors are another popular feature of many wedding parties at Bartle Hall. Price depends on which size you hire, but starts from £395 for the 12ft floor, £495 for the 14ft floor or £595 for the 16ft floor. See our main dance floor hire page for full details – https://andybevents.co.uk/dance-floor-hire
Worth noting that our starlit floors are known as 'wired' floors. This means that wires underneath the dance floor connect the LED lights, it's highly unlikely that these will come apart. However, most of our competitors are using cheaper 'wireless' contacts. The problem with these is that during the course of the evening, they get knocked around a little as people dance or even walk across them & lose the contact, then some panels won't light up which looks naff.
We also have an offer on at the moment, when hiring our white LED floors, you can also hire a set of 10 uplighters for £50. (Full retail price is £14 each or £140 for 10) These set the room off quite nicely.
On the Sunday, we had our fab guitarist playing the Spanish classical Guitar for wedding guests attending a special afternoon cream tea/taster event organised by Bartle Hall. Scroll through our classical/jazz musicians web page for further details – https://andybevents.co.uk/classical-jazz-musicians Great for weddings! Especially during drinks receptions &/or throughout the wedding breakfast.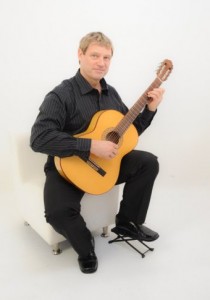 & the un expected hit of many a wedding party is our fun casino tables! Often used to fill the turn around period after the wedding breakfast & through till the early part of the evening reception. Used them for many weddings at Bartle Hall, works well in either room. Most recently, Mr & Mrs Oakley hired them (20th Sept), they were celebrating in the Windsor Suite & had the tables set up in the Garden room ready for the wedding breakfast to finish which works really well.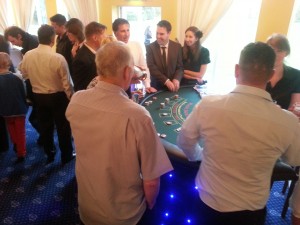 They come complete with croupiers, gaming chips & funny money/vouchers (vouchers can be personalised for the cost of the printing approx £25 for 100). We also put star cloth skirtings around the card tables for a glitzy finish! We'd give everyone a voucher which they can then spend at the tables. At the end of gaming, we do an add up to see who the biggest winner is, then announce & offer a bottle of bubbly as a prize which is included, of course you're welcome to offer a more substantial prize if you like. Gaming is for 2 hours & works really well if you have them from the end of the wedding through he first hour of the evening reception for example 6.30pm till 8.30pm. Although, we can slot them in whenever you like.
Our minimum hire is 2 tables (blackjack & roulette), this costs £395 (or £375 when hired with any of our other services/products) for 2 hours gaming. Price is based on casino staff arriving approx 1 hour before gaming starts to set up the tables.
For more information on any of the above products/services we can provide for your wedding day at Bartle Hall (& throughout Preston, Lancashire), email your enquiry to andy@andybevents.co.uk
Keep up to date with Andy B Events. Click the 'like' button on our facebook page – www.facebook.com/Andy.B.Events