Always a pleasure to be involved in wedding parties at the fabulous Samlesbury Hall!
'Hi Andy,
Just wanted to say thank you so much for DJing at our wedding at Samlesbury Hall on 19 July! We had a great night, you got everyone up and dancing, catering for all tastes! We all had a great night, it was particularly a nice touch to play the first dance again just before the end. In fact we enjoyed ourselves so much that we abandoned our plans to leave early and carried on dancing!
Thank you once again,
Sheila and Andrew'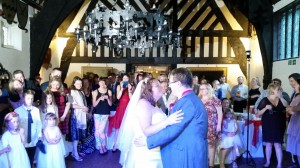 My mobile rig consists of a top quality sound system (as appropriate for the size of the hall), a selection of professional lighting effects plus my star booth. In short, it's a very professional set up. See https://andybevents.co.uk/blog/2011/01/andy-b-dj/ for more details.
I carry a comprehensive selection of music & will be able to cater for most requests on the night, which is something I actively encourage. Beforehand, we can go through specific requests for the evening including the first dance & any other special songs (as well as any they don't want playing!). At this point, you could prepare a whole set list which I'll be happy to work from if required. We can have as much pre event communication as required to ensure we get it just right on the night.
As well as the disco, I will also act as the host for the evening if required – introducing for example, the first dance etc. My dress code for a wedding is normally suit & tie as appropriate the occasion. I'm there all night & will fit in with how you want your evening to run. But if you do want any suggestions for timings etc, I'm more than happy to have a chat with you about it.
My prices start from £250 which covers the first 5 hours playing time (7pm till 12am), based on me arriving at approx. 6pm to set up. For any additional time I charge £30 per hour.
As well as the disco lights, I can also provide uplighters around the venue to help create the atmosphere, these are £14 each or £120 for 12. I will set them up at the same time as I set up the disco & can set them to your preferred colour. They do look great at Samlesbury Hall.
Our black & white chequered dance floors would really set the room off nicely. Prices start from £250 for the 12ft floor, for a full guide, see – https://andybevents.co.uk/dance-floor-hire Add 12 up lighters for just £60 when booking one of our dance floors.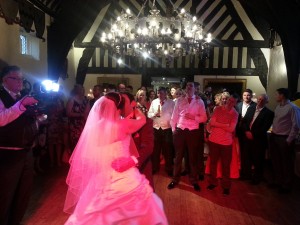 Hi Andy, a massive thank you for giving Louise a brilliant day. You went above and beyond what was expected and certainly filled the dance floor! …no I'm not paying you again!! Have plastered your name around and told everyone who you are and where to find you, Shirley Friel x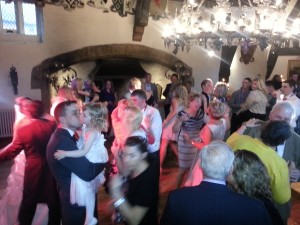 So, if you're looking for an experienced wedding DJ who has worked at Samlesbury Hall regularly, email your enquiry to andy@andybevents.co.uk
Keep up to date with Andy B Events. Click the 'like' button on our facebook page – www.facebook.com/Andy.B.Events