Looking for an experienced wedding DJ for your special day at Bartle Hall?
'Thank you so much for DJing for our wedding on Saturday Andy! We all had a fantastic time!! X'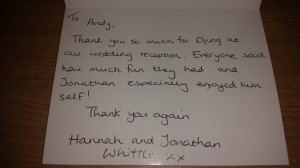 Mr & Mrs Whittle 7th June '14 @ Bartle Hall, Preston.
As well as the disco, I will also act as the host for the evening – introducing for example, the cake cutting & first dance, announcing the buffet etc. My dress code for a wedding is normally suit & tie as appropriate the occasion. I'm there all night & will fit in with how you want your evening to run. But if you do want any suggestions for timings etc, I'm more than happy to have a chat with you about it.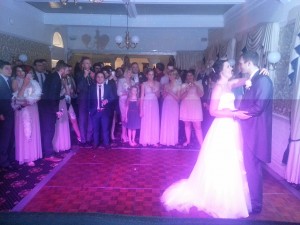 Likewise, with the music selection, you're welcome to have as much input into it as you want. Some of my clients prepare whole set lists if they have quite specific tastes in music, others just let me know the first dance then ask for a mix for everyone. Mostly, I get somewhere in between, a small selection of must plays & favourite genres then the rest is either down to myself &/or guest requests on the night. Whichever works best for you.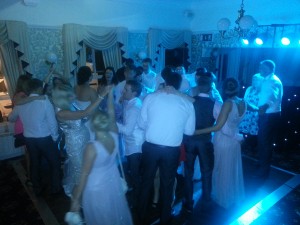 Email your enquiry to andy@andybevents.co.uk for a full quote, don't forget to mention the date of the wedding, the venue (as well as Bartle Hall, we pretty much cover the whole North West) & approx. timings. As a guide, expect to pay £250 in the Preston area to cover up to 5 hours (7pm till 12am for example), then £30 per hour for any additional time.
Keep up to date with Andy B Events. Click the 'like' button on our facebook page – www.facebook.com/Andy.B.Events