5th April '14 – Kerry & Danny hired me as their wedding DJ for their big day at the Swan Hotel, Newby Bridge. This luxury Lake District hotel at the Southern tip of  Windermere is a great setting for a wedding party.
They had booked me from 7pm till midnight with their first dance around 8pm. (Unless you have a preference for timings, I'd normally suggest somewhere around 1 hour into the evening is as good as time as any for the first dance).
They chose Ed Sheeran 'Kiss me' & it wasn't long before guests joined in.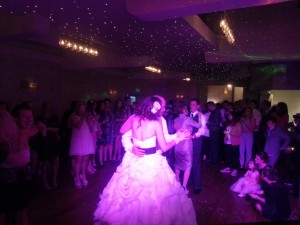 Then we went straight into the main party. Kerry, the bride, had sent me a list of around 30 songs they wanted to hear through the night. These included some Swing, cheesy party favourites, Motown classics & quite a bit of modern chart music too. She is also into Queen & had requested 'A kind of magic' for her dad.
Big rowdy party, but all good fun!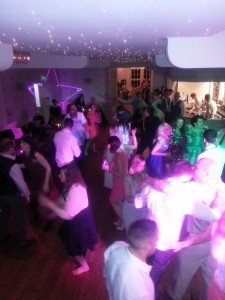 & a big finale to 'New York New York'…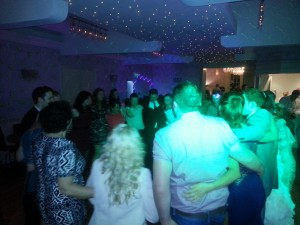 Had the following feedback from them –
'Hi Andy,
Me and Danny just wanted to say thank you so much for DJing at our wedding. The dance floor was packed all night and everyone commented on what a good night it was. Apologies that I didn't get to thank you on the night as it was a bit hectic outside…. Again thank you so much we had a fab night!!'
All the best to Kerry & Danny!
On the same night, we had our popular wedding DJ Gary playing for Laura & Jon's wedding party at Lancaster Brewery. Laura contacted me to help her find  a reputable & experienced wedding DJ to ensure their evening reception ran smoothly. I had no hesitation recommending Gary who ticks all the boxes & had previously played at Lancaster Brewery so knew the venue set up etc. For more details on Gary, see – https://andybevents.co.uk/2011/02/lancashire-mobile-dj/
If you are looking for an experienced wedding DJ for your big day throughout the South Lakes or Lancaster/Lancashire, email your enquiry to andy@andybevents.co.uk Include as many details as possible such as date of wedding, venue (plus town), approx. timings & any specifics you're looking for & we'll get back to you with an accurate quote.
Keep up to date with Andy B Events. Click the 'like' button on our facebook page – www.facebook.com/Andy.B.Events