27th December '13 – Pleased to supply a complete entertainment package for one of our wedding clients celebrating at Bartle Hall hotel on the outskirts of Preston.
Sue, the bride, contacted us several months earlier, interested in what we could offer. After a chat about her requirements, she decided to take one of our excellent wedding DJ's, 2 of our fun casino tables & our large chocolate fountain.
DJ Rob covered the disco who is a very experienced wedding DJ & has played at Bartle Hall on numerous occasions – https://andybevents.co.uk/2011/02/blackpool-wedding-dj-disco/ Prices start from £250, covering 5 hours playing time, for example 7pm till midnight. Any additional time is £30 per hour.
Our fun casino tables have been the surprise hit of many a wedding party & work really well at Bartle Hall especially if you are using the Windsor suite as we can set them up in the Garden room ready for when you finish the wedding breakfast. Then have them running early evening (6.30pm till 8.30pm for example). Our 2 table package costs £395 in the Preston area which includes roulette, blackjack, croupiers, funny money/gaming chips & a bottle of bubbly for the winner – https://andybevents.co.uk/casino.html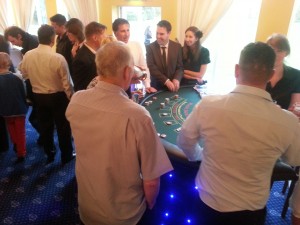 Our large chocolate fountain must surely be the nicest & tastiest in the area! On this occasion, we set it up in the Garden Room alongside the casino tables. Prices start from £315 for the large chocolate fountain, although we do have smaller options available – https://andybevents.co.uk/chocolate-fountain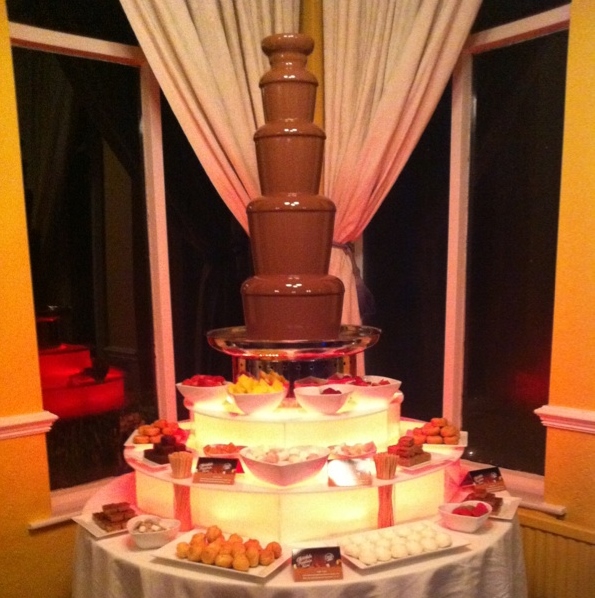 I sent Sue an email after the event to check she was happy with our services, this was her response;
'Hi Andy
Everything was fantastic thanks, casino and chocolate fountain both went down well and DJ was great, will definitely recommend you to others,
Sue'
So, if you're getting married at Bartle Hall (or throughout Preston) & would like some help organising your wedding DJ & maybe thinking of hiring a few extras such as a chocolate fountain &/or fun casino tables, speak to us, we may be able to put a package together for you which is better than hiring the products/services separately.
Email your enquiry to andy@andybevents.co.uk
Keep up to date with Andy B Events. Click the 'like' button on our facebook page – www.facebook.com/Andy.B.Events