4th October '13 – Pleased to be hired as wedding DJ for Mr & Mrs Fairhurst who were celebrating their big day at the fab Samlesbury Hall on the outskirts of Preston. They had booked the disco to run from 7.30pm till 1am. Normally the discos at Samlesbury Hall finish at 12am unless you apply for the extension. As well as my disco services, they also hired my uplighters for around the Great Hall. First time I've used my uplighters at Samlesbury Hall, have to say, I thought they looked excellent, added so much atmosphere to the setting.
Their first dance was performed to 'Enjoy the Silence' by Depeche Mode. First time I've played this for a first dance, despite the title sounding a little ironic for someone getting married(!) the lyrics fit really well, it is, after all, a love song.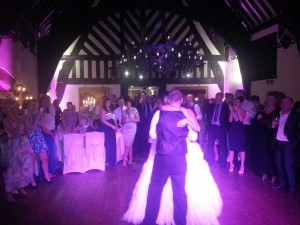 Lyndsey, the bride, had sent me a request list of around 40 songs which included some dance hits, 80's & 90's plus quite a large selection of Rock/Alternative music which I saved for the last hour for the bride & her mates to let their hair down to! Then somehow, we had a finale to Baltimore 'Tarzan Boy'?! Not sure where this idea came from but must have been a big tune for them at some point as they all joined in!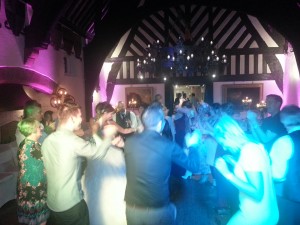 I then played them out to Elbow 'On a day like this', guests formed an impromptu 'tunnel of love' for the bride & groom to exit!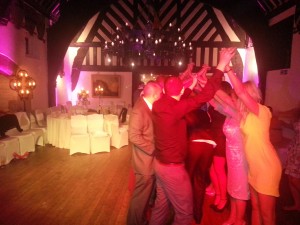 All the best Mr & Mrs Fairhurst!
So, if you're celebrating your big day at Samlesbury Hall & need an experienced wedding DJ who knows the venue to ensure your evening reception is a success, email your enquiry to andy@andybevents.co.uk As a guide, prices in the Preston area start from £250 which covers 5 hours of playing time, for example 7pm till midnight. Any additional time is £30 per hour.
I also offer uplighters which look great in Samlesbury Hall. These cost £14 each or £120 for a set of 12, based on me setting them up at the same time that I set up the disco.
Keep up to date with Andy B Events. Click the 'like' button on our facebook page – www.facebook.com/Andy.B.Events