9th & 10th August '13 – A busy wedding weekend for Andy B Events! Our wedding DJ's were keeping dance floors busy throughout Blackpool & Lancashire.
We were involved in 3 weddings at the Imperial hotel in Blackpool who trust us to supply their wedding DJ's. DJ Stu was providing the disco for 2 of these weddings – https://andybevents.co.uk/2011/02/events-dj-blackpool/
I was personally providing the disco for the wedding party of Mr & Mrs Schreiber at the Imperial on the 10th.
Their first dance –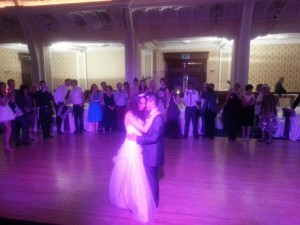 Finale time, still going strong at 1am!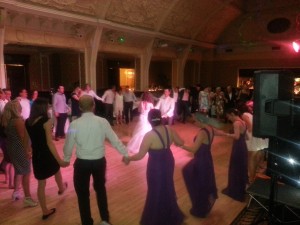 On the 9th, I was playing at the Devere (or Village) hotel in Blackpool for Mr & Mrs Brierly. Then over in Blackburn, Lancashire, we had our most experienced wedding DJ Ged playing at the fab Dunkenhalgh hotel on both the 9th & 10th. Another hotel which recommends our services. On the 10th, our client had also booked our popular Ceilidh band, Beer for breakfast – https://andybevents.co.uk/2010/12/irish-ceilidh-band-northwest/
Our experienced wedding DJs bring in a top quality sound system (as appropriate for the size of your party), a selection of great lighting effects complete with star booth. (see https://andybevents.co.uk/2011/01/andy-b-dj/for more details of my set up for example). We carry a comprehensive selection of music & will be able to cater for most requests on the night, which is something we'll actively encourage. Beforehand, we can go through your specific requests for the evening including your first dance & any other special songs (as well as any you don't want playing!). At this point, you could, if you so wish, prepare a whole set list (some clients ask their guests for suggestions to make up a list), which we'll be happy to work from as required. We can have as much pre event communication as required to ensure we get it just right on the night.
As well as the disco, we also act as the host for the evening – introducing for example, the cake cutting & first dance, announcing the buffet, etc. Our dress code for a wedding is normally suit & tie as appropriate the occasion. We're there all night & will fit in with how you want your evening to run. But if you do want any suggestions for timings etc, we'll be more than happy to have a chat with you about it.
So, if you're looking for an experienced wedding DJ for your big day in the Blackpool or Lancashire area, email your enquiry to andy@andybevents.co.uk For a tailored quote, make sure you include the date, the venue details & approx. timings.
Keep up to date with Andy B Events. Click the 'like' button on our facebook page – www.facebook.com/Andy.B.Events