25th May '13 – Andy B Events were pleased to be supplying DJs for 5 wedding parties across the North West this busy Saturday night. As well as myself, I also work with a small network of highly experienced wedding DJs who will work hard to ensure your big day is a success! For more details on my DJ's, see the recommended DJ section on the website – https://andybevents.co.uk/category/mobile-dj/recommended-djs/
Between us, we cover pretty much the whole North West from Cumbria & the Lakes, through Blackpool & Lancashire, Manchester & Liverpool down to Cheshire.
Personally, I was playing for Kirsty & James McAllister's evening reception at the fabulous Palace Hotel in Manchester city centre. We were in the Whitworth Suite. They'd booked me from 7.30pm till 1.30am. I rounded everyone up for the cake cutting & first dance which they performed to Take That 'Greatest Day'. Musically, I was all over the place! They'd sent me a playlist beforehand which consisted of pretty much everything from Motown, Indie/Rock, Reggae, current chart, RnB & 90's dance! In fairness, guests got into the spirit & shortly after the buffet wrapped up, the dance floor filled. I also chucked in a few of my own wedding favourites & a whole bunch of requests on the night which kept guests happy & the dance floor movin'!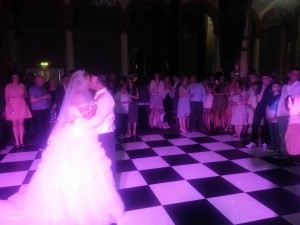 All the best to Mr & Mrs McAllister!
As a guide, prices for our wedding discos in Manchester city centre start from £295.
DJ Stu was playing at the Thistle hotel, Haydock. Prices here start from £250 to cover 7.30pm till midnight. On this occasion, he was in the racecourse suite playing from 7.30pm till 1am. So, expect to pay £30 per hour for any additional time. For more details on DJ Stu, see- https://andybevents.co.uk/2011/02/events-dj-blackpool/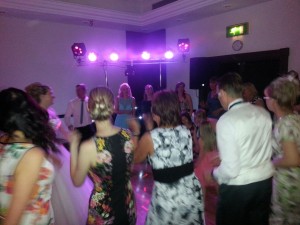 DJ Ged, who is my most experienced wedding DJ, was playing at Browsholme Hall in Clitheroe. Prices here start from £250.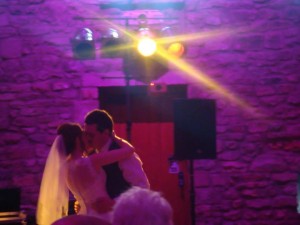 At Bartle Hall in Preston, we had 2 of our experienced wedding DJ's playing. DJ Rob was in the Windsor Suite, (https://andybevents.co.uk/2011/02/blackpool-wedding-dj-disco/) & DJ Gary was in the Balmoral Suite, (https://andybevents.co.uk/2011/02/lancashire-mobile-dj/). As a guide, expect to pay £250 for your wedding DJ at Bartle Hall. They had also hired a black LED (or starlit) dance floor which looks fab! For more details on hiring one of our twinkling dance floors, see – https://andybevents.co.uk/dancefloor.html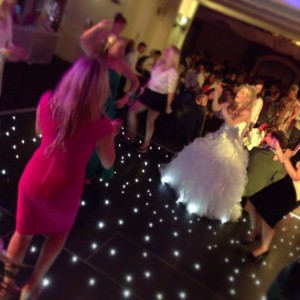 So, if you're looking for an experienced wedding DJ for your big day within the North West, email your enquiry to andy@andybevents.co.uk don't forget the date of your wedding, the venue & town & approx. timings.
Keep up to date with Andy B Events. Click the 'like' button on our facebook page – www.facebook.com/Andy.B.Events