24th May '13 – Hired as wedding DJ for Mr & Mrs Bagshaw's big day at Café Ambio in Astley Park, Chorley. Nice little venue for weddings & events in Chorley, always a pleasure to be working at Café Ambio.
They'd actually booked a full package from 5pm which included some children's entertainment as well as the wedding disco. So, we had some fun with the kids early evening & played a few of the current favourites for them including One Direction, Olly Murs, Taylor Swift etc.
They'd also booked the double flowing chocolate fountain which served as a popular feature in the early evening.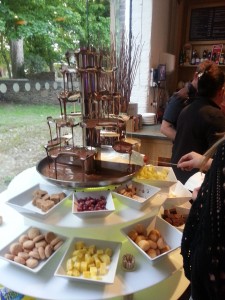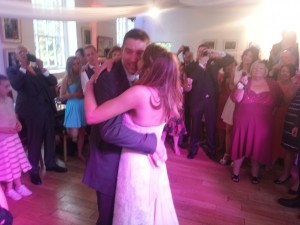 For full details on hiring one of our fab chocolate fountains in the Chorley, Lancashire area, see our main chocolate fountain hire page – https://andybevents.co.uk/chocolate.html
After a BBQ dinner, it was time to get proceedings underway, our happy couple had picked DJ Sammy's candlelight mix of Heaven as their first dance. We also a dance for the father of the bride & his daughter, in fact, a dance for all the dads & daughters to 'When my little girl is smiling'. Thereafter, it was party time!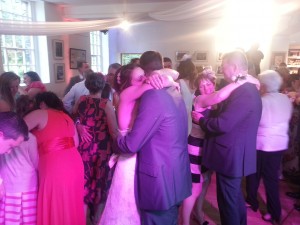 Helen, the bride, had mentioned they liked the older Indie hits. We also had a lot of requests for 60's & Motown which I duly obliged! All mixed in with the usual chart & party favourites!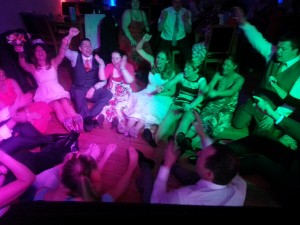 Fab night! The little dancing area at café Ambio was packed, didn't think they'd go home! We finally wrapped up at 12.15am. All the best to Mr & Mrs Bagshaw!
So, if you're looking for an experienced wedding DJ for your big day at Café Ambio or throughout Chorley, email your enquiry to andy@andybevents.co.uk As a guide, prices start from £225 covering playing times of 7.30pm till midnight.
Keep up to date with Andy B Events. Click the 'like' button on our facebook page – www.facebook.com/Andy.B.Events