17th May '13 – Andy B Events were pleased to supply our 2 small chocolate fountains for a wedding party in Lancaster. Carole, the bride, contacted me a few months ago to enquire about our chocolate fountain hire at Lancaster. They were celebrating their big day at Lancaster House Hotel. They were expecting approx. 70 guests. We do a package of 2 small fountains which can cater for up to 80 guests. The nice touch about hiring these 2 is that you can have 2 different flavours of chocolate flowing. 1 in milk chocolate & the other in white is the most popular combination.
These commercial fountains each stand 23″ high & come complete with illuminated base, large selection of dips, skewers, napkins & staffed throughout. Prices for these 2 small chocolate fountains start at £265 which covers 2 hours flowing time.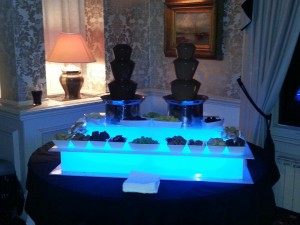 (pictured here with milk & dark chocolate).
Of course, we do have much bigger options for larger parties. Our flagship large chocolate fountain is 50″ high & can cater from 100 to 400 guests!
For more images of our chocolate fountains in action, see – https://www.facebook.com/media/set/?set=a.435873853120602.92631.172309206143736&type=3
So, if you're having a special event in Lancaster & would like to include a popular chocolate fountain, email your enquiry to chocolatefountainhirenorthwest@gmail.com
For full details on hiring one of our fab chocolate fountains in the Lancaster/Lancashire area, see our main chocolate fountain hire page – https://andybevents.co.uk/chocolate.html