20th April '13 – Was pleased to be hired as wedding DJ for Mr & Mrs Tidy at Ferrari's Country House Hotel in the Longridge area of Preston. Ferrari's is a fab wedding venue in the area with quite a large function room. They booked me from 7.30pm till midnight. Although they had also booked a big band to play for the early part of the evening & they had an exit planned for 11.30pm.
They had also booked a chocolate fountain to run from 8pm till 11pm. For more details on our chocolate fountain hire at Ferrari's Preston, see – http://www.chocolatefountainhirenorthwest.co.uk/
So, the band performed from 8.15pm till 9.30pm. They had a fab sound which you'd expect from a 15 pc big band. Mostly instrumental, although they did have a guest female vocalist come & join them for a few numbers which also included the first dance.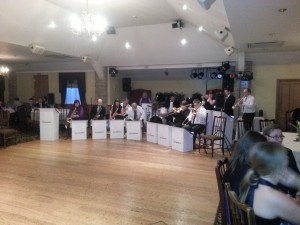 After the band's set, I hosted the cake cutting, then the buffet came out & I played a few of Jennifer's (the bride) requested songs. Around 10pm, I livened it up a little with a selection of wedding favourites & some requests. The big hits of the night were the party dances! I must confess, I don't normally include these in a wedding but they were requested by the bride & were very popular, so was happy to play them! They included Gangnam, Cha Cha slide, Macerena, YMCA & Cotton Eye Joe! All good fun! Then, I got the word that the happy couple were making their departure. As requested, they wanted their last song to be Bohemian Rhapsody as everyone said their farewells. Once gone, we had approx 30 mins left & around 50 guests who were in the mood for dancing to some more modern chart hits. Fun night! All the best to Mr & Mrs Tidy!
So, if you're looking for an experienced wedding DJ for your big day at ferrari's or throughout Preston, one who is happy to play from a song list as required, who can work along side bands & fit in as necessary, acting as host too, then email your enquiry to andy@andybevents.co.uk
As a guide, my wedding discos at Ferrari's start from £225 which covers playing times of 7.30pm till midnight. Any additional time is £30 per hour.
Keep up to date with Andy B Events. Click the 'like' button on our facebook page – www.facebook.com/Andy.B.Events