28th April '13 The Martin family hired me as their DJ for Daniel's Bar Mitzvah at the Victoria & Albert, Manchester Marriott hotel. Big party! We were in the main function room of this 4 star Manchester hotel called the John Logie Baird Suite.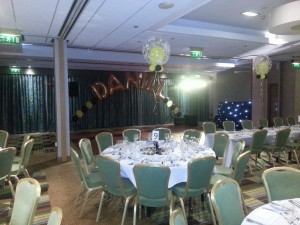 After a drinks reception in the foyer, guests were invited into the room. Once we had everyone in, I got as many as I could (particularly the younger guests) around the dance floor armed with party poppers! We then welcomed into the room Daniel & his family. Once we got them on the dance floor, we set off the party poppers & commenced with the traditional Israeli music & dancing which of course, involved lifting Daniel & his father up in the air on their chairs!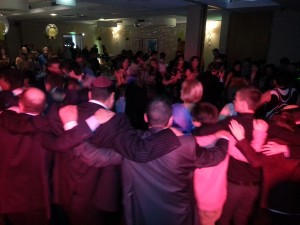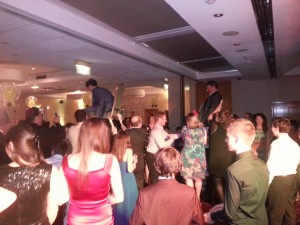 Once everyone had settled back down, dinner was served with some background music from me. After dinner, we had a few speeches, then it was time get the party started! As well as the disco, they had also booked some peripheral entertainment from us for out in the foyer.
We had 2 casino tables plus a photo booth, both of which are very popular for all kinds of events & parties. In the Manchester area, we charge £350 for 2 casino tables (blackjack & roulette) for 2 hours gaming. 2 tables is usually enough for upto around 100 guests, although you can hire extra tables at £175 each. The photo booth is £375 for 2 hours which is a lot of fun & includes prints & props!
Both of the above prices are based on the staff arriving approx 1 hour beforehand to set up. Earlier set ups can be arranged for an additional fee.
We then had a big finish on the dance floor which brought us right up to just past the midnight hour, all the best to Daniel!
Prices for my Bar Mitzvah disco services are tailored to your party. As a guide, we start from £275 in the Manchester area which covers up to 5 hours playing time (for example 7.30pm till midnight). Additional time is £30 per hour. City centre venues may incur extra costs if access, loading & parking is difficult, although not an issue at the Manchester Marriott Victoria & Albert. I have a decent selection of Israeli music (such as the Hora) which is included in the cost. One optional extra which is popular for Bar Mitzvah's is my throw outs. These include party poppers, glow sticks, & various inflatables etc which are literally thrown out throughout the disco for a bit of extra fun!
For a comprehensive quote & to check availability, email your enquiry to andy@andybevents.co.uk Let me know the date, venue, approx timings & approx number of guests. Also useful to know if it's a party just for the friends or if it's a more formal dinner & disco for family & friends.
Keep up to date with Andy B Events. Click the 'like' button on our facebook page – www.facebook.com/Andy.B.Events