6th January '13 – Was hired as wedding DJ for Mark & April's big day at Mitton Hall Hotel which is a fab 15th century manor house making a great setting for wedding parties. One which I've played at on many occasions.
Mr & Mrs Ingleby had booked me to play from 7pm till midnight. After approx 1 hour of warm up music, we were ready to begin the formal proceedings. First the cake cutting, then the first dance which they performed to an acoustic version of Linkin Park 'Messenger'. They followed this up with a song for the mother of the groom & the groom which was 'Some kind of wonderful' & a song for the father of the bride to dance with his daughter 'In my life'.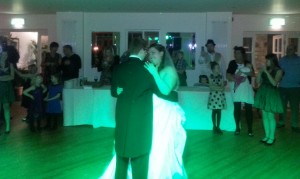 We also played an elimination game which involved getting all the married couples up for a dance, then finding out who has been married the longest by eliminating those who had just been married for a day(!), then a year, 5 years etc until we had the winners which were the groom's grand parents with over 55 years of wedded bliss!
Mark the groom sent me a playlist to work from which included 30 odd songs mostly with a bit of a soft rock theme from the 60's through to more recent hits including Troggs, Monkees, Queen, Dire Straits, Bon Jovi, Aerosmith & Kings of Leon. As well as few cheesy favourites such as Buttercup, Dirty Dancing & YMCA! All good fun & a great atmosphere right through till approx 11.45pm when the bride & groom announced their exit. All the very best to Mr & Mrs Ingleby!
As a guide, expect to pay £250 to cover playing times of 7pm till midnight or £275 till 1am during weekends & other peak dates, for mid week weddings, please ask as I can normally offer a reduction on this.
So, if you're looking for an experienced wedding DJ for your big day at Mitton Hall, email your enquiry to andy@andybevents.co.uk
Keep up to date with Andy B Events. Click the 'like' button on our facebook page – www.facebook.com/Andy.B.Events