28th December '12 – Andy B Events are proud to be associated with the Imperial Hotel in Blackpool. We supply most of their discos & entertainment. They trust us to provide a high standard to keep their clients & guests happy.
On the 28th, I was hired as wedding DJ for Mr & Mrs Bennett who were celebrating in the Washington Suite at the Imperial. This is my favourite of the hotel's ballrooms & great for larger parties of 150 + guests.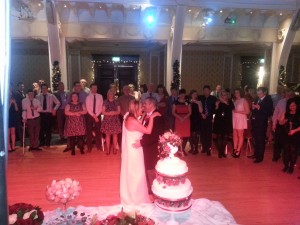 Their first dance was performed to Gladys Knight 'best thing (that ever happened to me)'. Shortly after this, we had some live music from their singer who performed a collection of swing standards. That brought us up to the buffet. Then, after food, it was time to get the disco party started. Beforehand, the groom had mentioned they were an older crowd & would like some older music thrown in, Soul & Motown favourites were popular & as the night went on, some of the younger guests requested the newer chart hits which also went well by that time. At 1am, I gave the happy couple one last ballad as requested for them to finish off the night before wishing them all the very best!
On the 5th January '13, I was also providing my wedding disco, this time in the Louis Room which is a more intimate setting than the ballrooms, great for smaller parties. Mr & Mrs Pennington were celebrating their big day today. They danced their first dance to Lonestar 'Amazed' which has become popular again!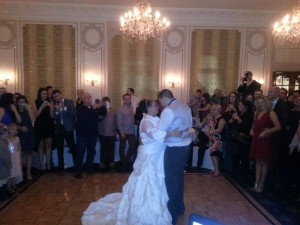 Part way through the first dance, we invited guests to join in & the dance floor filled up, staying that way until the buffet was announced. We got everyone back up dancing after the buffet, but not long after that, the bride & groom announced their departure. I believe they had an early start for their honeymoon the next day. Quite a few of the guests stayed for a while though & I put out for requests which varied from Northern Soul to the latest chart & party hits & we had a laugh with the dancers! By midnight, it was time to say goodnight though, all the best to Mr & Mrs Pennington!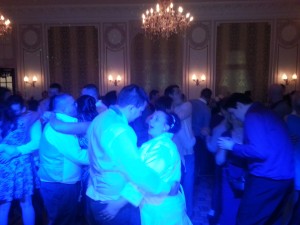 So, if you're looking for an experienced wedding DJ in the Blackpool area, then email your enquiry to andy@andybevents.co.uk As aguide, prices start from £195 which covers playing times of 7.30pm till midnight, an extra time is £25 per hour.
Keep up to date with Andy B Events. Click the 'like' button on our facebook page – www.facebook.com/Andy.B.Events