29th December '12 – Was hired as mobile DJ for Sue's 50th birthday party at the Conservative club in Wilmslow. First time I've played here, really nice upstairs function room which is perfect for private parties of up to around 100 or so guests.
It was actually a surprise party for Sue, organised by her family, great turn out. Most guests arrived between 7.30pm & 7.50pm. We were expecting Sue to arrive around 8pm. Sure enough, it was only about 5 past when we got word that they were pulling into the car park. So we dimmed the lights, stopped the music & everyone waited armed with party poppers! Apparently, she realised by the time they'd got upstairs that it must be a set up! After the BIG welcome I played some background music to give everyone a chance to chat & wish Sue happy birthday. Although, she did point out that she wasn't actually 50 for a few more days yet. So, thereafter, it was Sue's almost 50th birthday party!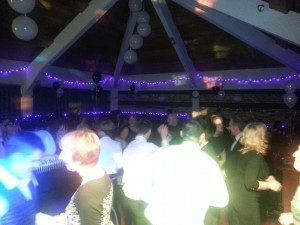 After food, Sue's husband said a few words, then it was time to start the party! Fab atmosphere, played music across the board from current chart & party favourites to the cheesy classics like Abba (requested I swear!). At midnight, we had a big finale to New York New York which just about everyone joined in!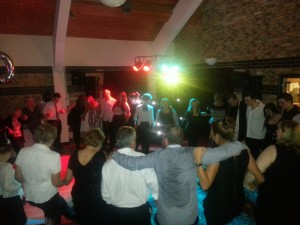 Happy birthday Sue!
Mobile discos in Wilmslow start from £250 which covers playing times of 7.30pm till midnight. Additional time is £30 per hour. So, if you're throwing a party in Wilmslow & need an experienced DJ, email your enquiry to andy@andybevents.co.uk
Keep up to date with Andy B Events. Click the 'like' button on our facebook page – www.facebook.com/Andy.B.Events