8th November '12 – Andy B Events were pleased to be supporting the Craxton Wood wedding fayre. Craxton Wood is a fab wedding hotel on the outskirts of Chester.
We were there to promote our wedding services/products which we offer at competitive prices for couples planning to get married at Craxton Wood itself & throughout Chester.
Your wedding DJ, the DJ is an essential part of the night. Our top quality recommended DJ's will provide background music as required, host the evening, play the first dance &, of course, the disco! You are also welcome to have as much input into the music played on the night as you like. Our professional, reliable, friendly & experienced approach will be especially tailored for your wedding.
The cost for the evening at Craxton Wood or throughout the Chester area to include playing times of 7.30pm till 12am is £275. Any extra time is £30 per hour (or part thereof).
Click on this link to read about one of our wedding DJ's playing at Craxton Wood including customer feedback – https://andybevents.co.uk/2012/05/wedding-dj-craxton-woodcheshire/
Chocolate fountain hire, really popular for wedding parties. We actually brought in our large 50″ chocolate fountain for attendees to sample for themselves!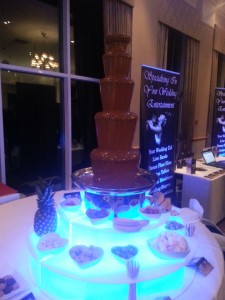 We have a website especially for them, take a look – http://www.chocolatefountainhirenorthwest.co.uk/index.html
Dance floor hire, again become really popular for wedding parties. We've got twinkling (starlit) or chequered (black & white). Full price guide is on my website – https://andybevents.co.uk/dancefloor.html
Casino tables! The surprise hit of many a wedding party! We've found they work really well to fill the gap between the wedding breakfast & the evening reception then carry on through the first hour of the evening. Minimum hire is 2 tables (blackjack & roulette) which is enough for approx 100 guests, cost £375. https://andybevents.co.uk/casino.html
We also brought along a Photo Booth to try out, we had a riot in it! – Popular fun entertainment for all & guests get a momento of the night – https://andybevents.co.uk/2012/06/photo-booth-hire-north-west/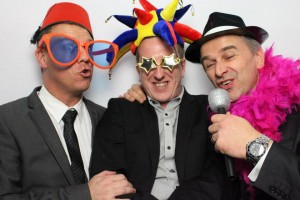 Chair covers. We are pleased to be able to offer competitive quotes on chair covers – https://andybevents.co.uk/2012/04/chair-cover-hire-north-west/
Firework displays. Get the WOW factor – https://andybevents.co.uk/2011/08/firework-displays-weddings/
Live music/entertainment. We can help source the right live music for you. We have a database of top live entertainers in the North West who are great for weddings. Singers, duos, bands, close up magicians, classical musicians etc. Having the right live entertainment at your wedding party will definitely improve the success of it.
Our favourite wedding singer, Paul Guard also joined us at the Craxton Wood wedding fair so potential clients could hear him as well as meet & chat with him. For full details on Paul, see – https://andybevents.co.uk/2011/02/wedding-singer-north-west/
To see more photos from Craxton Wood wedding fair, take a look at my album on facebook – http://www.facebook.com/media/set/?set=a.458744854166835.98466.172309206143736&type=3#!/media/set/?set=a.458744854166835.98466.172309206143736&type=3
If we can assist with any of the above for your big day at Craxton Wood or throughout Chester, don't hesitate to get in touch for a competitive quote. Of course, if you're hiring more than 2 products/services from us, we may be able to offer an even more competitive package price. Email your enquiry to andy@andybevents.co.uk
All the best with your wedding plans!
Keep up to date with Andy B Events. Click the 'like' button on our facebook page – www.facebook.com/Andy.B.Events