6th October '12 – Was hired as wedding DJ at the White Hart Inn in Lydgate, Oldham. It was the first time I've played at the White Hart. Fab Saddleworth wedding venue. Mr & Mrs Webster were celebrating their big day there & had booked me from 7.30pm till 1am.
During the first hour, Laura, the bride, had asked for laid back Buble style music as evening guests arrived. Around 8.30pm, we welcomed the bride & groom into the room. Shortly after, they did a cutting of the cake, I then rounded everyone up around the dance floor before inviting the happy couple up for their first dance as man & wife. This was to Westlife The Rose', with guests joining in after a minute or so. They had also especially asked for Bruno Mars 'runaway baby' as a 2nd dance.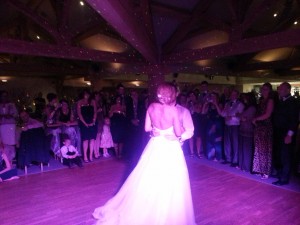 Then throughout the evening, they gave me a short request list with some 60' & 70's hip, lots of 80's pop, lots of 90's dance & some recent pop hits! A few no no's which included any party dances & 'Sexy & I know it'! (due to some cringeworthy moves at a previous party they had attended!)
All in all, a top night. We had a finale to New York New York, then as a last dance, the bride had requested Jackie Wilson 'Your love is lifting me higher'. Although, there was no way we could finish on this as everyone was still dancing away, so I gave them a couple more to play them out too!
All the best to Mr & Mrs Webster!
So, if you are looking for an experienced wedding DJ for your big day at the White Hart, Oldham, email your enquiry to andy@andybevents.co.uk
As a guide, prices start from £250 which covers playing times of 7.30pm till midnight. Any additional time is £30 per hour.
Keep up to date with Andy B Events. Click the 'like' button on our facebook page – www.facebook.com/Andy.B.Events