15th September '12 – Was pleased to be hired as wedding DJ for Mr & Mrs Harrison's big day at Hoghton Tower. First time I've played (or even been) to Hoghton Tower. What a fabulous setting for a wedding party! Hoghton Tower is the ancestral home of the de Hoghton family, who have lived there since the Norman Conquest. Up the long drive to the 16th century where you follow in the footsteps of William Shakespeare, Charles Dickens and King James I who, at a banquet held in his honour, famously knighted a loin of beef 'Sir Loin'!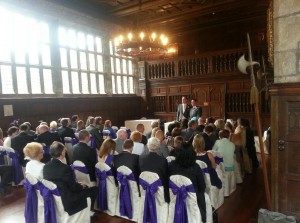 Richard, the groom, booked me to cover the whole wedding day at Hoghton Tower. Starting with the ceremony in the Banqueting Hall. I played a selection of classical music as guests settled in & 'Pachabel' for the bride's (Emma) entrance. They chose an instrumental version of Van Morrison 'Have I told you Lately' as their exit song. Then we turned the Banquesting hall around for the wedding breakfast whilst guests had drinks in the inner courtyard & a pianist played in the bar.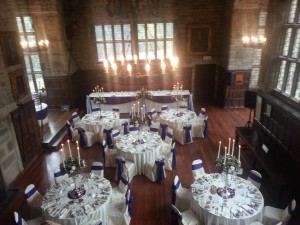 Throughout the wedding breakfast, I played some light background music which as well as my usual favourites, included a classical twist on some modern pop songs by a group called the 'Vitamin string quartet' picked by the bride & groom. The speakers decided against using my wireless microphone for speeches as 2 of the 3 were a bit nervous & didn't feel 100% comfortable using it!
After the wedding breakfast, we had another room turn around, this time to get ready for the evening reception. Richard had also asked me to provide music in one of the smaller rooms which was going to be a 'chill out' room. Although, in fairness, it turned out a bit un necessary as everyone wanted to enjoy the party back in the Banqueting Hall!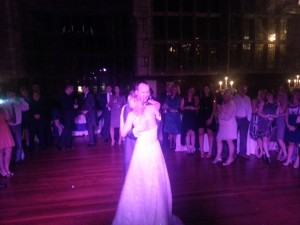 Their first dance was to Sade 'By your side' then we got the party started! Great atmosphere, with guests dancing 'all night long'! The bride & groom had given me a bit of a playlist which included mostly mainstream hits from the 70's, 80's, 90's & the more current favourites as well as a little soft rock & RnB.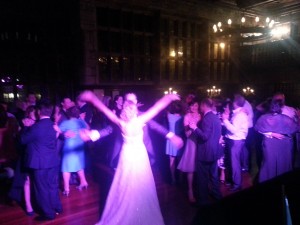 Top day & night! All the very best to Mr & Mrs Harrison!
Richard has since posted this on my facebook page – 'Andy DJ's at our wedding in Hoghton Tower a few weeks back, and what a night… We'd set up a disco + chill room for the "oldies" and the chill room was empty all night, as everyone was in the disco. Top tunes, no cheese, knew what EVERYONE wanted and kept us all happy. Quite a few people have come back to us to tell us how good the disco, tunes n DJ were. Would recommned him to anyone planning a party, wedding or other event. Feel free to PM me for personal recommendation!'
So, if you are looking for an experienced wedding DJ to cover your big day at Hoghton Tower (or throughout Preston), email your enquiry to andy@andybevents.co.uk As a guide, prices start from £250 to cover playing times of 7pm till midnight, then £30 per hour for any additional time.
Keep up to date with Andy B Events. Click the 'like' button on our facebook page – www.facebook.com/Andy.B.Events