7th September '12 – Hired as wedding DJ for Mr & Mrs Alderson's big day at Stirk House Hotel, Gisburn. Nice venue for weddings, I do quite a few wedding parties there throughout the year. Natalie, the bride, had asked me if I could also help her out with booking a harpist for the afternoon. I know a great harpist in the area called Maxine so had no hesitation recommending her. So, if you are looking for a harpist for your big day at Stirk House or throughout Lancashire, see her main feature for full details – https://andybevents.co.uk/2011/01/harpist-lancashire/
On this occasion, they'd booked the harpist to play from 2pm till 4pm actually at Stirk House. This cost £295.
They'd hired me to play from 7.30pm till 1am. Unusual for Stirk House as most events finish at 12 midnight. Around 8.30pm we rounded everyone up for the cake cutting & first dance which was performed to KC & Jojo 'All my Life'.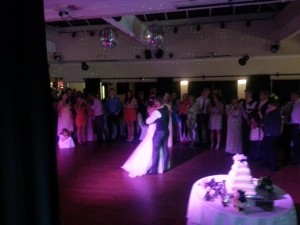 We then had a wild party! Great night, played a mix of everything old & new which kept the floor rockin' through till 1am!
All the best to Mr & Mrs Alderson!
So, if you're looking for a reputable wedding DJ for your big day at Stirk House, then email your enquiry to andy@andybevents.co.uk As a guide, expect to pay £250 to cover playing times of 7pm till midnight, then £30 per hour for any additional time.
Keep up to date with Andy B Events. Click the 'like' button on our facebook page – www.facebook.com/Andy.B.Events