29th September '12 – Was pleased to be hired as wedding DJ at the Hallmark Hotel in Carlisle. Nikki (the bride), first got in touch with me about a year ago regarding a casino & disco package for her wedding party at this elegant Victorian building in the centre of Carlisle. Somehow, along the booking process, she changed her mind (as brides do!) about the casino tables & instead asked me to help her find a Michael Jackson tribute! As it happens, I've worked with a couple of Michael Jackson tributes & managed to work out a package deal with myself as the wedding DJ & 'Navi' who is known as the World's number 1 Michael Jackson impersonator!
If you are interested in hiring Navi for your special event, then see his main feature on my website – https://andybevents.co.uk/2012/10/michael-jackson-tribute/
The evening reception was in the Ballroom of the Hallmark hotel. Mr & Mrs Lusher had decided to have 2 first dances (although I guess one is technically the 2nd dance!). These were too Buddy Holly 'Earth Angel' followed by Louis Armstrong 'we have all the time in the World' during which, I invited all the guests to join in.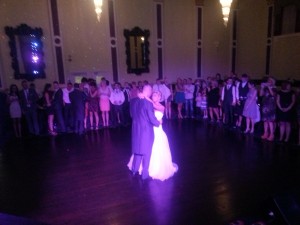 Nikki had sent me a play list of around 20 songs which were mostly modern leaning towards RnB, so I started playing a few of those plus a few wedding favourites of my own which kept the dance floor busy until the buffet.
After the buffet, it was time for the Michael Jackson tribute. Nikki had wanted to keep this as a (big) surprise for her guests. So, I didn't give them any warning at all. After everybody had been fed & watered(!), I requested that everyone should get into a position to see the stage as we were about to have a presentation. Then his intro started & the crowd went wild!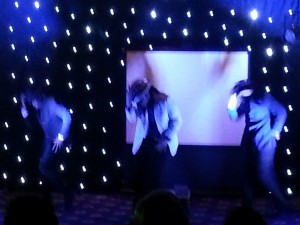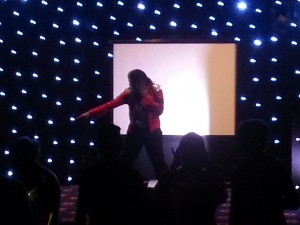 Navi performed his 1 hour fast paced Michael Jackson tribute show complete with 2 backing dancers which rocked it!
After Navi, I hit the playlist some more & included some guest requests, bit of Gangnam Style going on! This brought us up to 12 midnight & a request for the bride & groom to play 'their' song, lily Allen 'Who'd have known' before I finished up with a finale to 'New York New York'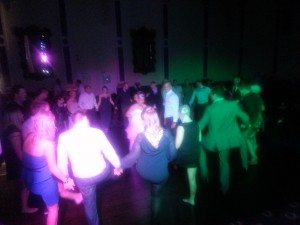 All the best to Mr & Mrs Lusher!
So, if you are looking for an experienced wedding DJ for your big day at the Hallmark Hotel in carlisle, email your enquiry to andy@andybevents.co.uk
As a guide, prices at the Hallmark hotel start from £350 to cover playing times of 7pm till 1am.
We can also help with several other aspects of your wedding entertainment from casino tables to Michael Jackson tributes! Just let us know if we can assist with anything else.
Keep up to date with Andy B Events. Click the 'like' button on our facebook page – www.facebook.com/Andy.B.Events