2nd September '12 – Was hired as wedding DJ for Mr & Mrs Dodd at the Thistle Hotel, Haydock. I first met Katie, the bride, about this time last year at the Thistle's wedding fair. We'd had a chat about her requirements & put a package together. This included;
A close up magician. Jason was attending the wedding fair with me & was able to demonstrate his close up magic skills to Katie & her family who were blown away! So, booked him to perform from 2.30pm till 4.30pm throughout the drinks reception. For full details on this fab close up magician, see his main feature – https://andybevents.co.uk/2011/02/close-up-magician-north-west/
Fun Casino Tables. We call them fun casino tables because there is no real money being gambled! However, they are proper casino tables complete with croupiers & gaming chips, Again, I'd taken one of our blackjack tables to the wedding fair for demonstration purposes. Our fun casino tables have become the surprise hit at wedding parties. We've found them to be really popular. We use the casino tables to fill the gap between the wedding breakfast & the evening reception, then play on through the first hour of the evening. (Or you can just use them as part of the entertainment for the evening if you prefer). On this occasion, we positioned them in the conservatory ready for when guests came out of the wedding breakfast (in the Racecourse Suite), playing from 6.30pm till 8.30pm.
Wedding DJ. They had also booked myself as their wedding DJ. I've played at the Thistle Haydock on many occasions for all kinds of events from weddings to school proms & everything in between. So, know the hotel quite well. I was due to start at 7.30pm & they had booked me through till midnight. Just after 8.30pm, I announced the winner of the casino tables, then it was time to get the party started! Their first dance was performed to Ronan Keating 'This I promise you'.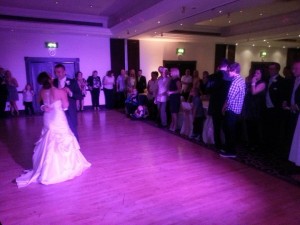 Specific artists on their request list included, Simply Red, George Micheal, Micheal Jackson, Eagles, Micheal Buble, Glen Campbll, Tracy Chapman, Boyz to Men & Bon Jovi (for the groom!). The bride's younger brother had a little bit of input too! Little Mix & Nicki Minaj.
A very pleasant evening! All the best to Mr & Mrs Dodd!
So, if you are looking for some entertainment for your wedding day in the Haydock area, maybe even at the Thistle or Haydock Park, email your enquiry to andy@andybevents.co.uk
As a guide, wedding DJ = £250 playing from 7.30pm till midnight (£30 per hour for any extra time). Casino tables = £350 for the 2 (blackjack &  roulette) complete for 2 hours gaming. Close up magician = £250 for 2 hours magic.
Keep up to date with Andy B Events. Click the 'like' button on our facebook page – www.facebook.com/Andy.B.Events