12th October '12 – Was hired as DJ for Lonsdale College (part of Lancaster University) Freshers Ball at the Imperial Hotel, Blackpool. Wild night! Guests came via coaches, we had approx 220 in the Lancastrian Suite of the Imperial hotel. Once we'd got everyone in the room, it was time to serve the buffet style hot meal.
Once we'd got them all fed & watered(!) it was time to get the party started, after a couple of warm up songs, I hit them full blast with 'Gangnam Style'! I think pretty much every student jumped up to do the moves! Managed to take a very brief video clip of them, posted it on my facebook page – http://www.facebook.com/media/set/?set=vb.172309206143736&type=2#!/photo.php?v=10152184431645632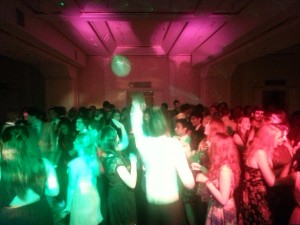 That set the pace for the rest of the evening, with a full dance floor absolutely bouncing right through till around 11.30pm. The coaches were leaving at staggered intervals, so the party started dispersing bit by bit until midnight when all students were back on the coaches, top night!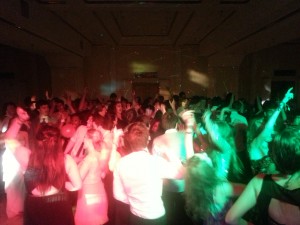 So, if you've been charged with booking the DJ for your school prom or college/university ball in the Blackpool area, then email your enquiry to andy@andybevents.co.uk
Keep up to date with Andy B Events. Click the 'like' button on our facebook page – www.facebook.com/Andy.B.Events