11th August '12 – I was hired as wedding DJ for Mr & Mrs Stevenson's big day at the Gibbon Bridge hotel in Chipping, Preston. I met Jennifer, the bride, last year at a Preston wedding fayre where we were exhibiting. We had a good chat about her requirements & I put a full evening's entertainment package together for her.
As it happens, I was working in Preston that afternoon, so when they asked if I could also supply some giant garden games for the lawn throughout the day, I was able to drop them off.
Then for the evening, they hired 2 of our fun casino tables (blackjack & roulette). Fortunately, it was a pleasant evening & we were actually able to set the casino tables out on the patio rather than in the bar where they were originally intended for. We've found the casino tables to be a great way of keeping guests entertained during the room turnaround after the wedding breakfast & then through the first hour of the evening (6.30pm till 8.30pm for example).
Then for the main evening reception, they hired me to provide the disco & my favourite party duo, Mana Live, to provide the live music.
Fab night! The duo did an excellent job, it's the first time I've worked alongside them for 12 months or so, I'd forgotten just how good they are! For full details on having Mana Live entertain at your wedding party, see – https://andybevents.co.uk/2011/01/party-duo-northwest/
They chose 'Everything' by Mr Buble as their first dance, then we got Mana Live Straight on for their first set. I provided disco in between sets & to finish off the evening.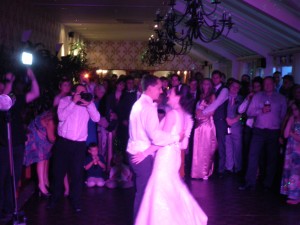 Jennifer posted the following feedback on my facebook page – 'Hi Andy, just want to say a big thank you for doing a fantastic job as DJ at our wedding. Mana Live were great and everyone had fun on the casino tables. We will recommend you to our friends. Thanks again, Jennifer and James Stevenson (Gibbon Bridge 11/08/2012)'
If you are celebrating your wedding at Gibbon Bridge (or throughout Preston/the North West) & are looking for a disco & entertainment package to ensure your evening reception is a huge success, email your enquiry to andy@andybevents.co.uk or call on 07785 741749 for an informal chat about your requirements.
Keep up to date with Andy B Events. Click the 'like' button on our facebook page – www.facebook.com/Andy.B.Events