2nd & 5th August '12 – Had 2 wedding discos at Bartle Hall over the first weekend of August. I do like Bartle Hall, nice venue & setting for weddings. First was on Thursday the 2nd for Mr & Mrs Taylor in the Balmoral Suite. Quite a wild night! Laura the bride had asked me to play Snow Patrol 'Chasing Cars' as their first dance, inviting everyone up to join them part way through, then 'Time of My life' (from dirty dancing) & thirdly 'Gotta Feeling' from BEP. Great start & certainly got everyone involved.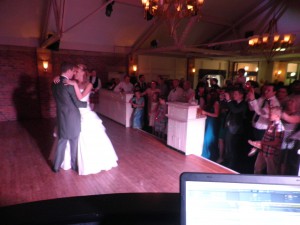 She'd also sent me a play list which included quite a bit of mainstream 'soft' rock/Indie, some current chart favourites & a special request at around midnight to play a cheesy 90's dance set! No problem with any of that! We then had a big finish to Champagne Supernova followed up with Green Day 'Time of your life'. All the best to Laura & Andy!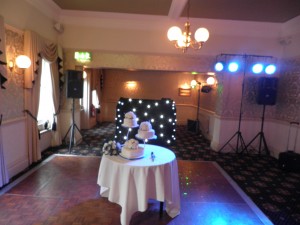 On Sunday the 5th, by contrast to the Thursday, we had a much more laid back evening reception for the wedding of Mr & Mrs Buckley in the Windsor suite. A really nice atmosphere all the same. Around 8.30pm, I invited the happy couple up to cut the cake & perform their first dance together as man & wife, this was performed to Shola Ama 'Run to Me'. I then invited guests well more particularly the single ladies (guess which song I played?!) to step out into the grounds for the bouquet throwing. Once they were all back inside, we opened the buffet, then after food, got the main disco underway. Kimberly, the bride had pretty much left it up to me, just suggesting more current hits to start with, then some 80's & 90's as guests got a little tipsy! Pleasant night & all the best to Kim & Dan!
So, if you're getting married at Bartle Hall & need an experienced wedding DJ for your evening reception, email your enquiry to andy@andybevents.co.uk As a guide, throughout Preston, expect to pay £225 to cover playing times of 7.30pm till 12am & £25 per hour for any additional time.
Keep up to date with Andy B Events. Click the 'like' button on our facebook page – www.facebook.com/Andy.B.Events