16th June '12 – Andy B Events were pleased to provide venue lighting at Tatton Park for a large Asian wedding party there. Nadia, the bride, first got in touch with me 6 months ago to enquire about some uplighters around the room. In the Tenants Hall, you ideally need between 28 & 36 uplighters to get the full desired effect, depending on how it's set out.
Nadia went for 28 uplighters around the room in an off white/cream colour. Additionally, we also provided 8 more lights on T Bars on the stage for use during their musical entertainment. These were set to a colour chase pattern.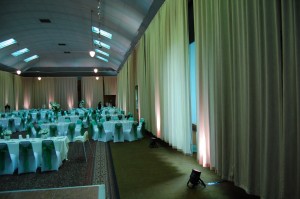 With LED uplighters, we can achieve most colours to match your colour scheme for the day/evening. My favourite if you're having the curtains kept closed is our pinky/purple colours.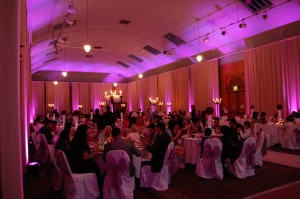 Uplighters cost £14 each, how many you have is up to yourself, but the more you have the better it will look!
For further information. email your enquiry to andy@andybevents.co.uk
Keep up to date with Andy B Events. Click the 'like' button on our facebook page – www.facebook.com/Andy.B.Events