5th May '12 – I had a rare Saturday off for my nephew's wedding at Stanley House in Mellor, Lancashire. Of course, I had to make sure the entertainment was going to be right for him & his beautiful bride! So, I got my good friend & wedding singer Paul Guard to help out. He pretty much took care of the whole day for us & did a simply superb job at it!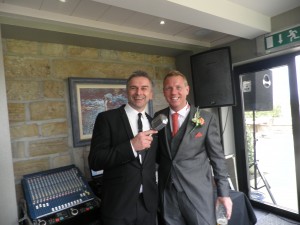 We arrived at Stanley House around 1.30pm for drinks, canapes & photo opportunities during this time, Paul performed his first set with some nice laid back easy listening numbers which worked perfectly.
We then moved into the downstairs function room (the Stables) for the wedding breakfast. Once seated, Paul acted as a kind of informal toastmaster throughout, introducing the speeches etc & he performed his second set of live music, still fairly laid back to start with during food service, with some swingin' favourites. He slowly progressed to more uptempo numbers which involved getting the stags up for a number & then the hens!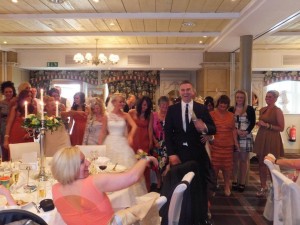 It was great for me to see Paul do his whole daytime show as it's not often I get to see him run the daytime & I have to say he really did make it a memorable one!
We then moved upstairs into the Barn for the evening reception. I'd roped Paul into providing the disco as well as singing a third set at night. In fairness, he doesn't really do the discos himself anymore, prefering instead to bring a DJ with him to complete the package, but I'd promised to help (or hinder!) so away we went! Once again, a fab job! Straight after their first dance, he performed his party set which included some Soul & Motown hits. He organised a sing off between the hens & the stags to 'Mustang Sally'. Boys sing 'all you wanna do is ride around sally', girls sing 'ride sally ride'!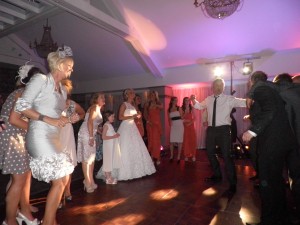 He then finished the night off with disco which kept the floor packed till 1am!
For full publicity on Paul Guard, see my main feature on him here – https://andybevents.co.uk/2011/02/wedding-singer-north-west/
Keep up to date with Andy B Events. Click the 'like' button on our facebook page – www.facebook.com/Andy.B.Events