Andy B Events are pleased to present 'Boomin'! North West based Boomin are an outstanding, live, three piece Rock Party band. Think McFly meets Mick Jagger!
Boomin are beyond conventional. They take the recognisable and spin it into the unexpected with interjections of classic rock into modern chart without so much of an iota's thinking time. Their performance is audacious, outrageous, contagious and salacious, but why shouldn't it be? The boys do it better than anyone else on the scene at the moment and are definitely in a league of their own.
Line up:
Adam Langmead – Guitars/Vocals (Technique, Song Writer, Recording, Teacher)
Rory O'Grady – Bass/Vocals (Producer, Arangement, Stage Presence, Comedy)
Edd Langmead – Drums/Vocals (Visual, Lyrics, Melody's, Design, Harmonzier)
Outstanding Party Band!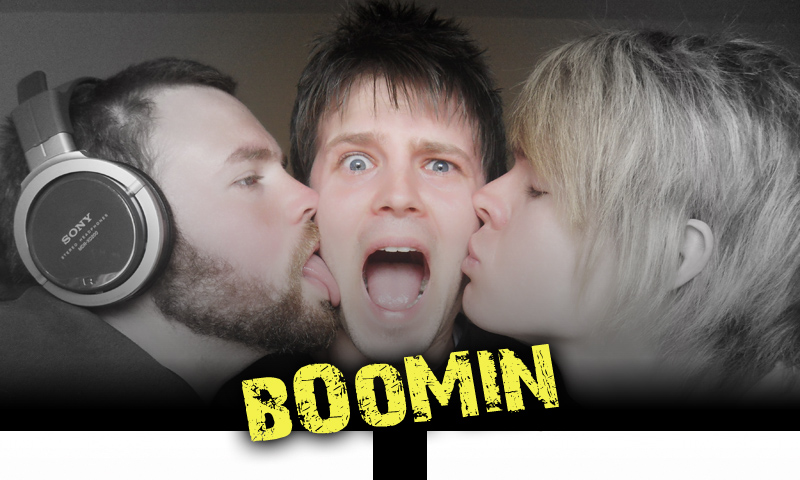 Reportoire is extensive & includes the follwing:
Everyday I love you less and less – Kaiser Chiefs I Predict a Riot – Kaiser Chiefs Ruby – Kaiser Chiefs By the Way – Red Hot Chilli Peppers Creepin up the backstairs – Fratellis Henrietta – Fratellis Chelsea Dagger – Fratellis American Idiot – Green Day Basketcase – Green Day Holiday – Green Day Johnny be Goode – Chuck Berry Great Balls of Fire – Jerry Lee Lewis Love Machine – Girls Aloud Alright Now – Free Whiskey in a Jar – Thin Lizzy Valerie – Mark Ronson Gold – Spandau Ballet Wonderful Tonight – Eric Clapton Don't Stop Me Now – Queen Under Pressure – Queen Bohemian Rhapsody – Queen White Wedding – Billy Idol 500 Miles – Proclaimers One and Only – Chesney Hawkes Pride and Joy – Stevie Ray Vaughan Texas Flood – Stevie Ray Vaughan Sweet Home Chicago – Buddy Guy Faith – George Michael Naive – Kooks Who's got a Match – Biffy Clyro Last Night – Strokes Pretender – Foo Fighters My Hero – Foo Fighters Place Your Hands – Reef I bet that you look good on the dancefloor – Arctic Monkeys When the sun goes down – Arctic Monkeys Florescent Adolescent – Arctic Monkeys Toxic – Britney Spears Womanizer – Britney Spears Jailhouse Rock – Elvis Presley Suspicious Minds – Elvis Presley Rockin all over the world – Status Quo Mr. Brightside – Killers When you were young – Killers Are you gunna be my girl – Jet Woman – Wolfmother Killing in the name of – Rage against the Machine Get Ready – Temptations Hard day's night – Beatles Twist n shout – Beatles La Bamba – Los Lobos Mustang Sally – Wilson Pickett Brown Eyed Girl – Van Morrison Proud Mary – Tina Turner Don't look back in anger – Oasis Live Forever – Oasis Morning Glory – Oasis Half the world away – Oasis Empire – Kasabian Back for Good – Take That Angels – Robbie Williams Bartender and the thief – Stereophonics Town Called Malice – Jam Timewarp – Rocky Horror Show Hand Jive – Grease Sweet Child o mine – Guns and Roses Living on a prayer – Bon Jovi Amarillo – Tony Christie I'm a believer – Monkees Daydream believer – Monkees Let's get it on – Marvin Gaye Teenagers – My Chemical Romance That's not my name – Ting Tings Fascination – Alphabeat Keep on movin – Five Folsom Prison – Johnny Cash Iris – Goo Goo Dolls Buck Rodgers – Feeder Black and Gold – Sam Sparro Dream Catch Me – Newton Faulkner Use Somebody – Kings of Leon Sex on Fire – Kings of Leon Addicted to Love – Robert Palmer Footloose – Kenny Loggins I'm Still Standin' – Elton John Whole Lotta Love – Led Zepplin
Price guide is £2500 for 2 * 45 minute sets throughout the evening. For bookings & enquiries, email andy@andybevents.co.uk
Keep up to date with Andy B Events. Click the 'like' button on our facebook page – www.facebook.com/Andy.B.Events