23rd December '11 – My last gig before Christmas was a wedding party at the very nice Belle Epoque in Knutsford. Mr & Mrs Lomas had hired me as their wedding DJ for the evening reception. Good to be back there. For those who don't know, Belle Epoque is a stylish A La Carte restaurant on the high street in Knutsford which has become popular for wedding parties. The venue has a private dining/function room upstairs which works well for the wedding breakfast, guests then come downstairs for the evening reception.
Louise (the bride) sent me a fairly comprehensive playlist made up of all kinds of music which guests (& the bride & groom) had already requested. Fun night, everyone seemed to be in a party mood & certainly enjoyed their music. The dance floor was busy the whole night, right from the first dance which was performed to 'Need your Love so Bad' by Fleetwood Mac. We didn't even stop for the buffet as it was brought round & served to guests even as they were dancing!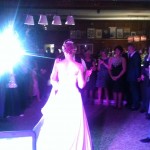 Had this email from the bride & groom –
'Hi Andy
Hope you're having a great Christmas.
Just a quick note to say thanks a lot for DJ-ing at our wedding on Friday at the Belle Ep. You were great. You played something for everyone as although it was a small wedding there were lots of different ages and types of people there I think everyone got to hear something they liked. Also loved the little coloured lights which were bouncing around the room. Not seen the photos yet but our photographer said they looked good on the shots.
If you want a testimonial for your website or Facebook just let me know or use this email.
Thanks again
Louise and Ben x'
So, if you're looking for an experienced wedding DJ for your big day in the Knutsford area, email your enquiry to andy@andybevents.co.uk
Keep up to date with Andy B Events. Click the 'like' button on our facebook page – www.facebook.com/Andy.B.Events