13th December 2011 – Busy weekend at the Village Hotel, Blackpool. I was providing my party discos there on Friday & Saturday night. Friday night was the staff of Kepak's Christmas party. They had a big party! Most the guests were quite young & the disco was made up of mostly chart & dance music to keep them raving non-stop from the end of dinner right through till the end! (I actually played 10 mins overtime as they were still going strong at closing time, Wild night, even wilder than the Blackpool winds!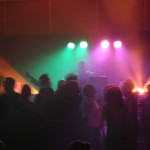 On Saturday, it was another company party. This time 'Depuy', based in Blackpool. Complete contrast to Friday's crowd, this was a more formal party with many of the guests in black tie. They had awards, raffles & live music from Blackpool based 4 pc band Groovestar. They performed 2 sets throughout the evening, offering a lively selection of hits from the 60's to the present day. I felt like the disco had only just started to get going as we approached finishing time. So, we kept going for over half an hour after the end! Big finale! Great night!
Had this from the organiser –
'Hi Andy. Big thanks for our Xmas party. We had a fab night and thanks for playing extra. Get 15th dec in your diary for next yr. Will be at DeVere or Hilton I think x'
I'm based in Blackpool myself, so if you are looking for a DJ/disco for your big party in Blackpool. I can offer you the most competitive rates. I also work with a few other DJ's if I'm not available personally who also live in the Blackpool area.
For bookings & enquiries, email andy@andybevents.co.uk
Keep up to date with Andy B Events. Click the 'like' button on our facebook page – www.facebook.com/Andy.B.Events