3rd December '11 – Andy B Events were pleased to supply our 2 small chocolate fountains for a birthday party in the Northenden area of Manchester. They only had approx 40 guests attending in the function room of a restaurant there. 80 guests is the smallest number we can cater for by using the 2 small chocolate fountains. The small fountains are still commercial fountains standing 23″ on their own but also come complete with illuminated bases & the usual choice of 20 different dips. The price to hire these 2 chocolate fountains complete is £259 in the Manchester area for 2 hours flowing time.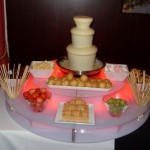 The good thing about the 2 small fountains is that you can have 2 different flavours of chocolate flowing. Milk & white chocolate being the popular choices.
Of course, we do have a great selection of other size fountains available depending on your budget & requirements. We can offer the 2 small (23″), the regular (32″), large (44″), then we the double flowing fountain (nearly a metre tall) & the World's largest portable chocolate fountain standing over 8ft tall when sat on a standard table (actual fountain size = 1.45 metres)!