Award Winning Magician Jason is one of the UK's busiest up and coming Magicians, he specializes in close-up magic, perfect for that special occasion that you want people to be talking about for years to come. From performing at Corporate events and Business meetings to performing for celebrities such as Jack Charlton, Sam Allardyce and David Moyes, Jason's reputation continues to go from strength to strength all around the North West & indeed the country.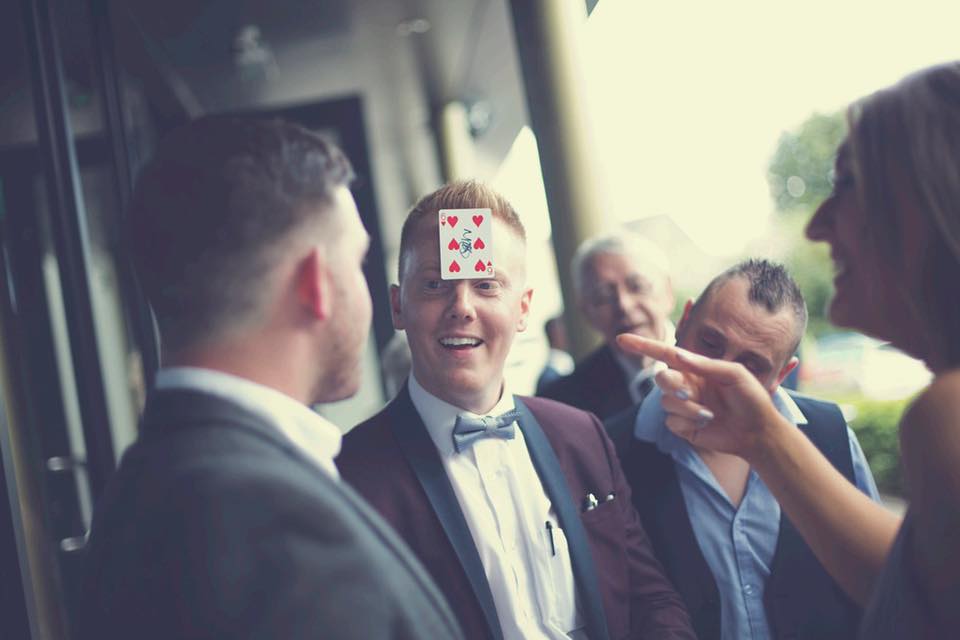 Since August '10 Jason has been performing at Bolton Wanderers football club as the resident magician. He performs prior to every home game in the hospitality suites and the private boxes that surround the pitch.

So how can Jason help you? With Jason's highly visual sleight of hand skills and performing inches from you he can turn any day into a magical and memorable one for all those present, whether it be a company dinner, Private Birthday, Corporate event, Conference, Trade show or a special wedding day Jason can be the perfect ice breaker bringing people closer together, making sure everybody has a magnificent time and talks about your event for years to come.
Jason Specializes in close-up magic, this is magic performed inches away from his audience, no smoke, mirrors or special effects, just pure magical miracles mixed with his cheeky witty infectious humour making for a personal memorable experience that all your guests can enjoy and be a part of for your occasion.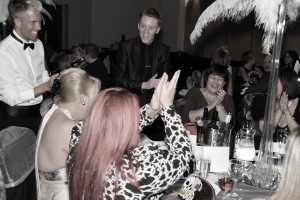 Weddings: Make that special day one to remember. With Jason's superb magical effects, he can turn your Wedding Day into the most special, exciting and memorable day of your life. Perfect for entertaining your guests during photographs, after speeches and before, during or after meals.
Birthdays: Make that birthday extra special by having Jason entertaining all your guests, young or old with close-up magic that will guarantee in making that special birthday a day to remember.
Corporate/Conference: Organising an important business meeting? Jason can provide groundbreaking magic for all your employee's to enjoy. A perfect ice breaker and a magicial way to bring your colleagues closer together, making for a memorable experience for all concerned.
Trade Shows: Launching a new business? Promoting a new product? Jason can provide perfect entertainment to make your business stand out from the crowd. His unique and enthusiastic performance will guarantee that your business is the one that everyone will be talking about for years to come. Your fellow businessmen will be buzzing from the beginning to the end of this magical performance. This is a great way of promoting your business and to guarantee future success.
For bookings & enquiries, contact andy@andybevents.co.uk As a guide, expect to pay from £450 for a 2 hour close up session.
Below are some of the many testimonials Jason has received from previous clients …
'Jason was a great success at our recent Charter Night when he amazed, baffled, confused and delighted all our guests. Prior to dinner, Jason performed to our guests as they assembled in the reception area and followed this by providing table-top entertainment during the meal. His pleasant manner and skilled performance set the tone for the evening and earned much praise from all concerned. We would recommend him to anyone organising a social gathering'
Rotary President elect
'A Month after you performed people were still talking about how you turned that deck of cards into a solid block, such a personalized performance, you created something special for everyone and I am so grateful of your services, we will certainly book you again soon!!'
Rotary Preston Chariman
'Jason is member of the Bolton magicians club he is a young, smart and versatile magician. He is entertaining with either cards/rope/coins/sponge balls or mentalism. Jason is a young man and very good at what he does now. He can only get better and better as he gets older. I feel he has a big future in magic and a lot of people will be talking about him for a very long time after future engagements'
Jimmy Heaton Bolton Magicians Club Chairman
'I thank you for agreeing to attend our fund raising event. As a close up magician you are "simply amazing" and enthralled all that attended, particularly the non believers on my table. You have certainly made it a wonderful experience for many members who will remember you for many years to come. By what was said after you left there is no doubt your attendance will generate many future bookings. I also wish you all the best for the future'
Regards Hadyn J. Gigg Treasurer 1869 Club Preston 
'On behalf of the princes Trust in the North West I would like to say a huge thank you for your support of the Lancashire Celebrity Sports Dinner.
I do hope you enjoyed the evening as much as we all did and I am delighted to report that the event was a fantastic success raising over £20,000 for The Princes Trust. I'm sure you will agree this is wonderful news and we simply couldn't have done it without your tremendous support.
Thank you so much for making the event so memorable- it was the best yet'
With very best wishes
Laura McGuinness, Events Assistant Princes Trust
'We are writing to say thank you so much for attending on Saturday for our fundraising dinner dance. All the guests absolutely loved the magic tricks and many of them have commented to us that despite watching like a hawk they couldn't see how you managed to do the tricks! We would have absolutely no hesitation about recommending you to other potential customers and hope that we are fortunate enough to attend events that you work at in the future'
With much thanks and our best wishes
Dr Gabi Lipshen and Dr Louise Watson, Paediatricians for Childflight
'Your magic was truly amazing, from start to finish you completely baffled, amused and entertained all our guests, everyone could see why you are an award winning magician. Never before have I seen magic like yours, close up and personal, just unbelievable. After what our guests were saying about you after the event, you will certainly receive many more bookings in the future. I hope to see you again soon and thank you for being the ultimate professional'
Mr Rodford
'Absolutely fantastic!! All my friends couldn't believe the tricks he was performing and were trying their best to suss them out! Would definitely recommend him for any gathering and really made my birthday a night to remember!! Thank you!'
V Edwardson
'Thank you very much for making our wedding day a very special occasion. Your magic left everybody baffled and amazed and for someone so young you really were incredible. Everyone will be talking about you for years to come and we will certainly be booking you again. Thanks again'
Mr and Mrs Wesley
'Simply amazing, the most entertaining day we have ever had. You certainly made our wedding day one to remember'
Mr and Mrs Colins
'Quite simply the best I have ever seen, so witty and such an incredible performer to watch'
 Mrs Rockford
'This man is from another planet!! Baffled me completely and I was inches away!! And so very funny and charming'
Mrs Smith
'Visually stunning, sleight of hand magic at its best, performed by the best'
Mr Wrigley
'The most sensational performance from such a young innovative magician'
 Mrs Roswick
'I have seen Jason perform a number of times but most recently at a
wedding. He is brilliant at entertaining and bringing a crowd together and
keeping them wanting more. He is very confident and funny and very good
at what he does. I will be recommending him to everyone. He is well
worth the money that he charges as he is great value for money'
D. Blanchard