Liverpool based John has been a professional magician, illusionist, stand-up comedian and entertainer since 1992, when his gap year became a gap life.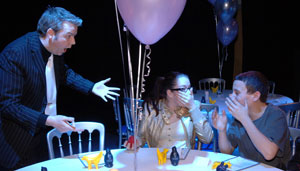 Since then he's:
Inspired and starred in the 10 episode ITV1 close up magic series, 'Astounding Celebrities';
Entertained, on separate occasions, The Prince Of Wales, The Princess Royal and The Duchess Of Wessex (Charles called him "Cunning" and "Dashed clever"!);
Shared stand-up comedy bills with comedians as diverse as Tom O'Connor and Russell Brand;
Been the illusionist and fire eater for The Blackpool Tower;
Appeared on Dale Winton's BBC1 Christmas special;
Performed close-up magic for many, many celebrities (and even some real stars!);
Brought thousands of new customers to see his magic for restaurants;
Helped scores of companies reach new clients;
Made hundreds of wedding days extra special.
He's even done a few card tricks…
John Harding – Makes you wonder…
What events can benefit from John's magic? Be it an elegant wedding breakfast or a funky reception, a rocking freshers' week or graduation ball, a busy trade show/exhibition or an annual fundraising event, a late night comedy club or a company Christmas party, John has the show and the experience to suit.
Based in Formby, near Liverpool and Southport in the North West of England, John regularly performs all across the UK and Europe – So, if you're looking for a magician who entertains, why not get in touch for a quote? Email your enquiry to andy@andybevents.co.uk
Testimonials from various events:
Weddings
A very big "Thank You" for the way you entertained the guests at our wedding reception. We have watched the video several times and still can't figure out how you do what you do! You kept all age groups entertained – many people commented how good you where, and my uncle wouldn't shut up about you all evening!
We really would recommend you to any prospective clients for your skill, humour and professionalism. Thanks also for making it all so easy. You were fantastic.
Mike & Helen Davies, Warrington, Cheshire
You performed at our wedding reception at the Grange in Thornton Hough on the Wirral. All our friends still talk about it and you where certainly the highlight of the reception, if not the day, and I can't thank you enough for that. Everyone enjoyed your performance so much.
Many thanks John
Jackie Hatton – Wirral
Thank you for your entertainment at our wedding. Everyone has been commenting on your act – You were certainly a highlight of the reception. It was wonderful to see the look on our friend's faces. We'll be actively encouraging EVERYONE WE KNOW to hire you!
Alison & James Coates, Ormskirk, Lancashire
Hi John,
What a wonderful time we all had on Saturday and a great part of it was due to your performance. So many people have said how much they enjoyed your magic and, of course, you know I'm a fan!
Thanks very much indeed. I'm very grateful and so are Becky and David. Dr David is still trying the magic rubber band trick – to no avail!
With very best wishes,
Jan Potter – Liverpool
We would like to say a big thank you for being a fantastic part of our wedding day last Saturday at Rowton Hall. Everyone thought that you were brilliant and the kids loved the balloons. We will definitely be recommending you to other people.
Still trying to work out how that card got stuck to the ceiling!
Cheers and all the best.
Paul and Celstein Derbyshire – Chester
Close-Up
"I first saw John performing close-up at a restaurant and couldn't work out how he did his tricks. I then hired him for a TV series and still couldn't figure it out – even though I studied all the shots frame-by-frame in the edit suite. He's a master at what he does. His magic act is funny, inventive and mesmerising."
Jeff Anderson, Controller, ITV Current Affairs & Documentaries
Hi John
We would like to thank you for making a special evening for us even more special. The entertainment you provided was absolutely fantastic and will be talked about by all our guests for years to come.
Colin & Margaret McMahon – Burnley, Lancashire
You're a star John, your magic went down really well – I have already forwarded your details on a few times since the event, practically everyone had said how impressed they were.
Rob Lambert – Media Manager, Lee & Nightingale, Wirral
John is an excellent magician we found to be professional, flexible and very entertaining. I would recommend John without reservations and he would be my first choice if we need a magician again. His close up work was amazing.
John Astley – Bollington Hall, Cheshire
We have enjoyed being entertained by John for about ten years now. We used to make special journeys to a restaurant just so that our two young children could enjoy his show.
Five years ago I asked John to perform at my 40th birthday bash where he entertained 70 friends and children.
Last year John was our entertainer at the Insurance Institute of Liverpool Charity Ball and was a huge success.
I thoroughly enjoy John's special brand of magic which is mixed with a cheerful mischievousness. I would recommend John to anyone who wants an excellent entertainer at a party or host for a more formal occasion. Tom Harrison – A Letton Percival & Co Ltd, Liverpool
Parties
I just wanted to thank you once again for making mums 60th birthday party such a special occasion for everyone.
Once again you where the talk of the party! Every one was stunned and mesmerised.
It was an honour for us all to have you there performing your magic.
Thank you so very much John.
Kind regards and very best wishes
Jackie Hatton – Wirral
Dear John
Thank you for helping make our event such a good one for our members. I can tell you that the feedback I received about your show was extremely complementary!
With kind regards – and our thanks again for Saturday
Louise Shepherd – Chief Executive Alder Hey NHS Foundation Trust
FANTASTIC SHOW – YOU SURPASSED YOURSELF!!!
Sally Kinsella – Saint Pascal Baylon, Liverpool
Good morning John
Just a quick thank you for entertaining our guests on Saturday.
All enjoyed the show, and what a wonderful international language magic is!
Many thanks and hope to see you in the future
Best regards
Lyn and Andy Lewis – Southport
Dear John
Thank you for your part in our Centenary Dinner celebrations… From the sound of applause and the 'oos' and 'ahs' going around the room you certainly wowed our guests! I look forward to working with you again in the future.
Laura Wolfe – Regional Director, Institute Of Directors, Manchester
Dear John,
Jim and I would both like to compliment you on your performance at our silver wedding party. It was very well received by all our guests who had nothing but praise for you and you left everyone wondering how you managed to do it – including those who tried to catch you out!
We would have no hesitation in recommending you for any occasion large or small.
Thank you again.
Regards,
Gail and Jim Fowler – Birkdale Golf Club, Southport
The day went down really well – it was fantastic. Doddy was great and so pleased everyone enjoyed themselves! Thanks again for a great contribution.
Diane Maddock – Cosmopolitan Housing Association, Liverpool
Stage
Just a note to thank you so much for performing your magic at my 60th party at the Holiday Inn on the 7th July. The fire eating was a treat! Everyone I have spoken to since thought you were brilliant. Your professionalism shone through and I am sure you will be a talking point for weeks to come.
Once again, my heartfelt thanks for making my evening extra special.
Gaynor Shepley – North Wales
Hi John,
I just wanted to thank you for your efforts at West Lancs yesterday evening. The feedback was fantastic and everybody had thoroughly enjoyed both your tricks & banter. I would be very keen to secure a date again. Thanks once more.
John Morris, West Lancashire Golf Club, Crosby
Just wanted to say a huge thank you. You really helped make our first fundraising event a huge success.
Mary Gillingham – Sarah's Stars, Cheshire
Many thanks for Friday, it was a great night and everyone said how much they enjoyed your act. You were fantastic.
Kind regards, Gill Ericson, BP Engineering, Lancashire
My sincere thanks for your brilliant contribution to our event last week. From the comments of the guests and their warm applause it is clear you made an excellent impression (or illusion) on them. I am amazed at your repertoire of tricks and variety of material you are producing.
Bill Draper – Kenyon Fraser Liverpool
I would like to thank you and Anita for a very enjoyable evening. What made it special was the variety of entertainment you provided… you achieved an ideal balance. Our Chief Constable was due to leave early, but enjoyed the show so much he stayed right to the end!
Ken Hardy, – Treasurer, Greater Manchester Police
MC/Standup
What came first, the comedy or the magic? Who cares! John Harding is brilliant. The most versatile performer and best value for money our union has booked.
Michael Lawrence, University of Bedfordshire, Luton
Over the past 7 years, John Harding has worked on a number of our events including awards evenings, launches and community road shows. For each event John has been given a different brief and role and always delivers more than is expected! From acting as awards host, to providing magic and entertainment to guests, he engages well with all involved. John is a professional, reliable and talented individual and this is backed up by feedback from our guests who always praise his work. John takes the time to fully understand the brief given which comes across in his outstanding performances. I would recommend John to everyone as his involvement in events has ensured their success; hence we have already booked him for events taking place this year."
Nicola Rigby – Marketing & Communications Manager, Wirral MBC
Thank you so much for joining us at the Diamond Ball. You're a star and were fabulous. The evening made a staggering £35,000.00 and simply would not have been possible without your help.
Sharon Griffiths – Princes Trust, Liverpool
Many thanks John – You were brilliant!
Vicky Kelly – R-I-S-E, St Helens
Corporate
Thank you so much for your wonderful entertainment during our staff conference. The feedback we have received has been superb. You gave us a great start to our presentations.
Sharon Wilkie – Riverside Housing, Liverpool
Thanks again for your help on Thursday – You were the driving force behind our campaign & we managed to sign up 185 that day so I am really pleased.
Best Regards.
Madeleine Jackson – Membership Manager, Liverpool NHS Trust
For our sales promotion we needed an entertainer able to perform a good range of skills and attract members of the public of all ages. You provided all that we needed – a "one man variety show" almost non-stop for two days. Your successful efforts provided a lot of happiness, and our results were a lot better than we could have anticipated.
Thank you! Thank you! Your entertainment was really appreciated.
Elizabeth Houghton-Best – Retail Manager, Wirral
Colour Creations was turned into colour magic at the flick of a finger. The exhibition was a great success, John's easy way with people and creative ideas were an added bonus to the Sefcol stand. Thank you John, see you next time.
Jayne Frost – Business Development Manager, Sefcol Ingredients, Cheshire
Dear John,
I just wanted to say a big thank you for your efforts at Saturday's event.
Our Chief Executive passed comment about the great performance you put on, so thanks again.
Kindest regards,
Jill Preece – Liverpool
Thank you for the considerable input you have made to our various customer events. We always encourage feed-back and the look on peoples faces is a joy to see! Your care and personal attention is always noticed. We too like to make our customers feel special and in this respect you have been an excellent ambassador for our dealerships.
Mark Mitchell, Managing Director, Mitchell Group, Wirral & Cheshire
Thank you for entertaining the public in the shopping mall last week. Your contribution greatly influenced the success of the day. You were a wonderful ambassador and I can't express my appreciation enough.
Marylin Simmons – The Princes Trust, Liverpool
I am writing to thank you for your hard work and input into our promotional events… Your entertainment and crowd control were great!
Gregg Hutchings – Project Officer, Sefton
Dear John
Just a quick note to thank you for all your hard work and strenuous efforts during our 'Working with Families' campaign. I have no hesitation in recommending your magic and entertainment services.
Susan Jackson – NDLP Manager, Employment Services, Manchester
Team-Building
We recently held our Staff Away day, which aimed to inform the team of our corporate objectives and delivery plan. In addition, we also wanted to bring the team together and improve our internal communications. We therefore employed John to run a morning session which focused on teambuilding but also encouraged staff to 'think outside of the box'. John provided a first class training session and managed to engage all staff within the activities. The session created an outstanding atmosphere in the room and achieved the objectives that were set.
Nicola Rigby – Marketing & Communications Manager, Wirral
Thank you for making our team building day such a magical experience. Everyone who attended the event has commented to me on your efforts – you really did make a lasting impression! I found the entertainment absolutely fantastic. See you again soon.
Colin Gallagher – Business Marketing Manager, United Utilities
John added that magic ingredient which made the Halifax team building days so different. Colleagues are still talking about his mysterious tricks and ask when he is coming back.
John Marsden – Customer Service Centre Manager, Halifax
Restaurants
I engaged John's services to perform every Thursday evening. This helped sales grow by an astounding 40%, with only a little marketing in the space of a few months. Not only does John's skill reap rewards in terms of repeat and new custom, he is also a pleasure to work with and extremely knowledgeable of the service industry.
Andy Aldrich – Managing Director, Beluga, Manchester
In 2003 I was appointed Operations Director of Chiquito restaurants. At the time there were 23 restaurants that were performing particularly badly. One restaurant, which was amongst the worst, was Cheshire Oaks. We immediately instructed the manager to focus on children in conjunction with focusing on improving all standards. It was then we employed John Harding as a magician. The sales improvement in the store was over 80% over an 18 month period. John Harding undoubtedly played an instrumental part in this success.
I view John Harding as more than a magician. He is able to assist in improving service and waiting times as well as providing additional entertainment to children and adults alike. Many guests returned for the "added experience" and were disappointed if for any reason he wasn't available.
Based on John's success in Cheshire Oaks we spread "the magic experience" through John Harding to over 30 Chiquito restaurants across the country.
Angelo Gabrilatsou – Managing Director, Papa G's, Manchester
I have found John Harding to be a great asset to Chiquito, both as a resident magician for individual restaurants and as a supplier of entertainers for units across the country. He has consistently helped to increase sales and encourage great customer loyalty. I can personally testify to the atmosphere of fun John brings to a restaurant, without overpowering or scaring off other guests. The results from our web based customer survey have been exceptional: in Southport this January one in three of all positive comments were about John and his entertainment
Andy Barnett – Area Manager, Chiquito Restaurant Bar & Grill
Whilst at the Louisiana Exchange the restaurant showed the highest growth in the whole brand. John was a major factor in contributing to this success. He was hired as I was looking for a contemporary, innovative entertainer – within three months there was an increase in covers by 30%. The result of our combined efforts and John's skill was an increase of covers of 300% on our busiest day, 200% on an average day.
James Hewitson – Manager, InterContinental Hotel, Bahrain
Our weekly family night proved to be very popular. John is incredibly professional and reliable, he performs at tables with the utmost ease without disrupting other guests and is appealing to both adults and children alike. His magic never fails to entertain and is always changing – you never know what to expect. I would thoroughly recommend John for any restaurant.
Emily Branch – General Manager, Est Est Est Heswall
John Harding has become a valuable asset to us. He has an excellent professional approach with all our customers as well as the restaurant staff. We have managed to increase our business as customers now return on a regular basis because the know he will be in the restaurant.
Rob Newnes – General Manager, Frankie & Bennies Cheshire
During his time with us John has become a respected and highly valued member of staff, as well as massively increasing sales. We have a lot of families who are now regulars thanks to his hard work and dedication. A true asset to our company.
Paul White – Senior General Manager, Chiquito Blackburn & Cheshire
Dear John,
Thank you so much for the entertainment you provided at the launch of Jahan Burscough last night.
The feedback from guests was excellent and people commented on not only enjoying your magic, but also liking your friendly, entertaining style. I will recommend you to others. Once again thank you so much.
Warm regards,
Liz Thornber, Apt Events, Liverpool
John has been a major contributor to sales growth and has been extremely effective in service recovery issues. We have had a very favourable guest response not only to his magic skills but also to his style and ability to read a situation and provide entertainment tailored to our guest's expectations.
David Gatti – TGI Fridays, Cheshire