Personally, I find the Saxophone to be the coolest instrument for dinner music & drinks receptions, as well as great daytime music for wedding receptions. I know an excellent sax player based in Preston, Lancashire who covers the whole Northwest.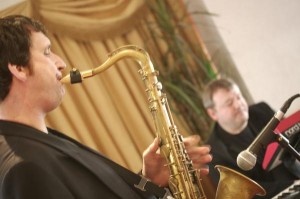 I have a couple of demos you can hear here:
For enquiries & bookings, email andy@andybevents.co.uk As a guide, expect to pay approx £295 for 2 hours playing time (split into 2 * 1 hour sets)
Neil is a professional musician with over 20 years of experience.
His performances are of the highest quality and he excels at playing a distinctive and elegant range of music including smooth jazz and modern ballads. With a performance to rival any on the circuit today and a wide repertoire of songs and music to draw from, most tunes can be accommodated for, with any special requests with prior notice.
Neil has a dependable attitude to business and his professionalism and approach to customer service is of a high standard.
Neil has performed for countless weddings including celebrities and many corporate events including those for:- The cast of Coronation street, ICI, KPMG, BAE, UCLAN, BMW, Mercedes Benz and has enjoyed successful contracts at most major hotel groups including Hilton, Thistle, De Vere, Gleneagles, West Tower and many independent hotels.
His musical skill rich warm breathy sound gives him the ability to perform a "musical backdrop" He is unobtrusive whilst captivating, discreet yet dynamic. Neil's performances of classics by the likes of Lionel Ritchie, Kenny G, David Sanborn, Snake Davies and Coleman Hawkins are quite simply stunning.