Beautiful Harp music for your wedding or other special occasion.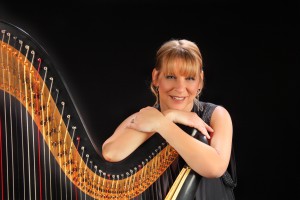 Maxine is a Lancashire based harpist who plays throughout the whole Northwest including Cheshire, Cumbria, Lancashire, Manchester, Wirral & North Wales.
Demos of Maxine's harp music:
Maxine – Arrival of the queen of Sheba
I'll also post a sample repertoire at the bottom of this page.
Maxine can also perform with a flautist, together they make up the Melandra duo. They are also are available for weddings, recitals and other events and are particularly suited for larger affairs.
Samples of the Melandra duo:
Melandra Duo – Spring from the 4 seasons
Melandra duo – Air on a G string
Price Guide:
Harp only
Ceremony – £250
Cermony & drinks (in same location, upto 2 hours) – £375
Additional hours – £95 per hour
Melandra Duo:
Ceremony only – £350
Ceremony & drinks – £550
Additional hours – £150 per hour
For bookings & enquiries, email andy@andybevents.co.uk
Maxine – Biography
Maxine was born in Manchester and raised in Glossop. She went to her first concert at the age of 3 and decided there and then that she wanted to play the harp.

She also started to play the piano at the age of 4 and was given great encouragement by her parents who were both in the Halle Orchestra. 

Maxine went on to study at Chethams School of Music where she studied under the renowned harpist Elinor Bennet. 

 
Maxine was 10 when she won her 1st music festival and at the age of 15 performed her 1

st

concerto (Mozart Flute and Harp). At 16 she debuted in a concert at the former Freetrade Hall in Manchester.
From 1989 Maxine has pursued a busy free-lance career with some of the UK's leading Symphony and Ballet Orchestras including the Halle, National Symphony Orchestra, English National Ballet, City Ballet of London and Moscow City Ballet. She has also pursued a solo career performing Concertos and Recitals. Maxine has entertained Royalty, and worked with a range of celebrities as diverse as Tenor Russell Watson and Rap Star Kanye West. She has also played aboard cruise ships, at major sports events and for product launches and TV work.

 
She appears regularly in leading hotels around the UK as well as playing for special occasions (Weddings, Birthdays etc) and corporate events.

 
Here is a selection of Maxine's repertoire. 
CLASSICAL
* Denotes music often used for civil ceremonies.
BACH
* Air on a G String  Ave Maria   Sleepers Wake   Jesu, Jo y of Mans Desiring
BIZET
Music From The Pearlfishers
BRAHMS
Lullaby
BOCCHERINI
Minuet
BEETHOVEN
Fur Elise
Moonlight Sonata
* Ode to Jo y
CLARKE
* Trumpet Voluntary
DEBUSSY
1st Arabesque
Clair de Lune
DVORAK
Humoresque
DELIBES
Flower Duet from Lakme
Valse from Coppelia
ELGAR
Chanson de Matin
Salut D'Amour
FAURE
Pavane
GLUCK
Dance of the Blessed Spirits
GRIEG
Piano Concerto theme
Morning and Solvejgs songs from Peer Gynt
HANDEL
* Arrival of the Queen of Sheba
* Water Music Suite
LEHAR
Maxine formed the Melandra Duo in 1986 whilst at Chethams School of Music. The name Melandra is taken from the  Roman name for Glossop where Maxine was raised.
The other half of the Melandra Harp & Flute Duo is Flautist Lindsay Grainger.
Lindsay studied at the Royal Scottish Academy of Music and Drama after which she returned to her local area of Cheshire .
Lindsay plays with various orchestras, including the Liverpool Sinfonia and the Welsh Chamber Orchestra and also enjoys a variety of solo and chamber work, which has led to performances on BBC Radio 3 and Radio Scotland.
Here is a selection of the repertoire for the Melandra Duo
CLASSICAL
ALBINONI
Adagio
BACH
Arioso
Ave Maria
Air for the G String
Jesu Joy of Man's Desiring
Andante
BIZET
Carmen
L'Arlesienne
Duet from The Pearl fishers
BOCCHERINI
Minuet
BRAHMS
How Lovely is thy Dwelling Place
BEETHOVEN
Moonlight Sonata
DEBUSSY
En Bateau
1st Arabesque
La Fille aux Cheveux de Lin
Clair De Lune
DVORAK
Humoresque
Largo from The New World Symphony
DELIBES
Flower Duet from Lakme
DENVER
Annie's Song
ELGAR
Chanson De Matin
Salut D'Amour
 FRANCK
Panis Angelicus
FAURE
Siciliene
Berceuse
Pavane
GLUCK
The Dance of the Blessed Spirits
GRIEG
Morning from Peer Gynt Suite
Wedding Day at Troldhaugen
GOSSEC
Tambourin
HANDEL
Arrival of the Queen of Sheba
HAYDN
Serenade
KHACHATURIAN
Adagio from Spartacus
KREISLER
Schon Rosmarin
LISTZ
Lieberstraum
MASCAGNI
Intermezzo from Cavalleria Rusticana
MASSENET
Meditation from Thais
MENDELSSOHN
Wedding March
On Wings of Song
Spring Song
MORRICONE
Gabriel's Oboe from The Mission
MAC DOWELL
To a Wild Rose
MOZART
Piano Concerto No 21 (Elvira Madigan)
Papageno's Song from the Magic Flute
Rondo Alla Turca
Romance from Eine Kleine Nachtmusik
NIELSEN
The Fog is Lifting
OFFENBACH
Barcarolle from Tales of Hoffmann
PUCCINI
Humming Chorus from Madame Butterfly
Oh! Mio Babbino Caro
Nessun Dorma
PACHELBEL
Canon
RACHMANINOFF
18th Variation from Rhapsody on a Theme of Paganini
RUTTER
A Gaelic Blessing
SATIE
Gnonesssien
Gymnopedies
SAINT-SAENS
The Swan
Softly Awakes My Heart
SCHUBERT
Serenade
Ave Maria
Rosamunde
STRAUSS
The Blue Danube
VERDI
Drinking Song
La Donna E Mobile
VIVALDI
Spring from The Four Seasons
WAGNER
Bridal Chorus
POPULAR SONGS
Fields Of Gold
Lara's Theme
Cavatina
Blue Moon
Unchained Melody
Chi Mai
The Wind Beneath My Wings
(Everything I Do) I Do It For You
Tonight I Celebrate My Love
The Lady In Red
A Groovy Kind Of Love
Schindler's List
Bridge Over Troubled Water
Born Free
Bright Eyes
My Heart Will Go On
Barcelona
 Shows
Me & My Girl
My Fair Lady
West Side Story
South Pacific
Oklahoma
Porgy and Bess
Folk Songs
Brian Boru
Greensleves
Londonderry Air (Danny Boy)