Andy B DJ services.
This page is for clients thinking of booking DJ Andy B for their special event but before they book they want to know all about the equipment used. Probably due to some bad experiences of DJ's turning up with 1 flashing light or a traffic light, with a bulb or 2 missing! Complemented with some battered speakers making a distorted racket! Ala Peter Kay!
Of course, hiring a DJ isn't just about the equipment. Experience, personality, ability to talk on a microphone etc are all important factors
However, to put your mind at ease, when you hire Andy B as your DJ, this is what you'll get…
For small to medium sized parties (up to 100 guests), the following set up is ideal & this is included in the price you have been quoted.
Briefly it includes; DJ work station with a star booth which looks so much nicer than a borrowed table from the venue! 2 * 400 watt full range speakers on stands, 4 * LED par cans mounted over the top of the star booth creating a colourful wash on the dance floor which flash on various patterns throughout the main party, plus an effects light for finishing touches.
For larger parties &/or stage settings, you may want to consider the premium show…
Briefly, this includes everything included for the smaller parties plus 2 * bass speakers to complete the sound for up to 300 + guests, 4 lit podiums with moving lights mounted on top of them & 12 * up lighters to be placed around the room to help set the atmosphere. Add £350 to quoted price for this. (This price does not include dance floor, staging, gobo projection, light up letters or projection screens also shown in the photo).
The sound system is a top quality RCF active system consisting of 2 'tops' & 2 bass bins
 Altogether, these make up a 2400 watt sound system, which is capable of handling most large function rooms with up to 300 guests. For smaller parties, the 'tops' are included in the standard price which create a great full range sound for parties of 100 or less.
I carry my full comprehensive music collection with me in digital format which means I can access any song from the collection within seconds. I use a Sure sm58 lead microphone for my use & radio (wireless) microphone which is great for hosting duties & speeches etc
To hire in the extras separately…
Add the 2 bass speakers for £50.
Gobo projection light with personalised artwork £125
Uplighters, these are placed around the room, set on the floor against the walls facing upwards, creating a nice atmospheric glow throughout the room, set to a colour of your choice. £14 each or £120 for a set of 12.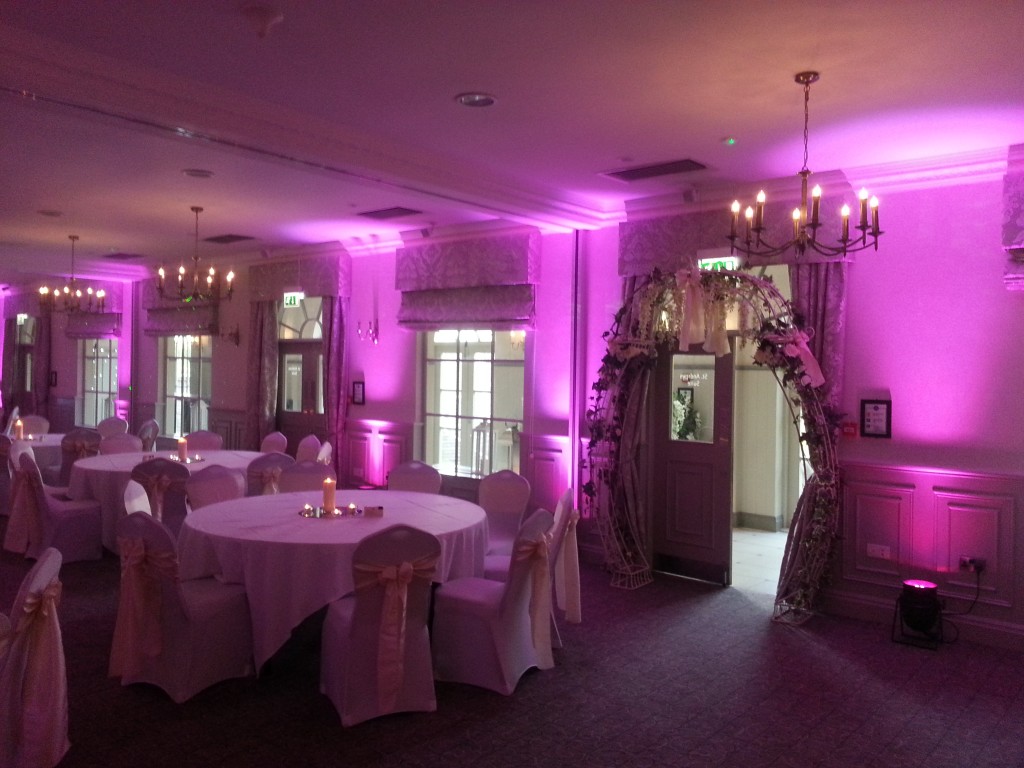 The lit podiums with the moving lights are £95 for a pair. (£180 for the 4 as pictured).
Staging, depends on the size required, but £250 for the size shown. Complete with skirting…
Add a starlit backdrop… 3 metres high by 6 metres across for £175, perfect backdrop for a DJ or band set up.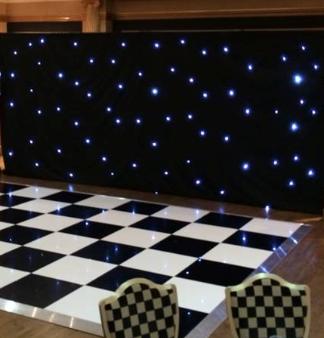 We also have many other extras which fall more in the venue dressing/theming or audio & visual support categories, please ask if you require any details on these?
Hope this helps. For more photos, reviews & video clips, see our Facebook page – www.facebook.com/Andy.B.Events