Posted On: Jun 04, 2015 By: Andy In: Bar/Bat Mitzvahs, Mobile DJ
'…Just a quick note to thank you so much for the set which you did on Saturday at Tashi's Bat Mitzvah. The music was pitched perfectly, from the movie theme tunes upon arrival (which definitely gave it that magical feeling), to the volume during dinner and the disco afterwards. The kids all had a great time and as an added bonus for us, the music wasn't so loud that the adults couldn't talk! Thank you also for the last minute additions such as the awards music – it all worked perfectly….'
Hired as DJ for Tasha's Bat Mitzvah @ the Place Aparthotel in Manchester. Fab 4 star venue that I've played at for several events. On this occasion, we were celebrating in the Pennine Suite.
They had gone for a movie theme which included a 'Hollywood' back drop, up lighters, lifesize cut out figures of various characters from Harry Potter, Star Wars & the like as well as a photo booth, using green screen to add a Hollywood background.
As well as the modern chart & party hits, I also carry a collection of traditional Israeli music for dancing too, usually at the start of the evening, getting everyone to join in & usually involves getting the hosts up in the air on chairs!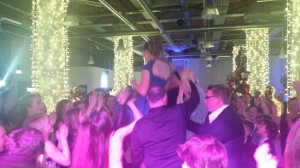 So, if you're looking for an experienced DJ to play at your daughter's Bat Mitzvah (or son's Bar Mitzvah), email your enquiry to andy@andybevents.co.uk
As well as my DJ services, I can also provide various other related services/products which are popular for these celebrations including; back drops, up lighters, photo booths, dance floors, staging, venue dressing/chair cover hire & help supply live music/entertainment. 'throwouts' are also really popular such as inflatable saxophones, guitars, microphones, glow sticks, & various novelties.
Please mention on your enquiry, the date of the party, the venue, approx. timings & any other services you may be interested in.
Keep up to date with Andy B Events. Click the 'like' button on our facebook page – www.facebook.com/Andy.B.Events