Posted On: Apr 25, 2015 By: Andy In: Wedding DJ
1st December '14 – Pleased to be playing for Mr & Mrs McMurdo's wedding party at the Lancaster House Hotel which is a 4 star leisure hotel next to Lancaster University.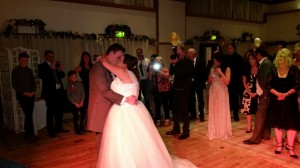 Congratulations to Mr & Mrs McMurdo!
My full mobile rig consists of a top quality sound system (as appropriate for the size of your party), a selection of professional lighting effects plus my star booth. In short, it's a very professional set up. See http://andybevents.co.uk/blog/2011/01/andy-b-dj/ for more details.   
I carry a comprehensive selection of music & will be able to cater for most requests on the night, which is something I actively encourage. Beforehand, we can go through specific requests for the evening (as well as any you don't want playing!). At this point, you could prepare a whole set list, which I'll be happy to work from as required. We can have as much pre event communication as required to ensure we get it just right on the night. 
I've got a short video clip of me in action (at the Marriott Worsley), the set up has changed a little since then, but you can see I'm sort of normal! – http://www.youtube.com/watch?v=YA8zFIXXbnQ&list=UUglPTD-72knt5dIRH4gKAeQ&index=1&feature=plcp
Lots of testimonials – http://andybevents.co.uk/blog/2013/09/andy-b-discos-customer-feedbacktestimonials/
As well as the disco, I will also act as the host for the evening if required – making any announcements etc. I'm there all night & will fit in with how you want your evening to run. But if you do want any suggestions for timings etc, I'm more than happy to have a chat with you about it. 
My price to cover up to 5 hours (7pm till midnight for example) in Lancaster is £250, based on me arriving at approx. 1 hour prior to set up. For any additional time I charge £30 per hour.   
As well as the disco lights, I can also provide uplighters around the venue to help create the atmosphere, these are £14 each or £120 for 12. I will set them up at the same time as I set up the disco & can set them to your preferred colour.
So, if you're looking for an experienced wedding DJ for your big day at Lancaster House hotel, email your enquiry to andy@andybevents.co.uk