Posted On: Dec 12, 2014 By: Andy In: dancefloor hire, Wedding DJ
30th August '14 Mr & Mrs Byrne booked wedding DJ Andy B for their big day at Hillside Golf Club in Southport.
'Afternoon Andy,
Having returned to doom and gloom of work after and amazing day and two week honeymoon, I wanted to send an email to thank you for a great night on the Saturday! It went really well and was made up with how it all went.
Thank you again for your patience and help with songs etc.
I will gladly recommend you to friends and family and if there is anything in terms of a testimonial that you may want then please just let me know.
Thanks Again
Alex'
As well as our wedding DJ services, they also booked our 14ft white LED dance floor with 10 uplighters for around the room which looked really nice.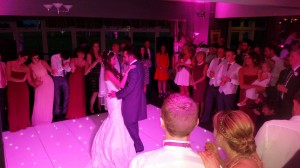 The party was soon in full swing…
All the best to Mr & Mrs Byrne!
So, what does everything cost?! Not as much as you might think!
Our top quality DJ prices start from £250 in the Southport area covering 7.30pm till midnight, additional time is £30 per hour. Add the uplighters for £14 each or £120 for a set of 12 based on them being set up at the same time as the disco.
Our white LED dance floor prices depends on the size you go for, the 14ft floor used at Hillside Golf Club on this occasion costs £495. Add a set of 10 uplighters to any of our white twinkling dance floor hires for just £50.
Price includes delivery & installation during your chosen time frame & collection at the end of the night.
Worth noting that our starlit floors are known as 'wired' floors. This means that wires underneath the dance floor connect the LED lights, it's highly unlikely that these will come apart. However, most of our competitors are using cheaper 'wireless' contacts. The problem with these is that during the course of the evening, they get knocked around a little as people dance or even walk across them & lose the contact, then some panels won't light up which looks naff.
So, if you're looking for an experienced wedding DJ for your big day in Southport & maybe a few extras such as our dance floors as well as various other related products & services we offer, email your enquiry to andy@andybevents.co.uk
Keep up to date with Andy B Events. Click the 'like' button on our facebook page – www.facebook.com/Andy.B.Events