Posted On: Jul 25, 2012 By: Andy In: Wedding DJ
21st July '12 – Hired as Wedding DJ for Mr & Mrs Hislop who were celebrating their big day at Liverpool Town Hall. First time I've played at Liverpool Town Hall. I was duly impressed with it as a wedding venue. The grand ballrooms make a very particular setting for a wedding party.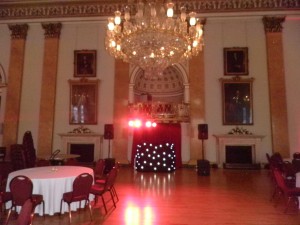 Christine, the bride, told me beforehand that they were an older couple (late 30's) & prefer more of the 60's, 70's & 80's over too much current chart. This was fine by me, it was quite fun to dig out some of the older hits for a change!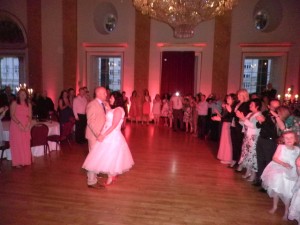 Their first dance was performed to 'Sweet Caroline' by Neil Diamond. Quite an unusual choice for the first dance, sure that's a first for me. But it worked well, before long, all the guests had joined, in waving their hands in the air to the chorus! Then away we went, right through till 12.30am which is the Town Hall's cut off point. Big finish to 'You'll never walk alone' (especially for the groom!). Top night. Had this email from the bride – 
'Dear Andy
Mike and I just wanted to thank you for an awesome night on Saturday. Already our friends are saying you were the best DJ ever on facebook!!! We are off on honeymoon now (hence the crazy time I'm sending this!) but I just want to thank you and say we will do a proper testimony for you when we return. You really did help make our night fantastic, the atmosphere was perfect!
Best wishes
Christine and Mike'
So, if you're looking for an experienced wedding DJ for your big day at Liverpool Town Hall or anywhere in the city centre of Liverpool, email your enquiry to andy@andybevents.co.uk As a guide, expect to pay £325 at the Town Hall covering playing times of 7.30pm till 12.30am.
Keep up to date with Andy B Events. Click the 'like' button on our facebook page – www.facebook.com/Andy.B.Events