Posted On: Feb 09, 2011 By: Andy In: Magic/Speciality
Have you been Zooka'd?! Meet Zooka (real name Mike, but don't tell him I told you!). He's a very talented magician who I've had great pleasure working with many many times over the last 15 years. More recently, he's created the wonderfully colourful character – Zooka & his trusty sidekick Suzie Q!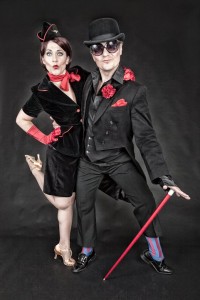 Zooka the eccentric – featuring the amazing Suzie Q is a unique, funky, exciting whirl wind of extreme comedy and amazing visual illusion. It's cabaret at it's best and not to be missed! 
Zooka and his trusty side kick Suzie Q are an award winning travelling magic act. They have a great client base including the Hilton Hotels, Warner Hotels, David Lloyd Health Clubs and have completed two wonderful seasons for the world famous Blackpool Tower, and two for the fantastic family resorts – Centre Parcs. 
Of course, Mr Zooka's character is perfect for family shows, but he is also so much more than that! Zooka can use his magical expertise for all kinds of events: close up magic, stage & cabaret shows, walk about/meet & greet & trade/exhibition stands. 
For bokings & enquiries, email andy@andybevents.co.uk 
As a guide, prices start from £375 for a 45 minute stage show.
Testimonials: 
"Zooka and Co. is a magic act with old-style vaudevillian appeal" – Mark Ritchie , The Stage newspaper
"My guests were blown away with the expertise of his arts. I would not hesitate in inviting him back to enhance any evening we happen to be running and would encourage anybody to do the same". Rob Fergusson – General Manager, David Lloyd Lincoln 
"The show was exhilarating and hilarious". Gary Unsworth Captain Withington Golf Club 2009/2010 
"Life here will never be the same again!" Sarah Tatton Community Development Officer St. Anne's on The Sea Town Council 
"They are putty in your hands – its very, very impressive" Julian – International Photographers Of Distinction 
"Excellent! Zooka has been very well received by our guests" Michael Williams Managing Director Leisure Parcs ltd (Blackpool Tower)